Varsity Football Beats Novato for First Time in 15 Years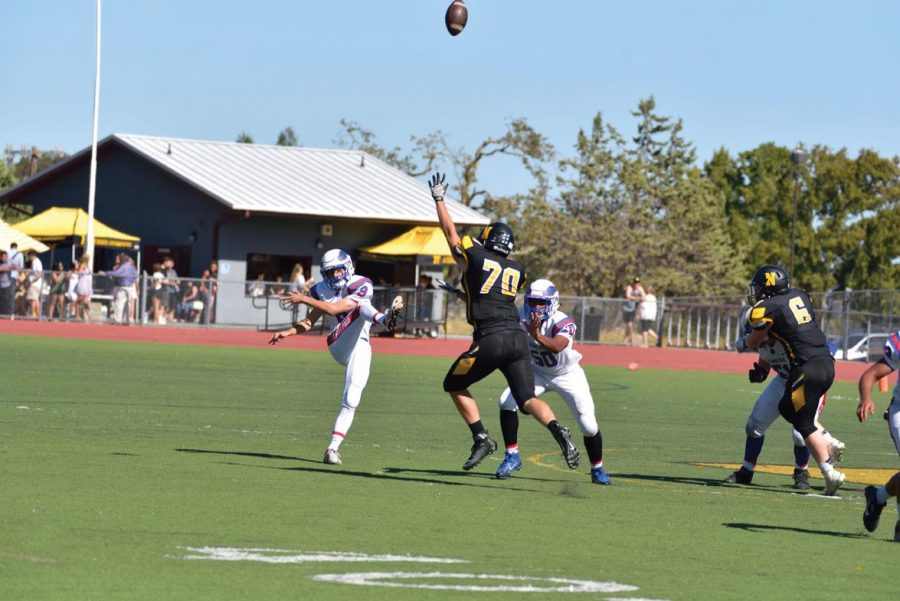 By James Finn and James Finn
October 16, 2015
The varsity football team defeated Novato 37-35 on September 26 on Novato's home field. The nail-biting victory marked the first time the team had defeated a Novato squad since 2000, according to several Tam players.
Tam's victory was hard-fought and, in more ways than one, miraculous. The Hawks fell behind 22-3 early in the first half, and ended up having to claw their way back from a 22-10 halftime deficit to earn the win.
Junior linebacker and center Mason Sapp said that the improvement in the second half was the result of defensive alterations. "In the first half, they were able to have a lot of success offensively, until we made a defensive adjustment," Sapp said. "We shifted from a four-man defensive front to a five-man front, and then we were able to slow down the run and stop the pass. [Prior to the adjustment] they were scoring mostly off of long pass plays because we weren't putting enough pressure on their quarterback."
The improved second half was the result of work the team put in before the game. "Good preparation…was critical to our success because we watch a lot of film and [offensive coordinator] Mick O'Meara and [head coach] Jon Black had us ready for what we were going to see," senior middle linebacker and offensive tackle Trenten Francis said. "It was a very hot day, more than 90 degrees…We fell behind early 22-3 but we still had the feeling that we could come back and take this."
The highlight of the first half came when senior kicker Riley Walls made a 52-yard field goal to put Tam on the scoreboard. Walls, who had never played football prior to this season but has played varsity soccer since his freshman year, has thrived in his role as kicker. "It's been kind of surreal," Walls said of his experience on the team. "A year ago I would have never pictured myself playing varsity football. I've only ever played soccer and to try something new has really opened my eyes."
Walls's 52-yarder set the record for longest field goal in Tam history. "It was an awesome feeling," Walls said of the kick. "I hadn't had a lot of opportunities to kick field goals but when coach said for me to get in there I knew it was my time to shine. To set a school record makes it even more special."
Sapp agreed that the field goal turned heads of spectators and players alike. "It was sick," he said. "Everyone was stoked. No one really believed it would go in. But we didn't really think about it too much, because at that point it was still really early in the game, and we didn't realize that it might have been the difference in the game, you know?"
Tam's comeback run culminated in a harrowing final sequence, when the Hawks, up only two points, nearly gave up a touchdown. Junior running back Jordan Smith came through in the clutch, however, catching an interception near the end zone as the clock ran out to seal the Tam win.
Junior running back Tre'chaun Berkley, who has been a key contributor in his first year on varsity, played a huge role in the win, running for 127 yards on 17 carries. "Last year on JV against Novato I took some pretty hard hits and I didn't get a chance to score which I kept thinking about so I told myself 'we got to [win]'," Berkley said. "My teammates was producing and had plays they will never forget about. My blockers did their job, [quarterback] Jack [Harris] threw some wet passes to my receivers, and the defense was killing it with the tackles and  robbing novato for…interceptions."
Players agreed that the win provided them with significant confidence going forward. "This was easily the best win I've ever had playing football and the coaches agreed this was one of the greatest games they have ever coached," Francis said. "It was a big deal for the whole Tam program. I was proud of everyone the whole team and how every player stepped up." ♦