Sophomores Continue to Opt Out of PE
Although a policy change this spring made it more difficult to take physical education (PE) online, students continue to forego taking PE on campus this year. Some who were not able to obtain permission for individualized study made the choice to remove PE from their schedule anyway, hoping that a more flexible policy will return in their later high school years.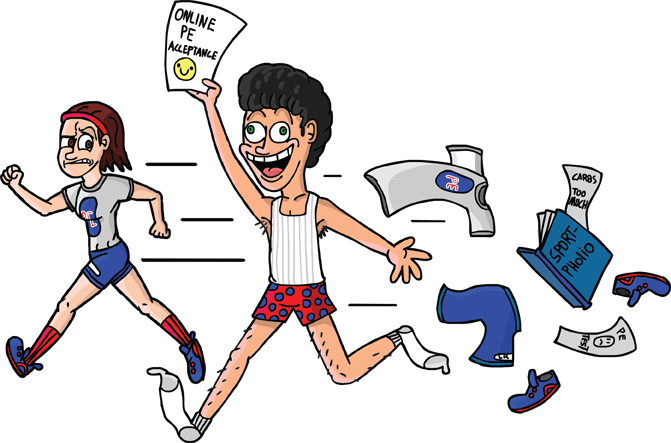 Traditionally, students take two years of state-mandated PE during freshman and sophomore years. But many students, particularly those who are already participating in athletics outside of school, feel the requirement is unnecessary.
"I'm in a really rigorous ballet program after school every day…It seemed to me that I was getting enough physical education," said sophomore Faryn Tohomere, who elected not to take PE this year despite not having been approved for an individualized study PE course.
In addition, some students doubt the usefulness of the PE course itself. "I didn't really like it," Tohomere said. "I felt like we didn't…do much [freshman year]. Half the class is in the classroom…which doesn't really seem like physical education."
College and Career Counselor Elizabeth Stoner believes that programs of individualized study in addition to exemptions for certain athletes are a good idea. She is familiar with these programs both through her history in private schools and background as a volleyball coach.
"Coming from the world of athletics, I think [online PE is] a great system," Stoner said. "It allows students who are already spending so much time working in physical fitness … to have other electives, that they might need, or…free periods, which for competitive athletes can be very helpful."
Many students see removing PE from their schedule as an opportunity to improve their college transcripts, by filling the slot left empty with a more academically rigorous class.
"If you have the ability…to handle a more challenging class in place of taking PE—it's not necessarily appropriate for everybody, but if it is, [then that] is a great way to expand yourself academically," Stoner said.
Counselor Evelyn Dorsett disagrees. "You can't take [PE] outside [Tam] unless there are some extenuating circumstances that have been approved, and there really should be very few people that get that approval," she said. "I have found that most students have come to me and said [that] they wished they hadn't done the independent study, because it's more work….My opinion is that you should just go ahead and do the PE at high school."
For now, at least, it appears that the tide has turned against online PE policy. But  that's not the case in all schools. "In a lot of private schools, what they've started to adopt is that students who are already in competitive sports…can opt out of PE," Stoner said.