Varsity Girls Tennis Wins MCAL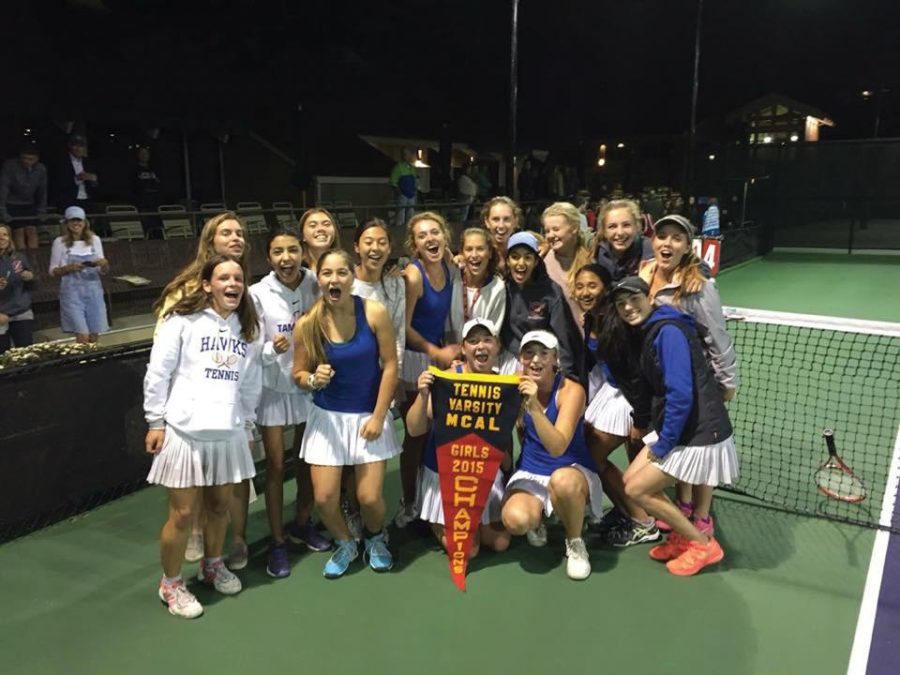 By Jackson Gathard and Jackson Gathard
November 28, 2015
The varsity girls' tennis team beat Redwood 5-4 to claim the MCAL team title on October 28. The two teams' third encounter of the season took five and a half hours and two locations to finish.
In the semi-finals, third-seeded Tam overcame second-seeded Branson, another MCAL powerhouse, 5-4.
Having just lost to number-one seeded Redwood (8-1) the week before, the Tam girls were looking for revenge heading into the final match.
"I think we are all more spirited for this week's match," sophomore Natalie Durham said during the match. "We are all much more pumped up, everyone is more excited for this because it is the finals and we just beat Branson."
Durham played a key role in Tam's victory with a 7-5, 6-1 win over Redwood's Jacqueline Massey Blake at the number three singles spot. Durham had lost narrowly to Massey Blake in both of their previous meetings.
"The team answered the question by starting out very strong in four of the five first-round matches – all key to our having a chance to win," Coach Bill Washauer said. "We went on to win the first set in three of those four. That strong start was the key to the overall match."
When the match score was 4-3 in Redwood's favor, the two remaining matches on court number one and two doubles matches were suspended due to lack of light and moved to Harbor Point Tennis Club in Strawberry. At the time, the number one doubles matching between Tam's senior Sheridan Miller and her sister freshman Annelie Miller against Redwood's Geneva Gist and Natalie Epstein, was late in the third set and  the Redwood duo needed just one more game to clinch the title. However, the Miller sisters responded to the tough mid-set location change by breaking serve to tie the set at five games all and then by winning the next two games to close out the set 7-5.
Tam's-come-from behind win at the number one doubles spot tied the overall match score 4-4 making Tam's #2 doubles match the decider.
After splitting the first two sets, both of which were both decided in tiebreakers 6-7(8) and 7-6(8), the number-two doubles match was also moved to Harbor Point. Senior Kendall Hiti and junior Sara Tierney closed out the match with a 6-3 third set to win the MCAL team title.
"I kept telling myself and my doubles latter, Sara Tierney 'Don't play the score, play to win.'" Hiti said. "Clinching the title as a senior felt amazing,to end the regular season with a match as exciting…as it was, made it so much more fun."