In Defense of Free Art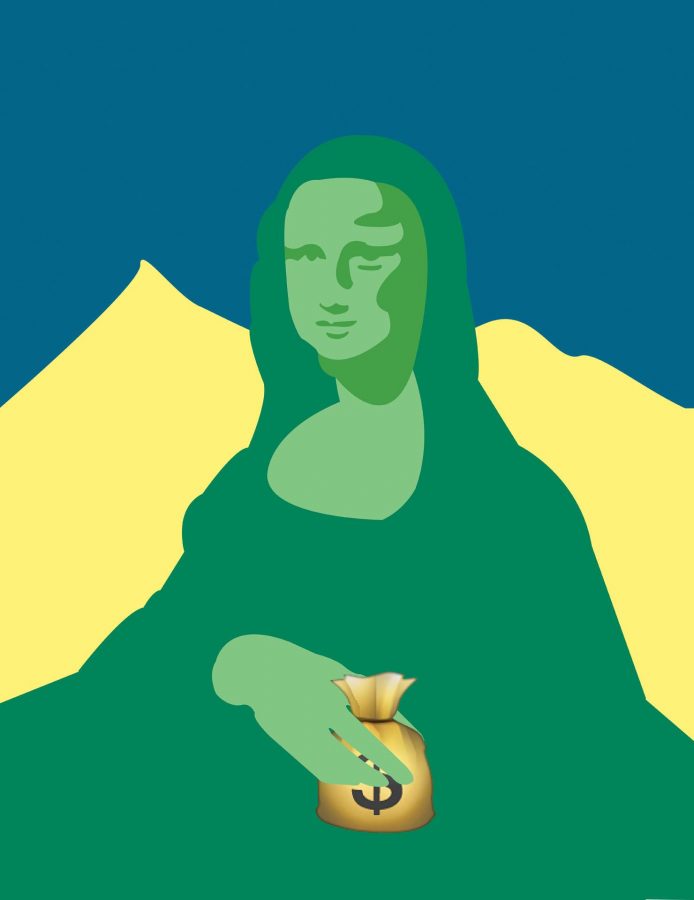 By Claire Donohue
December 14, 2015
Last month I wandered contently through the halls of The Broad, Los Angeles' newest contemporary art museum. Most of my joy stemmed from the fact that I was surrounded by some pretty neat art, ranging from a whole room of Baldessari to an hour-long music performance being projected onto ten surfaces in a dimly lit room. But the rest of my satisfaction came from knowing that it didn't cost me, or anyone around me, an entrance fee. While this may seem shallow (especially coming from a well-off Marin teenager), I believe that getting rid of museum entrance fees has a bounty of benefits.
First and foremost, free admission boosts visitor diversity. A full-access adult ticket to the De Young Museum in San Francisco costs $25 on a Saturday. That's the same price as five whole pieces of gourmet artisan organic toast. The crowd I witnessed at The Broad featured young children, groups of elderly woman, tourists, locals, artists sketching paintings, cliques of teenagers, and spectators of all races and suspected artistic interest. Now compare this to the overwhelmingly white 30-somethings that dominate San Francisco's modern museum scene.
Timothy Potts, director of The Getty in Los Angeles, explained his reasoning to keep admission free to the Huffington Post in 2012. "The people who can afford to collect, have an art history degree, go to museums around the world — they can still afford [entrance fees], they can still come," Potts said. "It's the people who haven't had all those benefits, but you really want to open their eyes to what an art museum represents, and they're the ones you lose by charging even a relatively small amount."
I also believe free admission promotes a different kind of appreciation of the art. When I'm paying for something I feel as though I ought to see it all, to try and get my money's worth. I think an art museum should be comparable to a library: a place to learn and explore free of charge, as opposed to a pricy amusement park created purely for entertainment. What was planned as a few relaxing hours at the Legion of Honor ends up as a mad dash to glimpse each and every painting before closing time. If four separate trips to the museum didn't cost a total of $100, I'd split up my time. Cutting admission fees would let viewers see art in a more casual and approachable way.
Many San Francisco museums are already holding a few select free admission days, the first Tuesday of each month. And although this seems like a fool-proof plan to create affordability in the art scene, in reality it leads to excessive crowds and further segregation. It becomes a day of field trips and mobs of 7 year-olds. Some museums only stay open until 5:15, so someone working a regular nine to five job doesn't have much of a chance to take advantage of the deal.
The majority of U.S. museums are nonprofits. Their funding comes from a variety of sources: a mix of government funding (federal, state, and local), private donaions, and earned income. According to International Information Programs (IIP), an average U.S. museum derives a bit over 24 percent of its operating revenue from government funding, with only a small percentage of that coming from a federal level. IIP also reported that 38 percent of revenue comes from private donors. And on average, only five percent of revenue comes from admission fees. The rest comes from food, retail, rentals, and exhibitions.
Five percent of total operating revenue isn't a tiny number, making the leap for art museums to omit fees a substantial one. But there's an easier financial alternative. Museums like The Met, The Brooklyn Museum, and P.S.1 MoMA have initiated a system called "Pay-What-you-Wish." They list a recommended price, but it is by no means required. No one will be turned away due to lack of funds. Most who have the ability to pay full price still will. This leaves a smaller loss of revenue overall, but still provides access to everyone.
I am by no means fully in tune with the finer working of the economic situations of San Francisco art museums. But according to IIP, 37 percent of U.S. museums were offering free admission in 2012. I believe that if cities like Los Angeles and New York have already successfully implimented free or recommended prices, San Francisco shouldn't be lagging this far behind. The options for making up the lost funds are endless: surge prices for parking, hosting more prestigious auctions and dinners, charge double for anyone wearing a Comme de Garçons shirt. Regardless of the means, our city's art ought to be accessible to all interested parties.