Pop Up Show: Pace Gallery + Technology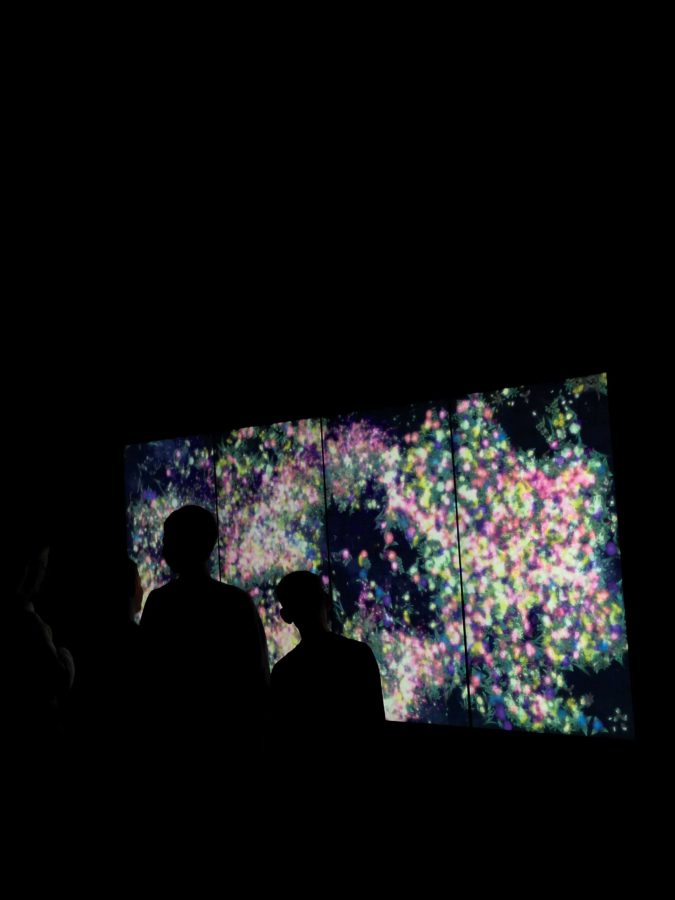 By Cam Vernali
March 7, 2016
Silicon Valley is known for technology, and driven people who create a unique culture where revolutionary inventions come out of the woodwork. Adding to this list is the temporary opening of the Pace Gallery + Technology in Menlo Park, which runs from February 9 to July 1. When people hear the word "gallery" many think of traditional art in frames hanging on walls. Pace Gallery + Technology is far from traditional; it is an interactive technological artspace that is more futuristic than any other gallery I have experienced.
The exhibition is called "Living Digital Space and Future Parks," and is put on by the Japanese art collective called teamLab. The 20 interactive pieces span over 20,000 square feet. According to the teamLab website, the exhibit "explores alternative forms of perception using the concept of Ultra Subjective Space, a sense of spatial awareness developed from representations in the visual art of pre-modern Japan." This isn't your typical 18th-century artwork that you can find in nearly any big city.
The original Pace Gallery was founded in Boston by Arne Glimcher in 1960 and has spread around the world. There are 10 locations worldwide: four galleries in New York, two in London, a 25,000 square-foot gallery in Beijing, and exhibition spaces in Hong Kong, Paris, and Menlo Park. The Pace Gallery + Technology was established in 2015 by Pace President Marc Glimcher. According to their press release, "The initiative is the expansion of Pace's longstanding commitment to artistic approaches that highlight and emphasize technological and digital methods."
I knew this basic information before going to the exhibition, but none of it truly prepared me for how fascinating and unique this space was. The pieces in the gallery were unlike anything else I had ever seen, such as a piece stretching up the length of the wall with 3-D animated Japanese paint strokes rotating peacefully with blooming flowers and floating petals, or a room head-to-toe in flower projections and blooming flower buds. There are explanations for the reason and technology behind each piece, which allows you to understand each piece in depth and gives you a greater respect for the gallery.
The most awaited, and perhaps most crowded space, was the Crystal Universe. It is a walkthrough piece where there are numerous hanging lights with mirrors behind, making the room feel endless. The lights are constantly changing colors in sync to the movement of people walking through. It is entrancing and captivating. You can't spend forever in there, though, since the walkthrough    space   is  as wide as two or three people.

Something completely unexpected was the calming music. In every piece and throughout the gallery, there was tranquil music to guide you through. It matches the atmosphere of the pieces, and adds a new level to the exhibition. One moment where the music added to the experience was especially in a piece called "Flowers and People, Cannot be Controlled but Live Together–A Whole Year per Hour." It was a whole room with flower projections on every surface, and the chimes and soft music made the room feel even more magical. I felt noticeably more relaxed leaving the gallery than I did when I came in, to my surprise.
The gallery, understandably, was very crowded. I visited on a Thursday morning when doors opened at 11a.m., and the space was already filling up. Within the next hour, it got increasingly more crowded though not unbearably so, and definitely for good reason since it is such an interesting gallery. If you want to get the most out of the gallery, go early to try and beat the crowd.
If this gallery wasn't in Menlo Park, and cost $15 per ticket to get in as a student, I would probably visit once a week  – it's that good. Unfortunately, those limitations exist, but even with them I highly recommend visiting at least once while Pace Gallery + Technology is here. It is a one-of-a-kind art space with mesmerizing and memorable pieces that I have yet to see anywhere else.
Visiting times are Tuesday to Sunday, 11a.m. – 7p.m. You can visit the gallery at 300 El Camino Real, Menlo Park. The space is open until July 1.