Athletes of the Issue: Tristan and Braxton Mitchell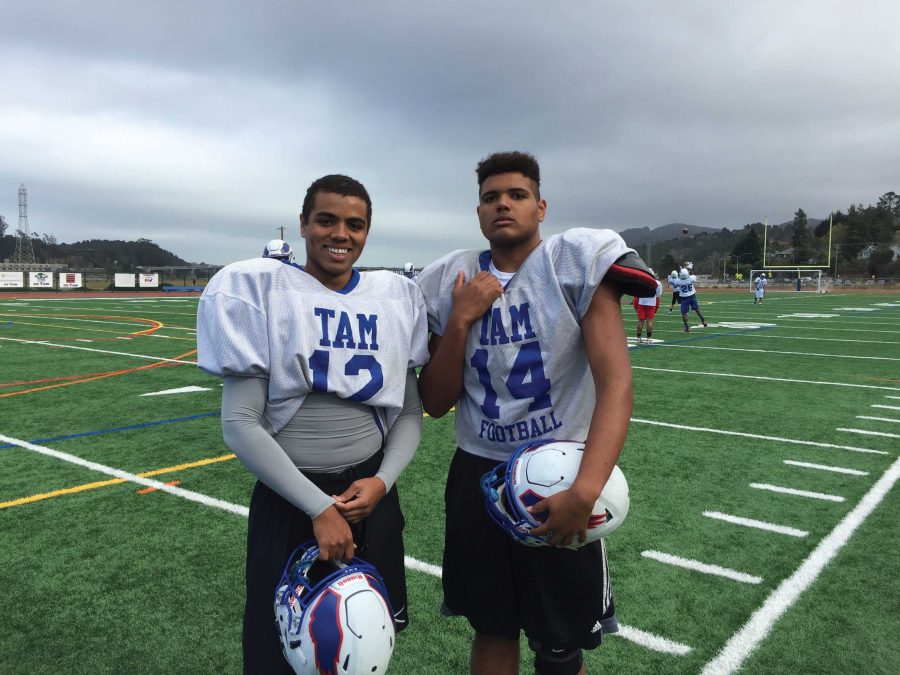 By Miles Rubens
September 14, 2016
Although the football team hasn't had much success in recent seasons, things are starting to look up. Brothers Braxton and Tristan Mitchell are two of the reasons why. Braxton, a senior, and Tristan, a junior, are looking to help Tam compete for an MCAL championship this year.
Last year, the brothers spent most of the football season living with their father in Farmington Hills, Michigan and playing football at Harrison High School. "It was a little different for me [in Michigan] playing with these guys that have played for so long and seemed so much bigger and faster than the people I was used to playing with," Braxton said.
Tristan plays defensive line while Braxton plays linebacker on defense and running back on offense. The brothers have enjoyed playing on the same team with each other back at Tam this year. "I love playing with my brother," Braxton said. "This feels like the first year where we've been really tight on the football field because we're both starters." His brother agreed. "Ever since I was a little kid I wanted to play on the same team as my brother," Tristan said.
Even though they're teammates, Tristan and Braxton also enjoy some friendly competition. "[We have] got a good competition going to see which of us is going to get more tackles," Tristan said. "I think in football it's great to have competition between teammates," Braxton said. "As brothers we've always been competitive."
Playing together has also pushed the brothers to play better. "I play a lot better with my brother on the field. I think I feel more confident," Braxton said. "Our first game [Tristan didn't play in]…. the first half and I didn't do as well as [in] the second half when he [played]."
The brothers have both been key contributors to the team so far this year. Braxton changed roles rom fullback to the primary running back when star senior running back Tre'Chaun Berkley was injured. "I definitely have to focus more [playing running back,]," Braxton said. "It's a lot more responsibility."
Both Tristan and Braxton have high expectations for themselves, each other, and the team. "I think the whole team expects a whole lot from me and Tristan and we expect a lot from ourselves and each other," Braxton said. The team is looking to have a breakout season.
"Last year we weren't that good," Tristan said. "I'm pretty excited [about this year,] I think people are going to be surprised with what we can do." Ultimately, how much the team succeeds will come down to how well the players push themselves. "[Our team] can go as far as we are willing to push ourselves," Tristan said. "It's going to come down to how bad we want it."