Table Dedicated to Tam Alumni Eleanor and Ralph Tierney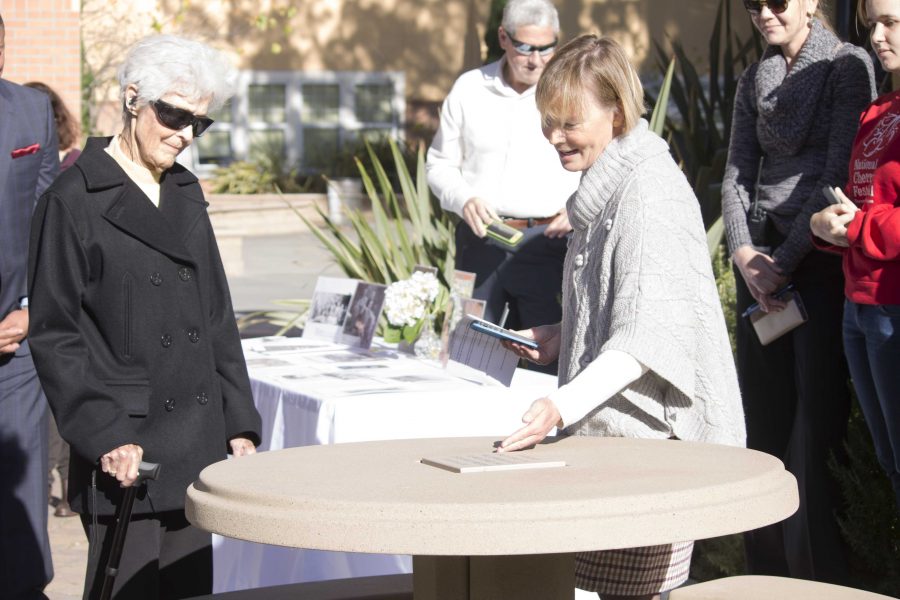 By Marina Furbush
November 17, 2016
Tam unveiled a new table in honor of Eleanor Tierney, and her late husband Ralph Tierney, who met at Tam in the 1940s. The ceremony took place on November 16, Eleanor's 90th birthday.
"I'm so impressed that all of you turned out and showed up to honor my husband and myself and to bring back wonderful memories of students that are just as wonderful now as they were back then. In fact, probably better," Eleanor said at the ceremony. "But I thank you for setting all of this up, and bringing tears to my eyes. I can't tell you what it's like, how many times I've driven by this school, I've looked up and thanked the Lord that it's still here and…looking back, and being a part of your remembering me, and honoring my 90th birthday, I thank you all."
The ceremony was full of family memories and recollections, with a table full of excerpts from the PAI chronicling Ralph and Eleanor's time at Tam. Her sons Dan Tierney and Tom Tierney also recounted family lore, such as the debate over the real reason that Ralph took Home Economics.
"So she said that my dad took home economics because she was in it," one of her sons said at the ceremony. "And my father said it was absolutely not because of that, it was because it was all girls other than him, and more importantly he got to eat all the food."
The Tam High foundation currently believes that Eleanor was the first female student body president at Tam. She graduated in 1944. Ralph graduated in 1943 as a Hall of Fame Athlete. He was captain of both the baseball and football teams, was on the basketball team, and was also a member of student government. The pair dated in high school, and after graduation Ralph fought in WWII and married Eleanor when he returned. They were married for 59 years.
"Everyone loves a good love story and we're just so delighted that your story played out right here at this high school," Principal J.C. Farr said at the dedication. "And so we want to just thank you and honor you on this day for just being here, and being the leader that you were, and your husband as well, being the captain of sports teams and representing the school in such a tremendous way. So on behalf of the staff here and the students I'll say thank you for being here."
The entire trip was a welcome surprise for Eleanor. "I'm so actually shocked, I had no idea. When we got closer and closer to Tam I thought 'you don't suppose they're taking me back there?'" she said.
Tam has held a special significance in Eleanor's life. "[Tam has] great teachers, and great campus, and great students," Eleanor said. "Nothing could be better. If I had to relive my whole life I wouldn't want to be anywhere but here."
The table was gifted by Eleanor and Ralph's two sons, and is located at "Hawk's Perch," on the upper plaza overlooking the student center. It's inscription reads, "In honor of Ralph Tierney, 1934, Hall of Fame Athlete. Eleanor Tierney, 1944, Student Body President. Forever in Love."
Correction: An earlier version of this article mistakenly referred to Ralph Tierney as Robert Tierney.