Artist of the Issue: Amelia Einhorn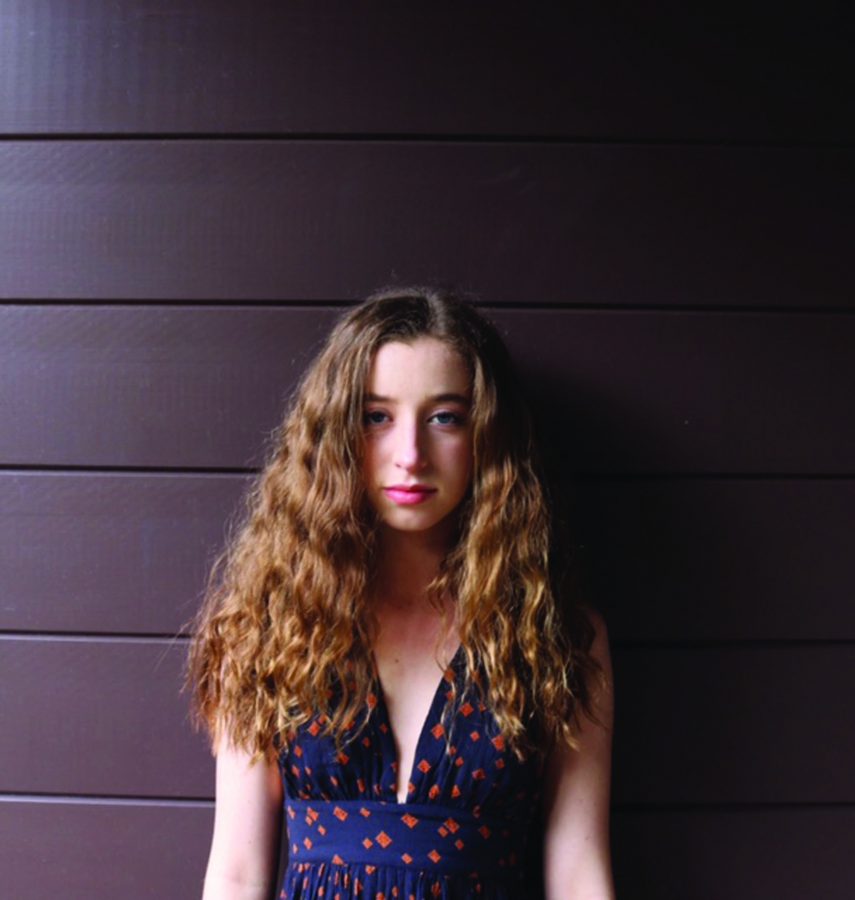 By Mackenzie Bell
May 3, 2017
Her eyes close, her mouth opens, and the crowd goes silent on the edge of their seats. It takes a lot of guts to sing in front of a room full of your peers, but for sophomore Amelia Einhorn it's just another milestone on her road to fame. "My proudest moment was singing in front of the entire school at the winter rally. I was really impressed and proud of myself that I was able to pull myself together, shake off my nerves and perform one of my own songs for so many people," Einhorn said.
Einhorn aspires to be a singer-songwriter. "The first time I knew I wanted to pursue singing was when David Fisher, one of my dad's good friends, took interest in me," she said. Fisher is a family friend of Einhorn's and has provided many opportunities for her, as she is now his client. Fisher was Einhorn's back up during her performance at the winter rally and is there for every one of her performances.
Einhorn's love for music has always been around. As a young child Einhorn would spend hours performing in front of photo booth on the Mac in her living room. Her twin sister, Lillian, would be flashing funny faces in the background, while her younger sister, Eloise, would be dancing around. Yet there in the midst of chaos, Einhorn would stand center screen, eyes closed with her hand clutching her abdomen, as she sung her heart out. "My earliest musical memory would have to be the time I taught myself how to play, "You and I" by Lady Gaga on the piano. I was about seven and I made my dad video tape me singing and playing the song. My family has said I've always been very music oriented. My dad always tells this story about this time when we were flying to Florida when I was about three years old, and I started mimicking the beat of the jets whirring. He always says that's how he knew I was going to be a musical person."
It is not an uncommon dream, to wish to become a singer when you grow up, but for Einhorn it would seem as if she has already grown up. She has already taken on the struggle of climbing to fame in the music business. For the last few years Einhorn has been very busy. "As school intensifies and I become more serious about music, it has become a little harder to equally balance the two. My family and I have thought about options such as online school, but for now I think it's best that I stay at Tam," she said. Einhorn's determination for her future success in music most likely stems from the heavy support from her family and friends. "My parents are incredibly supportive and so caring. They push me to do what I love and I'm so grateful to have them. They are always the first to hear any song that I write" and as for her sisters, "I love having sisters. They are always there when I need them and it's so nice to always have someone to talk to. We have so much fun together."
Music for Einhorn "is being able to express anything I'm feeling in a way that not many people can do. I find it so relaxing and whenever I need to destress I go write a song. I also love seeing the reactions on people's faces when they hear my music, it makes me so happy that what I write could possibly have an effect on someone else."
Einhorn's process for writing music isn't a constrained ordeal. "I don't really have a concrete process when writing music but I do have extensive notes on my phone of words or phrases that I come up with throughout the day. I sometimes come up with them in the car while I'm driving and have my sister Lillian write them down for me. I usually write a song in one or two days," she said.
Located right in downtown Mill Valley is the Sweetwater. For young singers like Einhorn open mike nights held at the Sweetwater allow for exposure and practice my passion of music," she said. Another part of Einhorn's persona is her grandparents. They have definitely left a mark in her life by providing her with a sense of character. "The most interesting person I have ever known was Vernon Clarence Bohr, my grandfather. He recently passed away during Christmas and it was a very hard time for my family and me. He was incredibly smart, funny and had a breathtaking life. I always called him the smartest man alive, because to me he was." Einhorn's grandparents also influenced her music taste. "I would have liked to live in the sixties or mid seventies because I love the music from those time periods. I have always loved Frankie Valli and the Four Seasons, and I think that is because my grandparents played them all the time when I was growing up. I'm also a big fan of Stevie wonder and Billy Joel."
Whether you'd  rather be blind or deaf may seem like a difficult question, but for Amelia Einhorn there is no hesitation. "I would rather be blind because, like Stevie Wonder, I could still pursue my passion of music," she said. ♦
Find Einhorn's music @ meelsmusic.com