Crewe Hutson: Overcoming Obstacles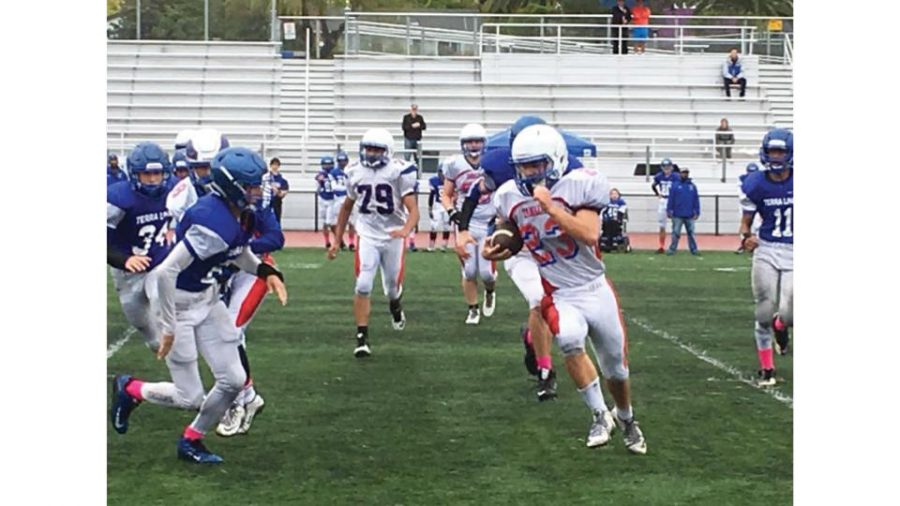 Freshman Crewe Hutson is not your average dual-sport athlete. Although he played running back for the Junior Varsity football team and guard for freshman basketball team, the quality that truly separates him from his peers isn't obvious.
"If you talk to most people, I look like a normal athlete out there," Hutson said. "Most people don't seem to notice." Hutson lives with a prosthetic eye. When he was three years old, he lost his right eye to Retinoblastoma cancer.
"There are always difficulties when you have one eye, but most of the time I don't even notice it. I've had this for so long I just play the sport I've always done."
Hutson has adapted to his condition, and learned certain techniques that mitigate risks in sports like football. "[Because of my eye], I have a limited field of view. I've learned from a young age, just to turn my head a lot more. I definitely notice the limited field of view in football."
Crewe's coach, Dan Sapp, has nothing but praise for Hutson. "Crewe is tough, intense, super high-energy and joyful. I'm not sure I've ever coached a kid with a 'hotter motor, '" Sapp said. "He brings a unique combination of athleticism and energy that any coach in any sport would love to have on any team…there weren't many places we could have put him that he wouldn't have helped us on our Freshman/Sophomore team this year."
Sapp said that Hutson's disability did not hinder him in any noticeable way on the football field. "If it affected his play, I couldn't tell. My guess is that he has very well accommodated to monocular vision as an athlete and in general. Before I even knew his name, I knew that [he] was a special athlete, teammate, and leader."
When not on the court or field, Hutson shares his first-hand experience of childhood cancer and disability with college students. Every year, Hutson goes to Penn Medical School to visit the doctor who treated him and help present a lecture.
"A portion of the lecture focuses on how to give proper care to a young patient," Hutson said. "My mom and I talk about [it]. While it is about the science, it's also about caring for your patient and really making them feel comfortable through what is a really difficult time for them."
Hutson also commits his time to other cancer treatment fundraisers. "When I was younger, I did the Relay for Life," Hutson said. "It's a big fundraising event and people donate for you for walking around a track 24 hours, the whole day, because cancer never stops, and you never stop walking that day."
Hutson is grateful for all the opportunities he is allowed to chase, with the love and support from his family.
"I really appreciate [my parents] for making sure they are not overprotective with my eye. My mom has always said that having one eye is not going to change my lifestyle," he said. ♦