Mountain Bike Team Places Second in State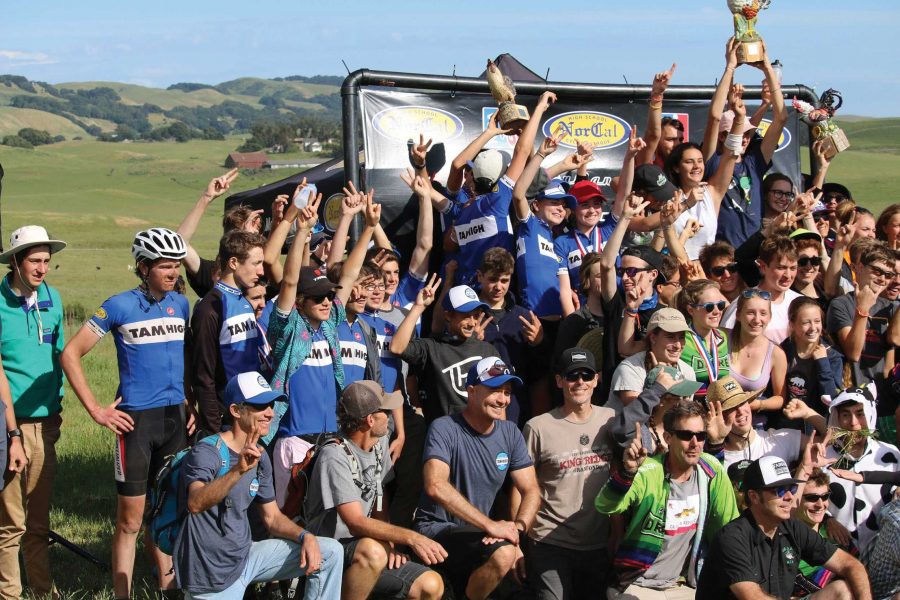 By Griffin Chen
June 3, 2017
The mountain bike team's season culminated with a second place finish in the state finals, which took place at the Five Springs Farm in Petaluma, on Sunday, May 14. Students came from all across California to race, for the challenging race. "[The race] was gnarly," Sophomore Kevin Satake said.
In spite of the adverse conditions, Tam racers managed to place very well. Racing against up to 90 students in each category, more than a third of the team's 32 racers finished within the top 15.  Athletes compete in four separate categories for both girls' and boys': freshman, sophomore, junior varsity, and varsity, with the higher categories earning more points.
Notably, Sophomore Kevin Satake finished fourth on the boys side. In the girls' races, sophomore Josie Weisert finished second, and Sophomore Clodagh Mellett, racing in varsity, finishing third.
More than 800 bikers participated in the event, traveling from all corners of California. "I was elated to see so many happy riders…Coaches and spectators at State Champs," NorCal League Program Director Coco Ramirez said to the National Scholastic Cycling Association. "Seeing all the kids so stoked made me realize that all the hard work that went into getting the venue ready was worth it, and I was proud to help create an amazing experience for the kids." Tam's second place finish  was unprecedented, as the team has never finished in the top three places until now. Tam, the runner-up, was close behind Drake's team throughout the entire season.
"We had a lot of strong racers, but Drake barely beat us at most of the races, including states," said sophomore Jason Dunn. "They have a lot more racers, so I guess it makes sense." Despite not taking first place, the results of this season are great for the team. "Tam's mountain bike team had it's most successful race season since the program began 13 years ago with advisor Jon Hartquist," said the team's head coach, Patrick Lepelch. Regardless of the results, students greatly enjoyed the event. "It was so great," said sophomore Jamie Baker. "I'm really looking forward to next year."
The coming years look promising for the team, as the past few have seen nothing but growth in team size and performance. "It has been exciting to see how successful we have become," said senior and Captain Felix Slothower  "When I joined as freshman, things were very different. None of our rides were organized for the sole purpose of getting stronger. They were just team rides that we thought would be the most fun and if you rode hard you would get in shape as a result."
In the past few years, the team has been more dedicated and competitive. "Now team rides are focused on getting to be a faster climber… It just means you have to find you own time with friends to go on a relaxed ride," Slothower said. "In general, the team has been ramped up in intensity since when I joined." This increase in intensity has clearly resulted in success for the team. "We have a bright future ahead of us," Satake said.