Natalie Durham: Making a Racket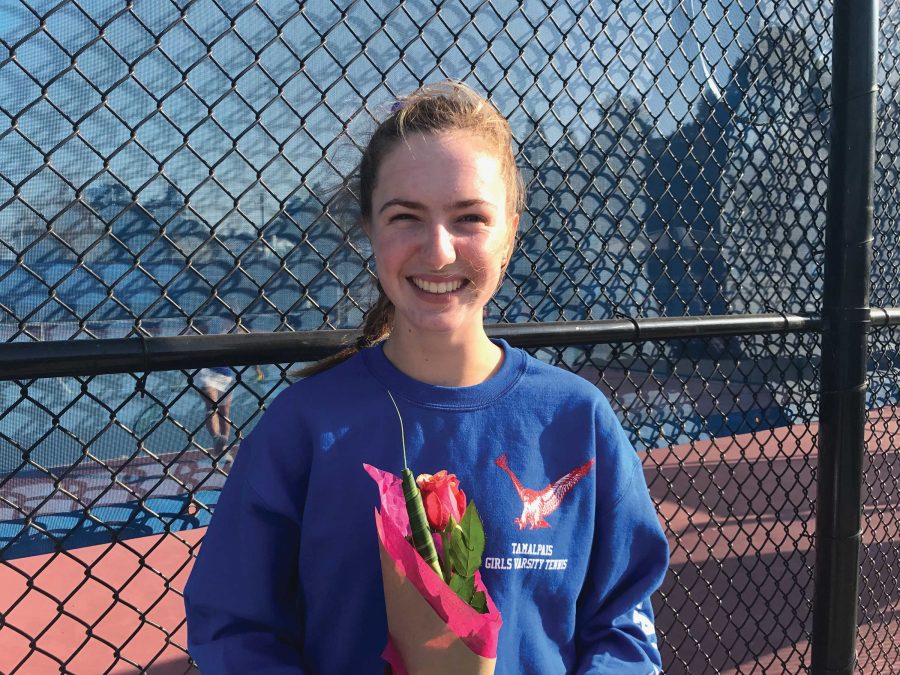 By Eddie Schultz
October 31, 2017
Girls' varsity tennis captain, Natalie Durham has had a strong presence as a leader on the team for the last two years. The senior and four year varsity starter has led her squad to an impressive 10-0 start in MCAL play as of October 16.
Durham and fellow senior captains Madelyn Broad and Emma Shultz head a program that has seen an influx of players in the last few years. For the first time since Durham's freshman year, there has been a taxi team which is a team that practices tennis after the varsity team and generally doesn't compete in matches.
"I think [having a taxi team] is good because it makes it so that the team can only improve throughout the years because you have people who continually want to play and get better," Durham said.
Durham likes the competitive spirit of this team. "My sophomore year we didn't necessarily have the strongest team but we won MCALs because we really, really wanted to win," Durham said. "This year I think we're really determined as well so it will be interesting to see how the season goes."
Throughout her four years on the team, Durham has kept a winning mentality and has done her part to achieve success.
"She has been a solid, devoted, high-quality, and productive player her entire four years on the team," head coach Bill Washauer said. "She has a positive attitude towards practice and competition and towards the team and her teammates."
Durham is in her second season as a captain. "She has always shown a very high level of commitment to the sport and the team; we felt that it would be good for the team to have in a leadership role last year as well as this," Washauer said. "She's a leader. She helps direct practices, provides a positive role model for younger players, and overall helps make the team as competitive as it can possibly be."
As a captain, Durham oversees many different aspects of the team, including organization and logistics, like fundraising and ordering team jerseys.
Durham also leads on the court. "I play second singles, and occasionally I'll play doubles with different people on the team," she said.
Throughout the past four years, Durham and the team have had their ups and downs. One of the biggest failures was a NCS tournament loss in 2015. "We were seeded number four and then we lost to the 13th seed," she said.
One of Durham's biggest successes was during her sophomore year when she helped lead the team to a win in the MCAL finals over Redwood.
"I had played the same girl three times at this point and I had lost the first two times and then the third time during the finals I won. I felt like it was a big deal because I kind of overcame that one," she said.
Given the strength of their roster which includes lots of young talent, the Hawks are built for success for years to come.
"We have a lot of incoming freshmen who I think are going to be great assets to our team," Durham said. Having beaten both Redwood and Branson–some of the strongest teams in the MCAL–they are looking forward to the finals. With Durham at the helm, they have a good shot.