American Vandal Review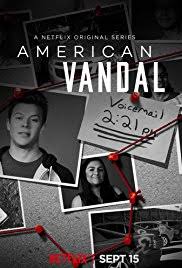 Hanover High School Senior Dylan Maxwell has been expelled for a crime he may have committed, and student documentarian Peter Maldonado and his best friend Sam set out to prove his innocence or ensure his guilt.  This comedic Netflix original centers around Peter's documentary American Vandal which focuses on one thing: Dicks. Did Dylan vandalize every faculty member's car with graphic images? If not, who did and why? As Peter follows new leads, uncovers new pieces of evidence, and creates theory after theory to put to the test, the show's comedic writing pulls in it's viewers.
Over eight episodes, what starts as light interest soon becomes obsession as you begin to learn more about the students at Hanover High. The setbacks that Peter experiences as he tapes American Vandal in the show are engaging and uncomfortable. He must accuse teachers of lying, knock on the doors of conspiracy theorists, and collect a whole party's worth of snapchat video footage,among other things. However the hardwork and dedication that he has to finding the truth about the vandalism pays off. And as Peter finds a string of texts that lead to a new suspect, catches a key eye-witness to the crime lying on camera, and discovered that there are fake alibis among his peers, you find yourself leaning forward in your chair, yelling embarrassingly loudly when a plot twist hits, and wishing desperately that Dylan is in fact innocent.
Above all of it is the hilarious writing and the satiric nature of American Vandal that makes it so fun to watch. As Dylan speaks we learn both to love him and that his IQ is so low that we could trip over it. As we watch the events of a party, the people drinking and talking are just enough over the top, that we laugh at how it's both ridiculous and relatable.
So if you want to join the "Free Dylan" fan club, want to become invested in Peter's investigation, or even if you're just looking for a laugh, you know what to watch the next time you should be doing your homework.