Leadership plans ambitious homecoming
Hang on for a minute...we're trying to find some more stories you might like.
"You know what your title should be," junior Theo Koffman said of my article. "Tam High School: The Best Homecoming Yet." While the anticipated homecoming is still a few weeks away from its September 29 date, the enthusiasm of this year's Leadership team is apparent in their grandiose ideas for the traditional dance.
The 2018 homecoming is expected, by Koffman at least, to be nothing short of lavish. Everything from radio station DJs to building decorations, professional security to Dippin Dots were on the list for this year. Koffman also described school-wide competitions like a more enthusiastic door-decorating event, where "whoever has the best door gets a donut party or something" as well as a much larger building decorating contest where entire Tam buildings would be taken over and embellished mercilessly. "Each grade level would have a building," said Koffman of the idea. Separate sources have disputed the claim, saying that in fact, such an event will not be taking place
The dance itself is set to have a season theme this year, with freshmen representing fall, sophomores spring, juniors winter, and seniors summer. Food vendors were rumored to be part of the plans for the dance, while the aforementioned DJ was said to be coming from the 99.7 radio station.
Homecoming week did not escape the bold claims of Koffman either. "We will not be running out of pizza this year," said Koffman about his plans to feed the above 1500 student population. The yearly lip sync battle and accompanying rally games are set to be repeated again this year. A Powderpuff game is also on the roster, as are ideas for pajama, jersey, and twin days.
Senior and ASB president Natalie Bricker was more reserved but still maintained big plans. "My big thing this year is to promote spirit," she said. "We're hoping to continue twin day and some [other] popular spirit events." Bricker also indicated that she was seeking more student involvement this year, and hoped to create Google forms for students to contribute their thoughts to the event. She also added that leadership was hoping to provide t-shirts to every student of every grade in the hopes that it would increase school spirit, a daunting and most likely expensive task.
Senior and ASB vice president Dolan Clahan confirmed that the leadership team was in fact focusing on greater student involvement. "This year we're trying to get more audience participation," said Clahan. Clahan's main role this year is working with the rally, his favorite part. He also was very supportive of the Homecoming game itself, too, calling it, "A place outside of Tam to be proud [of the school]."
The 2018 homecoming is still in the works at the moment, but there is an undeniable level of optimism and ambition in the minds of the leadership team. There is, however, a large price-tag to the event. Estimates provided to me by Koffman, treasurer of the endeavor, suggest that the costs of the dance and the associated activities may range as high as ten thousand dollars, with the lowest estimates only sinking only to six thousand dollars. The projected budget this year will not be insignificant, and before the end of the month Tam will see exactly how, and how well, that money was spent.
Photo courtesy of Natalie Bricker (Center)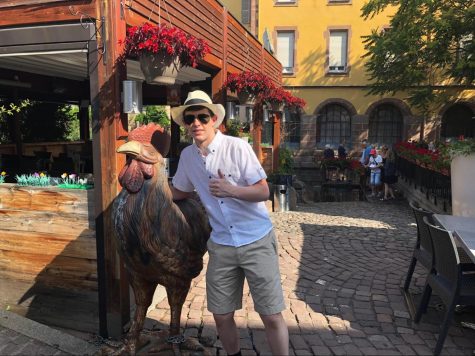 Lucas Rosevear, Opinion Editor / Business Team
LUCAS ROSEVEAR
is a senior at Tam and an opinion editor for
The Tam News.
He has fallen in love with the concept of student collaboration. His favorite work is his interview with Tam teacher and personality, David Tarpinian.