Final budget reduction recommendation reduces impact on BACR
Superintendent Tara Taupier presented her final budget reduction recommendation to the Tamalpais Union High School District (TUHSD) board of trustees on Tuesday, February 12. The recommendation, which contains a proposed $2.8 million in annual districtwide cuts, is a revision of the draft recommendation which Taupier put forth for discussion in January.
The recommendation was created as one of many steps to resolve a budget crisis brought on by rising enrollment in district schools and growing state-mandated pension rates.
The most notable change to the draft recommendation came with respect to the Bay Area Community Resources (BACR) program, which offers free, on-site counseling to students in crisis. The final recommendation proposed only a 22 percent reduction in BACR services, a significant drop from the 50 percent reduction suggested last month.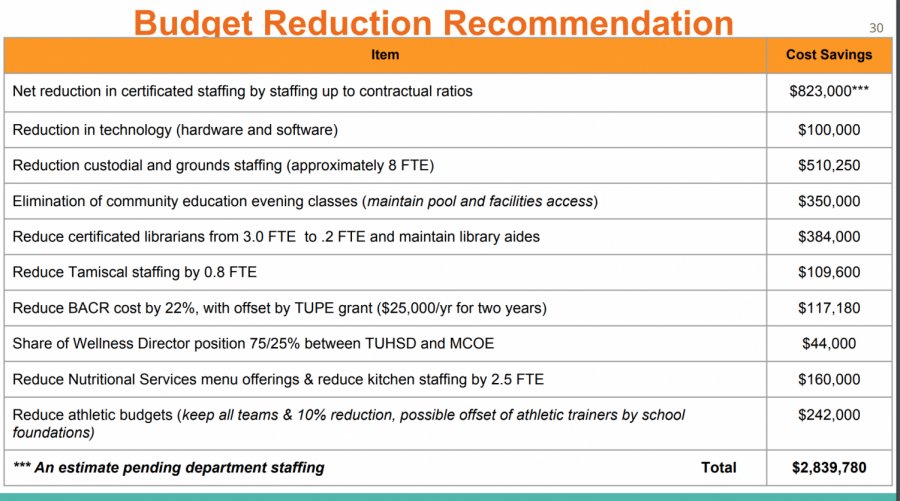 The 50 percent reduction had been met with overwhelming backlash from students, staff, and parents, who argued that many students would lose access to the one of the only forms of support available to them, and that their mental health would be negatively affected. The 22 percent reduction will not result in the elimination of any licensed therapists, Taupier said at the Tuesday board meeting, calling the BACR discussion a "real collaboration" and thanking the community for its input.
Taupier also noted that the district will aim to offset the effect of the cut with money from a Tobacco-Use Prevention Education (TUPE) grant given by the state of California, although she did not specify how much money that would constitute.
The final budget reduction recommendation included a number of other changes. Certificated librarians will not be eliminated but reduced to 0.2 FTE. (FTE, or full-time equivalent, is a unit measuring the number of hours worked by a full-time employee.) Athletic trainers will not be eliminated, but they will be paid for by "school foundations and athletic boosters" instead of the district, according to the slideshow Taupier used at the meeting.
And the position of wellness director will be shared between the district and the Marin County Office of Education. Wellness centers, though not directly related to BACR, often refer students to BACR counselors.
The task of finding $3 million worth of cuts was given significant breathing room on Tuesday, January 29, when the board voted to approve early retirement for a number of districtwide employees. As a result, the estimated amount of money saved by "certificated staffing by staffing up to current contractual ratios" — that is, by increasing class sizes and retaining fewer staff members — increased from $500,000, in the January draft recommendation, to $823,000.
When the meeting was opened for public comment, a number of school staff members took the podium to criticize one part of the recommendation: "Reduction of custodial, grounds and maintenance staffing (approximately 8 FTE)." 8 FTE, San Andreas campus supervisor Greg Lauchenauer said, is the equivalent of "nine custodians, two food service workers, half a food service cook, a groundworker, three program assistants from community education, half a secretary from community education, and three clerks" — in other words, 20 people.
"That's 20 humans that are going to be affected by the layoff," Lauchenauer said. "Not just the 20 humans that are going to lose work. That's the thousands of kids that we serve that are going to be affected by the loss of these people." Lauchenauer criticized the district for what he said he saw as a lack of empathy and transparency from its administration during the negotiations.
But the budget reduction recommendation cannot be revised further before Taupier officially submits it to the board for a vote, which will happen at a board meeting on Tuesday, February 26.
Photos by Benjy Wall-Feng.