Junior Lily Bogas wins state poetry competition
Junior Lily Bogas won the state championship for the poetry recital competition Poetry Out Loud on Monday, March 11, after first winning competitions at the school and county levels.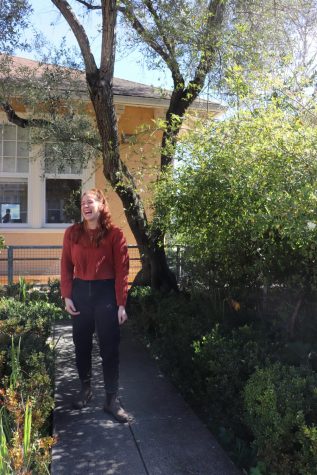 "I was just really shocked when they called my name. There were some amazingly talented people there, professional actors, singers, poets," Bogas said. "I feel extremely grateful and humble to be receiving this award and the opportunity to attend Nationals weekend to compete."
Bogas was encouraged to compete by her English teacher, Barbara Kurita-Ditz. "It's really nice to have a supportive teacher like her and she was really on fire about it," Bogas said.
Despite her success, Bogas said she would likely not participate again next year. "I think it's more of a one-time thing," Bogas admitted. "I would say it's more of a one-hit wonder."
But Kurita-Ditz hopes she leaves a trail of successors.
"I definitely hope that Lily's success in the California State Championship inspires other up-and-coming students who care about poetry and performance," Kurita-Ditz said. "Poetry can often seem to some people like a literature of the past; but with music so central to teens' everyday lives, and lyrics being such a vital part of the beautiful voices that swirl in our heads on a daily basis, I do think teens have a very personal connection to contemporary poetic rhythms and styles."
Bogas credited her ability in performing arts as part of the reason for her success. "I've actually been training for this, I guess because I practice acting, singing and dancing, all this stuff … I feel like it helps me [be] grounded when I'm doing my poems," said Bogas.
Kurita-Ditz agreed. "Lily is a consummate professional when it comes to performance of all kinds," she said. "She is poised and composed on stage, and very sophisticated in her delivery. Lily knows how to add nuance of inflection to every word, to bring the audience's attention to the meaning of every syllable, not just key lines and phrases.
"Lily really could feasibly place in 1-3 in nationals," she added, "and has all the ability to win the POL national competition and the $20,000 prize."