Board approves new teacher contract
The Tamalpais Union High School District (TUHSD) board of trustees voted on Tuesday, February 26 to approve a two-year contract agreement between the district and the Tamalpais Federation of Teachers (TFT) union. The agreement will be applied retroactively starting from July 2018, when the previous contract agreement expired, and last until June 2020. It will increase maximum class sizes, slightly increase teachers' salaries to compensate, and cap annual health care premiums for new teachers at $20,000.
Until now, the district has fully covered health benefits, according to union president Cory DeMars, leaving it an outlier among California school districts in recent years. Most TUHSD teachers receive health benefits from Kaiser Permanente, which this year charged the district $18,200 per teacher. But that number has been steadily increasing as part of a national trend.
"We purposely arrived and agreed to $20,000" as the annual premium, DeMars said, because per-teacher health benefits are not expected to reach that number for three to five years, after the current contract has expired. "It gives us time to renegotiate, and more importantly it gives time for the whole health care situation nationwide to get fixed."
If different terms are not negotiated by the time annual health costs exceed $20,000, teachers hired after the 2018-19 school year will have to pay the difference out of pocket.
Although the introduction of a health care cap will not immediately save the district money, it will provide "cost certainty" in the midst of the district's current budget crisis, TUHSD chief financial officer Corbett Elsen said.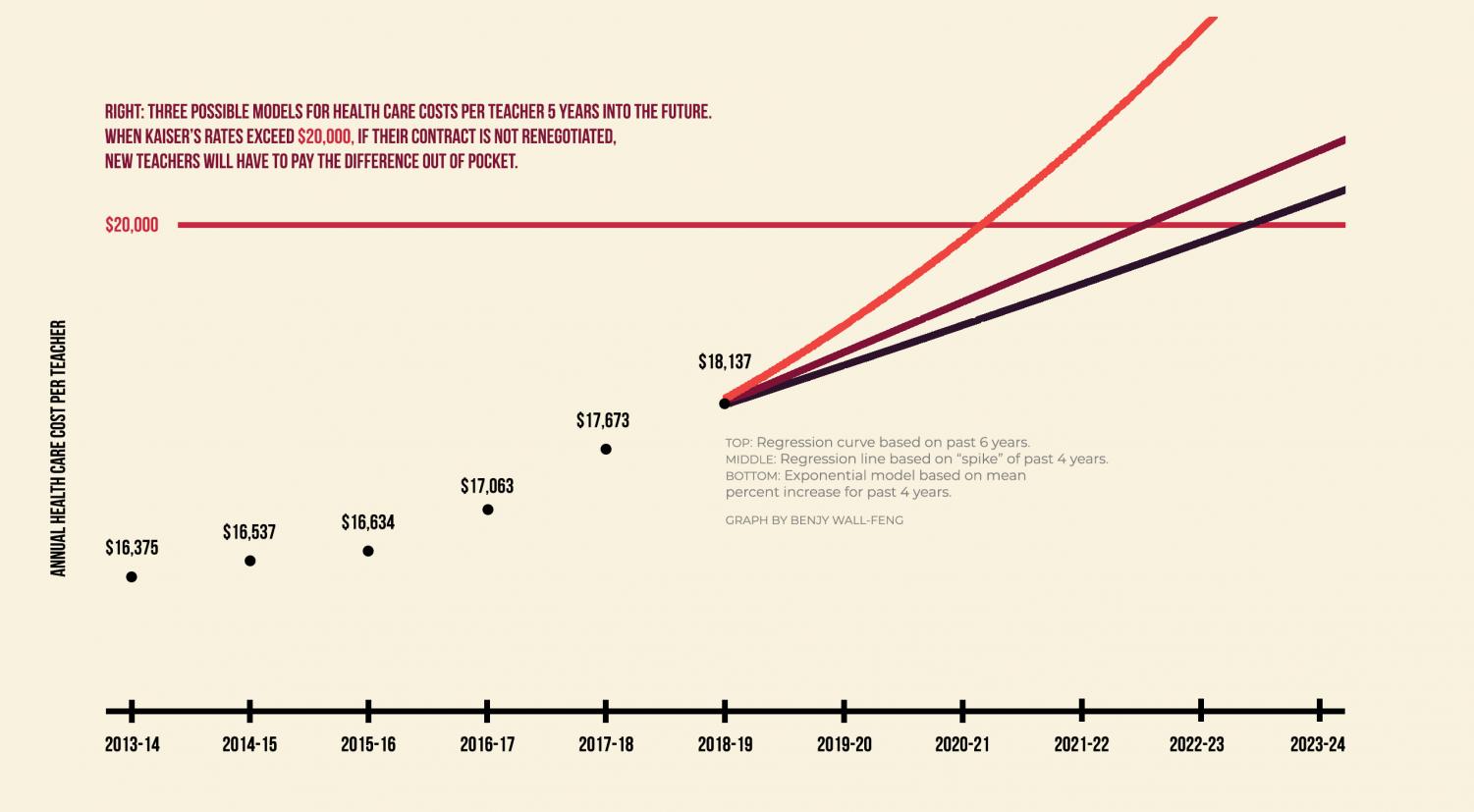 Another effect of the February 26 agreement, also designed to mitigate the budget crisis, will be an increase in average class sizes from 30 to 32 students. To accommodate this change, the board voted on Tuesday, March 11 to approve the potential reduction or elimination of districtwide teaching positions by 16.0 FTE. Instead of replacing those teachers, the district will consolidate classes, which will save an estimated $823,000 annually.
Potentially laying off 16 people "is never pleasant, not anything we ever want to do," Elsen said, but he added that the number would be significantly higher if 25 teachers had not accepted the early retirement incentives offered by the district earlier this year.
All 16 of the employees identified will not necessarily be laid off. Those who are will be notified of the board's final decision by May 14.
DeMars and Elsen both emphasized their satisfaction with the contract, especially given the district's financial condition.
"We would all prefer to not be in a deficit situation in the district right now," DeMars said, "[but] the tentative agreement which has now been approved reflects a really good partnership."
"There are parts of any agreement that you don't think are ideal or preferred but that's the whole point of negotiation — that there's compromise for the greater good," Elsen said. "I think this is a good example of the teachers and counselors contributing to the larger solution of helping the district live within its means."