Prom exchange aims to make dresses affordable
The first prom attire exchange, organized by parent Stephanie Young, took place in Ruby Scott Gym on Tuesday, March 26. The event allowed students to choose from a range of upcycled prom attire for free.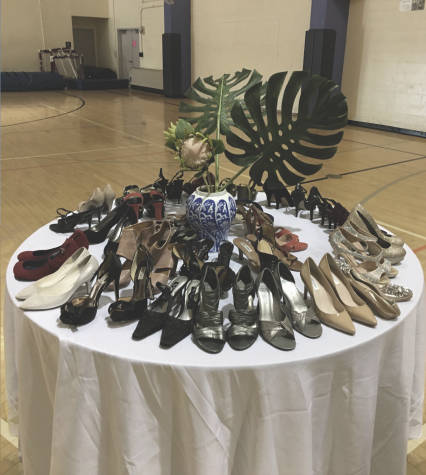 By reusing clothing, Young, who is the mother of Tam News reporter, Aaron Young, hoped to make prom more accessible and reduce its environmental impact.
"I just wanted to make [the prom attire exchange] fun for everyone, whether or not you can afford to buy a new dress or not. It's just for everyone. It's just really about not being wasteful, reusing, being green, all the kids coming together," she said.
Four Marin-based professional stylists helped students decide between the roughly 150 dresses, 20 suits, and 50 pairs of shoes that Young collected in donations. All prom attire that was not sold during the event will be donated to the Princess Project in Oakland, a similar initiative.
Junior Elena Dworak appreciated that the event organizers took into consideration the steep costs associated with prom.
"I thought [the prom attire exchange] was really cool because I wasn't trying to pay four hundred bucks for a dress. I think it's very neat that they had all of the dresses and jewelry and heels and stuff. I think it is beneficial to Tam because it opens up opportunities for more students, and it allows people to get a nice dress when maybe they otherwise wouldn't be able to do that," Dworak said.
Junior Grace Rodriguez noted the exchange's positive impact on the school environment. "I just thought it was a really great thing for Tam and it benefitted a lot of people. Even if you didn't find a prom dress, it was a fun community building event," Rodriguez said.