Junior Sebastian Ames banned from Nextdoor over satirical Safeway parking post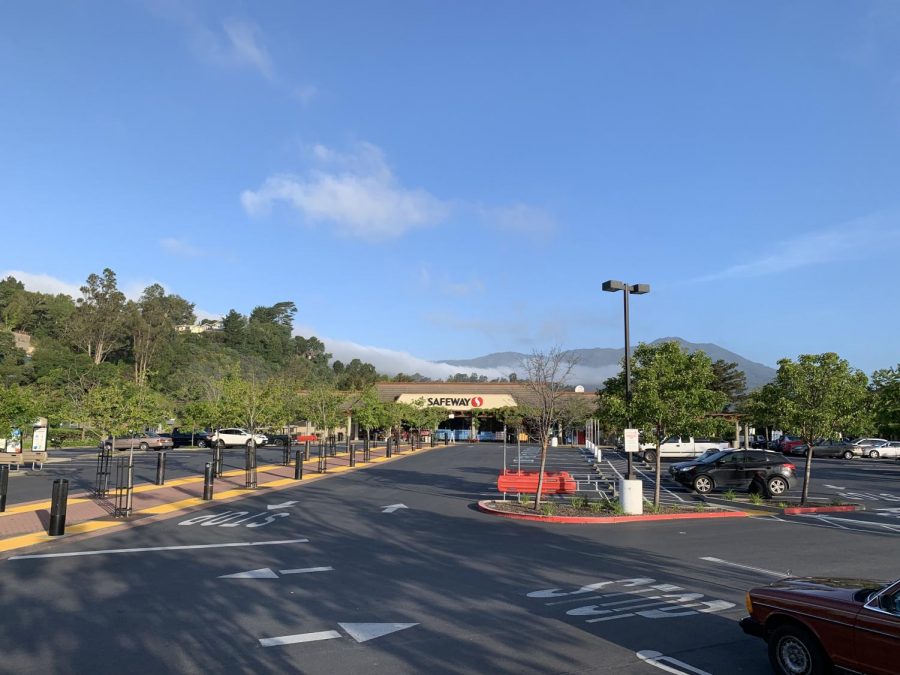 By Dylan Layden
May 1, 2019
Junior Sebastian Ames was banned from the neighborhood social media network Nextdoor after a satirical post over parking at Safeway on March 11. Tam parent Anne Elisco-Lemme fought back against the Nextdoor moderators in a post titled "Enough with the ND police. Let Sebastian Ames back on!"
Ames' post shared his opinions on parking rules at Safeway in a satirical fashion. "I basically talked about how there's outrageous parking at Safeway which [led to] a deluge of angry middle-aged people yelling at me," Ames said.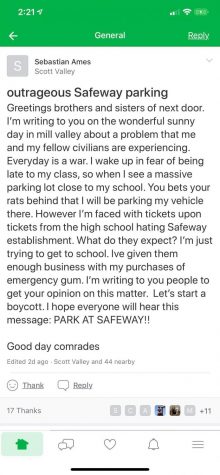 Ames got over 120 responses varying from legitimate advice to angry insults. "Some intellectual people knew it was a hoax, other people argued with each other, some people actually gave pretty good advice, some claimed they were Native American, and others got mad at me and told me about back in their day," Ames said. Many comments called Ames entitled and insulted him.
Following this post, Ames was banned from Nextdoor for using a fake name even though he had used his real name. "They told me it was because I used a fake name, but I don't know what they were on about," Ames said.
In response, Elisco-Lemme posted in a seven-point argument explaining why, according to the Nextdoor terms of conduct, Ames should never have been taken off Nextdoor, and demanding his account be reinstated.
"The reason I got involved is because I found out that he had been kicked off of Nextdoor which I thought was ridiculous because people post actually offensive things all the time and nothing happens. So when a teen posts something so clearly comedic and not offensive to anybody. And to have whoever the moderators are, I think at one point I was calling them dark ops, decide that he didn't belong on there was infuriating to me," said Elisco-Lemme. Her post received with dozens of comments praising it people began commenting "Free Sebastian."
After reading the comments on Ames' post, Elisco-Lemme described how she felt, saying, "I was really annoyed and kind of embarrassed to be an adult at that point. I thought people were being unnecessarily judgemental because he was a teen and I was really surprised, but I guess I shouldn't have been because that's Nextdoor."
However, Elisco-Lemme's post was removed the following day with no explanation. "… I was traveling for work and somebody had texted me, I think your post got taken down, and I was actually in the middle of something important and I was so shocked that they had done that I actually stopped what I was doing at my job and started responding about how pissed off I was," said Elisco-Lemme.
Elisco-Lemme's post was taken down by the same moderators that removed Ames'. In response, she posted again questioning the removal of her post. "I said somebody needs to tell me why because I didn't violate any of the Nextdoor guidelines just like Sebastian didn't," Elisco-Lemme said.
Her post was met with a lot of support from community members. However, some were still angry. "There was a woman that was and this in air quotes trying to "help me understand" but she was actually behind the scenes trying to kick me off," Elisco-Lemme said.
She later discovered what she had been reported for, and published it online. The report about Elisco- said, "Her commentaries concerning a post by 'Sebastian' and removal from the Nextdoor community, are over-posted and Ridiculous! Please stop her…enough is ENOUGH!"
After four days of Nextdoor war, Ames was freed, but Elisco-Lemme was off Nextdoor.
"She's a martyr," junior Reuben Rosenberg said about Elisco-Lemme.
Ames described Elisco-Lemme as "Mother Teresa" and said, "She was the voice in the darkness, she resurrected me from the grave." When Sebastian returned he posted, thanking all who fought for him and addressing the adults who attacked him and the moderators who banned him.
After Ames returned, Elisco-Lemme decided to leave Nextdoor. "I really wish I could say that I went out by being banned it kind of makes for a better ending that they finally got to me but no I actually woke up in the morning and was like this isn't good for me. How I went from writing a thoughtful piece on why it was wrong to ban Sebastian to stopping work to post on Nextdoor. It became clear to me that I'll have to just find somewhere else to get rid of my moving boxes."