Amaral, Hopper receive Golden Bell Awards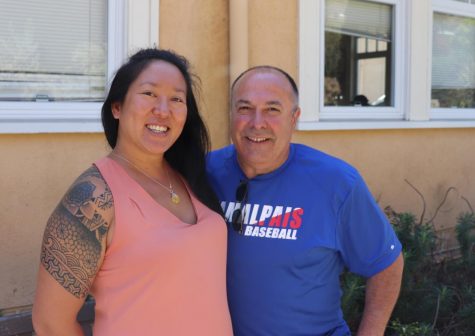 Head custodian Robert Amaral and special education teacher Angela Hopper were given the Golden Bell Award by the Marin County Office of Education (MCOE) on Friday, April 26, for their work at Tam.  
According to the MCOE website, the Golden Bell Awards "celebrate public education in Marin County by bringing our community together to recognize fantastic certificated teachers and faculty."
Hopper, who is in her fifth year at Tam, is heavily involved in the special education department teaching English Language Development, Academic Workshop, and special day classes, in addition to keeping her classroom open for free and open tutoring and creating a student-teacher mentoring program.
"It's a nice when you put in a lot of hard work and it gets recognized," Hopper said.
Amaral, who has been at Tam for three years and at Drake for 13 years prior is the lead custodian on site, maintaining facilities, managing the maintenance crew, running setups, and more.
"[I am] humbled and I'm honored that they did that for me. I've been doing this 30 years almost and this is the first time this has happened for me, so it's an honor and a pleasure to represent Tam," Amaral said.