CTE produces podcasts in response to One-Act Festival cancelation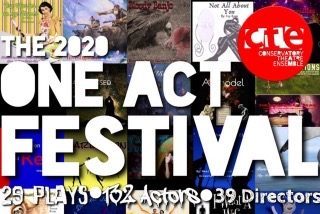 The Conservatory Theatre Ensemble (CTE) released podcasts on June 1 in place of the biannual One-Act Festival, a compilation of one-act plays written and directed by students.
The idea was proposed by senior and drama director Dakota Fox after CTE students learned that the festival was canceled due to the coronavirus health crisis.
"As a director, I was really conflicted about the possibility of my spring one-act not being able to perform due to closures," Fox said. "For the past year, I've really been fascinated by the world of podcasts, even creating a fun talk show podcast for CTE called Spilling The Tea at CTE this past winter."
Fox gave the directors a "Show Podcast Packet" to adapt their plays to fit the new medium. According to Fox, the transition to audio-only was difficult because directors had to rewrite their plays to fit the new style and figure out how to convey emotions, body language, theme, and setting using only sound. 
"It was easier in the way that we didn't have to memorize lines and blocking, but it was harder to adjust to acting with just our voice and not facial expressions," sophomore actor Chloe Turner said.
Although Turner felt the change from play to podcast was a significant adjustment, she and many of her classmates enjoyed the process. 
"I had so much fun doing this. It was a new approach to acting, and I think it should be incorporated in next year's lesson plan," sophomore actor Gracie Smith said. 
The 29 One-Act Festival podcasts are available for free on various streaming platforms including Spotify and Apple Podcasts as of June 1.