Two Tam seniors on track to become first female Eagle Scouts in southern Marin
Tamalpais High School seniors Abigail Alpert and Cassandra Peterson officially earned their rank as a Life Scout in the Boy Scouts of America program in October, placing them just one rank away from becoming the first female Eagle Scouts ever in southern Marin County. 
The National Scouting Organization began welcoming girls into BSA, in February 2019. Soon after, Alpert and Peterson became some of the founders of the first Mill Valley girls' troop. Along the way, Alpert and Peterson have participated in many camp-outs and leadership activities, working towards the prestigious rank of Eagle Scout.  
In addition to the wilderness knowledge and experience associated with BSA, the program places an emphasis on leadership and dedication in the activities and lifestyles of scouts of all genders. Last year, Alpert and Peterson attended the National Youth Leadership Training program, which taught them important leadership skills and helped them to be elected Senior Patrol Leaders (SPL) at separate times. As SPLs, they designed, coordinated, and led weekly meetings and events. 
"I've learned so much first aid, wilderness survival, and I've also really learned how to teach people other skills," Peterson said, reflecting on her time at the training program.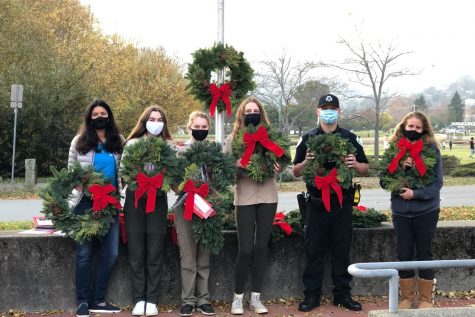 While the Girl Scouts program existed before girls were allowed in BSA, it didn't offer the same life lessons, experience, and real-world applications, according to Alpert and Peterson. Peterson has watched her older brother thrive in the Scouts program since he was in first grade. "I was watching him do scouting and it was a lot of opportunities that I never had," she recalled. The two seniors were almost in unison as Peterson emphasized that BSA has given them a lot they "wouldn't have been able to do otherwise."
Because of their delayed start to BSA as high school sophomores, Alpert and Peterson faced the challenge of completing the Eagle Scout requirements in just two years, while the traditional Eagle Scout is allowed six in order to finish before their eighteenth birthdays. "The stuff we have to do is exactly the same [as everyone else], it's just that we're doing it faster," Alpert said.
Despite the challenge of many new scouts starting at once, both of the aspiring Eagle Scouts noted how inclusive and well-run their troop has been. According to Peterson, "They do a really good job of making [the boys' and girls' programs] the same."      
With just months remaining until the pair's time as scouts will be complete, both girls look forward to completing their community service projects and spending a week on a boat in Florida to close out their journey. Soon to be the first female Eagle Scouts of the area, Alpert and Peterson have only begun to take advantage of their new experiences. "The knowledge we've got, we'll carry it with us," Alpert said.