Varsity football falls to Redwood on home turf
The varsity football team lost in their season opener to Redwood with a nail-biting score of 19-22 on March 20. "Obviously it is difficult to lose to your rival but I think we played very well and hope to continue playing well throughout the short season," varsity coach Matthew LemMon wrote in an email. 
Running back and safety Jack Ehlermann was dominant on the scoreboard; he assisted with the first touchdown before scoring two touchdowns of his own. "To be honest I wasn't really expecting to score the way I did … I expect the best of myself so it felt good to get that out of myself," Ehlermann said.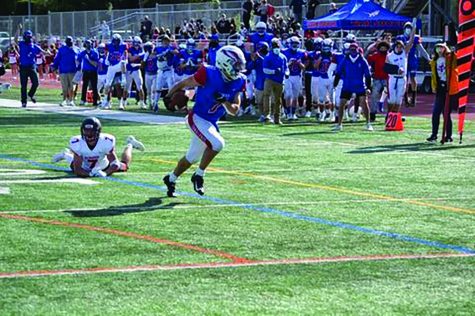 In the third quarter, Redwood first gained two points through a safety. With less than a minute remaining in the third, Tam quarterback Rory Cronander threw the ball to Josh Cushner who ran until he was tackled, gaining 42 yards. Next in a carry, Ehlermann managed to advance through contact from six Redwood defenders to score a touchdown. A one-point field goal from Cushner tallied the score to 13-16 Redwood at the end of the third quarter. 
In the final quarter, Danny Jenkins made an impressive run through five Redwood players, only stopping when pushed out of bounds. Ehlermann then recovered a fumble and easily ran 34 yards through the middle of the field for his second touchdown of the game. For the first time, the Hawks were in the lead. 
"We felt like we had it in the bag and we just had to close out the game — pretty much just run out the clock," Ehlermann said.
With about one and a half minutes remaining, Redwood threw a deep ball and scored their third and final touchdown. 
"Regardless of the outcome, [Tam] showed one heck of a fight," senior and commentator Alec McGhie said before the final whistle. At 30 seconds, Redwood knelt the ball to end the game. The final score was 19-22 Redwood. 
Coming up short against their rivals was no doubt disappointing for the Hawks, "I know all the seniors were pretty bummed … 'Oh wow we could have won that game.' We didn't, and now it's over and we don't get it back," Ehlermann said. 
Yet, it was also a learning experience for the rest of the season. "I feel like everybody knows what's like to lose now, and everybody knows what they could have done better now," Ehlermann said. "If we want to win games as an offense we have to sustain drives … majorly just focusing on kind of getting the offense in a place where we can just win games and not rely on the defense that much."
Tam TV live-streamed the game with commentary from McGhie and junior Wesley King through their YouTube channel for fans to watch. Only 70 players' parents (35 for each opponent) were allowed to physically attend with prioritization given to upperclassmen. 
Varsity football plays their next game against San Rafael on April 10.