Tam soccer brings together cultures and students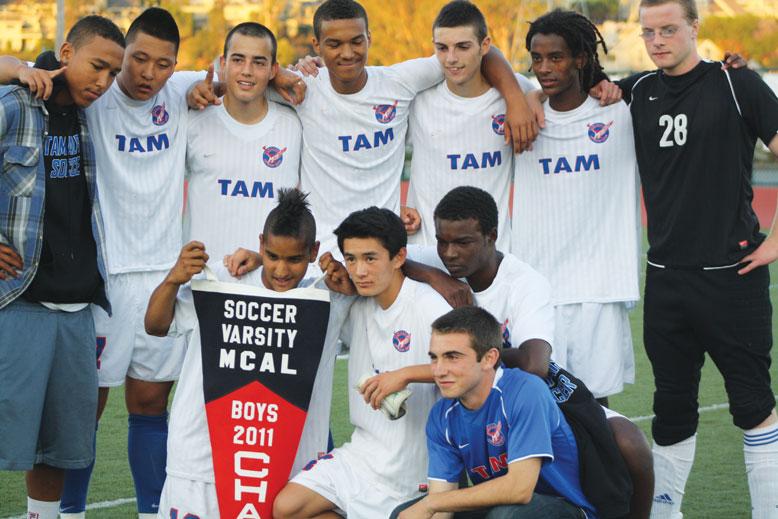 "At the beginning of the season, all of the kids dribbled too much, mainly because they were comfortable with dribbling and they were all good at it. People wanted to play their styles, not our style," said senior Varsity Soccer captain Imran Nana. At the start of the season, Nana and his peers found themselves with a unique challenge. They needed to merge playing styles from all over the world and forge a working team, all in a few short weeks.
Now that the season is over, this year's varsity soccer team has come to be recognized as one of the most culturally diverse, not to mention successful, to ever take to the field at Tam.
Soccer is a universal language capable of connecting people of all different cultures. No matter where you come from or what language you speak, you can communicate through the ball. "The way a person plays any type of sport really shows their personality." said sophomore Jackson Wong.
Many children in other nations grow up with soccer as their first and only sport. This has a positive correlation leading to tons of success with a ball at their feet, unlike the average Marin kid who will play soccer, basketball and baseball growing up.
As Marin County Athletic League (MCAL) champions and runners-up in the North Coast Section (NCS) tournament, the Tam boys varsity soccer team is a perfect example of a successful cultural melting pot.
However, many of these international players experienced a rough transition when they first arrived at Tam. At first, the different styles clashed.
The Hawks lost two games very quickly once the season started, and struggled with MCALs during the middle of the season, in part due to not understanding each others' styles.
"Ultimately, everybody has a different playing style, and so all of these guys have had to make some sacrifices, whether it's seeing the ball a little bit less or changing their game to accommodate their teammates," said varsity coach and Tam PE teacher Dustin Nygaard. "My job is to help everybody understand that it's for a greater good and when you are able to make some sacrifices good things can come from it."
The players are constantly learning new styles of play, and being taught new cultures other than their own from one another; they are bonding through a simple ball.
"Since the students share a lot of similar experiences and thoughts all having come from a foreign place and arriving at Tam, they have an indescribable chemistry that you can truly identify when seeing them play the game." said junior Elliot Dorenbaum.
Nygaard agreed, and shared his thoughts on why he thought his team was so successful. "Each country, like when you watch the World Cup, has different playing styles, and different things are emphasized in different cultures in terms of characteristics for playing."
There are many international players on the team. The seniors are attacking midfielder Gabriel Cavalcante of Brazil, and forward Min Ho Kang of South Korea. The juniors include midfielder Tesfaye Paine of Ethiopia, winger Mohammed Manneh of Ghana and keeper Ingmar Bastian of Germany. Fullback Lucas Janetos of England is the only international sophomore.
A pivotal player on the Tam team is Tesfaye Paine. Before Paine was adopted in sixth grade, he grew up in the city of Addis Ababa, Ethiopia. This is where Paine's creativity and speed on the field were developed.
"[In Ethiopia] we had a lot of dribbling, whether it's tricks or running past guys. There's wasn't a lot of passing." Paine said. "We always played, whether it was after school, during the weekend, during lunch or breaks, and at night," Paine said.
Growing up, soccer captured the majority of Paine's time. "The most memorable game that I played was when I was in fifth grade. Every year there was a tournament in school during lunch. Kids got selected to play in these game and the kids chose me to play," Paine said, "We lost 8-1 and I scored the only goal for my class. Everyone in my class was carrying me on their shoulders, and they were just having a lot of fun."
Brazilian senior Gabriel Cavalcante brings his dribbling skills to the Tam squad. Cavalcante grew up in Curidiba, Brazil, and most of that time was dedicated to soccer. However, playing on a grass field was new to him. "I played soccer my whole life; back home I played it every day," he said. But the organization and environments of soccer can have many variations. "I always played indoor soccer; this is the first time I have ever played on grass. It's easier because the ball doesn't slide as fast when you're dribbling."
Since Cavalcante just moved to California this summer, he still has some homesickness, "I miss my friends, parents and brother," he said. Luckily, the soccer team was a welcoming community and was more then open to foreign players. "The soccer team has helped me a lot. I feel like I know more people in America now," Cavalcante said.
With Paine and Cavalcante so naturally smooth with their dribbling skills, they were able to become player-coaches and guide the other players during the season. They taught the players to learn the right situations to dribble past players and to look for the open man.
One of Tam's brightest prospects, returning varsity member Lucas Janeto,s is one of Tam's toughest players. Born in raised in London, England he rarely backs down from a challenge or threat. In one heated game against Marin Catholic last year, fed up with a bigger opposing player after a harsh exchange of words, Janetos pushed him, leading to a yellow card. Janetos gets his passion from his home country of England.
"Soccer is king there," he said. "We played every day: at school, at lunch, after school and at night."
Janetos's toughness comes from playing all different social classes of kids back in England. "English soccer is rough and aggressive. It's not based on fancy footwork. It's all about brute strength," he said.
The wide range of social class playing in England is something that Janetos prefers. "Here in America, it's mainly upper-class; you have to pay to play. In London it's pretty much free. There you have more lower-class players, and they care more."
According to Janetos, soccer is not a game in England, it's a life style. "There are a ton of fights, people care way more," said Janetos. "[During one fight]a defender on the other team did a dirty tackle on our striker, who was a complete thug. After that our boy took one look at him and head butted him square in the face. Both teams started fighting and the coaches got involved too."
One of the physically biggest and most intimidating players on Tam varsity is junior Ingmar Bastian, who was born in Munich, Germany. Bastian, who plays goalkeeper, loves the passion of German soccer.
"It's more competitive [in Germany] because [soccer is] the number one sport. Everybody plays for fun at least. And when the team does well, everybody in Germany is happy and knows about it," Bastian said. The Germans have been a dominant force in soccer history, winning the world cup three times by changing their styles around. "Counterattacks are their main style now. They used to use physical, tough soccer before."
This brings a rare, highly physical team to Tam, going completely against the stereotype other counties have been known to use: "Marin soft".
One of Tam's most creative and cheerful players, and the goal scorer who sent the Hawks into the NCS finals with a goal against Marilla Carrillo, is Mohammed Manneh. Manneh was born in Ghana and moved to Senegal, and then back to Ghana before coming to the United States. "We played street soccer on the dirt and beaches barefooted. It was very fancy footwork." "It was very fun to play there, but if [the local players] didn't know you they would try to hurt you," Manneh said.
One of Tams main energy sources is senior forward and set piece specialist Min Ho Kang. Kang grew up in Seoul, South Korea. He was driven by the Korean brand of soccer "(The Korean style) is hard work." said Kang "I played all day. The first practice was at 5:30 in the morning. The second practice was at 3:30 after school and after dinner at 7:30 was third practice." But Kang couldn't get enough "We skipped school all the time (for soccer)," he said. With these masses of time devoted to soccer great things were expected of them and if they didn't prevail they would be punished. "I remember we got beat up every night because that's how the coaches are in Korea." He said.
This combination of kids from around the world brings a unique passion to the game and can be a spark which ignites the team at any moment.
With their diversity, the Tam players have created an entertaining soccer style that incorporates all of their foreign styles with those of the American players.
"The wide variety of nationalities comes into play very often. We have so many kids from so many places, yet many of them are experiencing the same sets of emotions. That's what brings the team together more closely and allows for better team chemistry," said Dorenbaum. "The unique styles they bring on to the field all contribute to one overall method of playing soccer that is nothing like any team in our league has seen before. I see it as a combination of the creative Brazilian team and technicalities of the Spaniards."
"The American style of soccer relies mostly on being athletic." Wong said. This means more long passing, and less reliance on technical skills.
"We try to [teach them how to pass] and it tends to work," said Junior Aiden Hersh.
"The American players are very strong and fast at marking. At first, I had not seen that. Some coaches and players taught me things like how to move the ball quickly and that helped me a lot," Calvancante said. "[Tam junior and American] Julien Melendez helped me with everything I needed since I came here."
Perhaps the biggest strength of the team is that the international players have been open to changing their styles of play in order to mesh well with one another. "The first year I came here I played the same way I did in Ethiopia. But then I played against Select players. I had to learn how to pass and play better defense," said Paine.
While some may believe that this diverse mix could hinder performance, they have proved doubters wrong. Senior Seth Gillis said, "Our chemistry now is really good because we have learned to incorporate all our different styles of play and that is definitely a huge part in our success…" "[The chemistry of the team] is very good. Through hanging out with each other every day at practice you see chemistry develop quite well on the field and off the field. I think the guys enjoy hanging out with one another," said Coach Nygaard.
While noteworthy, this is not the first time that Tam has had international students on the soccer team. "If you look at some former teams we've got kids from Brazil, we've had some kids coming in from Africa, we've had international kids. I think that because this school really is an English language school, we are a destination point for international students. Whether its coincidence or people coming to this school knowing there's a good soccer program and a program here for learning English, it's hard to say."
After a highly successful season, Tam's team has truly earned the recognition that they have recieved. Regardless of their reasons for coming to Tam, these players have created a unique team with its own style of playing that is unlike any other.