Girls varsity basketball beats Redwood to continue five-game winning streak
Tamalpais High School's girls varsity basketball team beat Redwood 35-32 on Jan. 27, solidifying a 5-3 league record. This is the first time girls varsity basketball has won against Redwood since 2016.
"The game was hard fought and exciting. As a coach, I feel like this game showed us what kind of team we are. Everyone was fully engaged," head coach Lynette Egenlauf said. "Kate [Norris-Icho] and Jiji [Vorachard-Pugh], our seniors, led the way at the end and I'm just excited that they got their first win over Redwood."
Stat leaders included Norris-Icho with 12 points, junior Emma Palmer with three assists, and freshman Olivia Soenens with three offensive rebounds. Tam maintained a small but consistent lead throughout the game, and headed into the end of the fourth quarter with a score of 33-32. A foul in the last few minutes saw Vorachard-Pugh at the free throw line for a one-and-one. After making both shots, Tam kept Redwood off for the last minute, ending with a score of 35-32. 
"The play that really solidified our win was Jiji's free throws," Soenens said. "[Overall, we won because of] hard work, dedication, teamwork, family." 
Egenlauf was excited for her first Redwood win, both as a coach and a past player.
"The coaches are alumni and we were never able to beat Redwood when we played," Egenlauf said. "It's a great win for the team and program."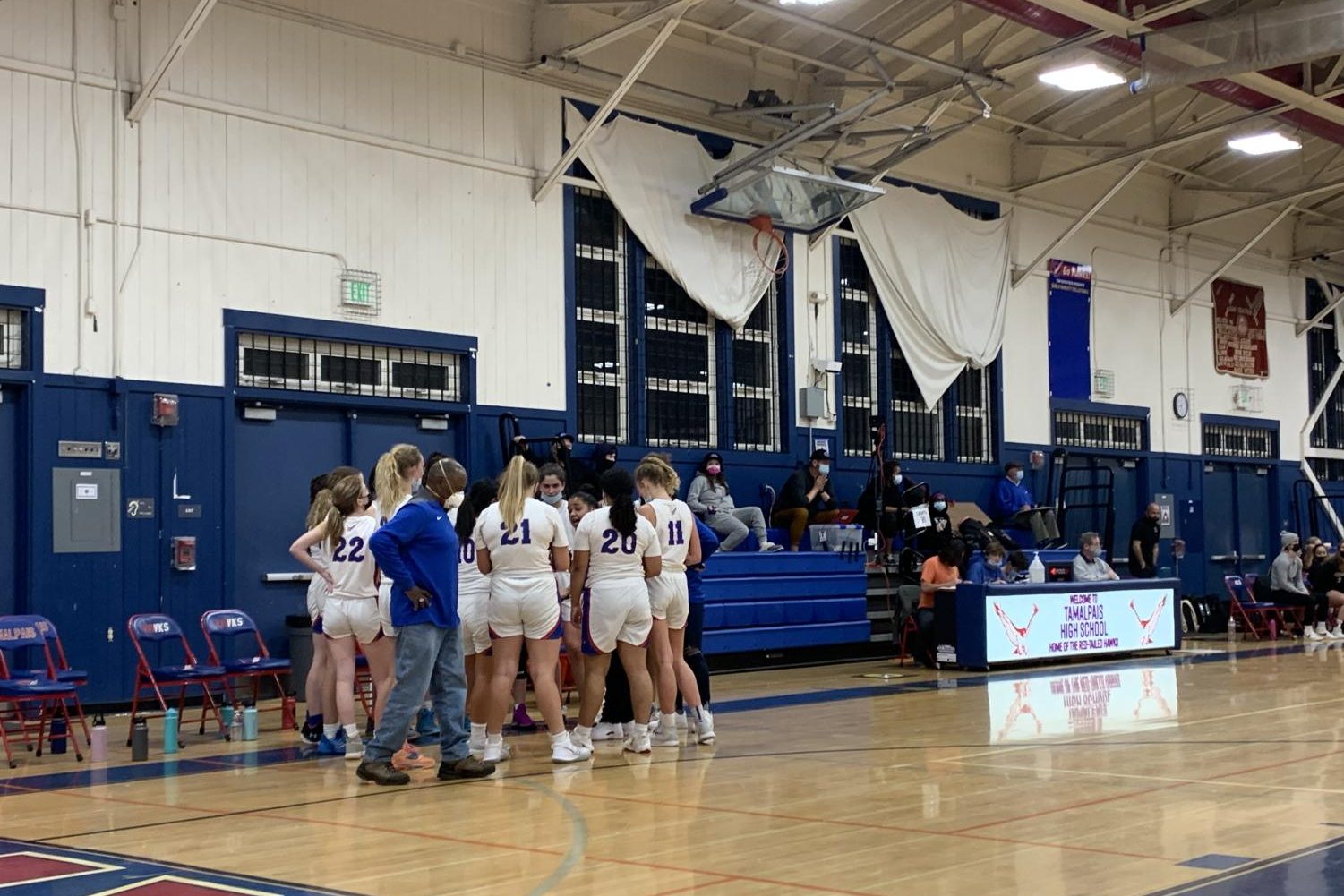 Due to recent updates in COVID-19 guidelines from Jan. 25, more than two spectators per player were allowed into the gym, with proof of vaccination, for the first time this season. Large crowds from both teams were present. 
"It's so good to see all of [the students] in the stands, it's a good energy, I think it's been a long time coming," Assistant Principal Karin Hatton said. "You guys as young people need to be able to do this, it's a way you connect as high school kids. As long as everyone exhibits good sportsmanship, we'll be good."
 Student sections were emphatically supporting their players, especially as the scores became so close towards the end of the game. 
"I think [the energy] is going crazy, especially from Tam," senior Luke Ferris said. "This girls' team does seem a lot different from previous years. I noticed that a lot of younger girls are playing, it's not just the seniors, and so I'm sure next year they're going to be fantastic too, and beat Redwood again."
Girls varsity basketball will be playing Redwood again on Jan. 28, and are hoping to rally the team, and crowds, for another win. 
"We played as a team, we went hard, we pressed, we went for the ball," Palmer said. "We were playing our hearts out."