Voices Old and New: Activism spans generations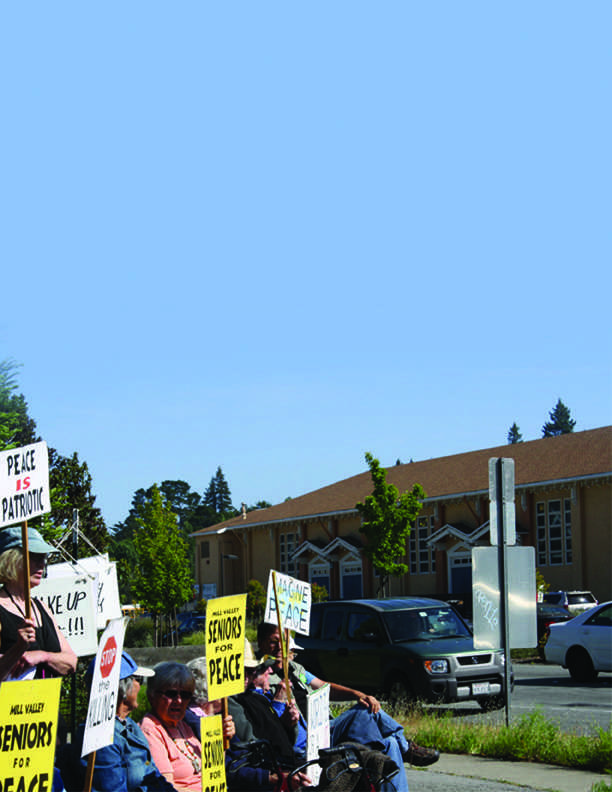 By Hannah Yerington
June 7, 2012
On a Friday after school, waiting for my ride, I noticed something strange across the street from Tam. Some sort of camp had assembled on the sidewalk in front of the Redwood Retirement Community. Music played and passing motorists enthusiastically honked at a large sign bearing the words "Honk for Peace." All the protesters seemed to have many, many decades to my 16 years. I was curious. So when a friend suggested we walk over, I eagerly texted my mom, "Going to join hippie protest across from Tam, pick me up there!"
Once across the street, I began to sleuth around, asking these activists what they were protesting. They told me they call themselves Seniors for Peace, and with the use of signs, musical instruments and an old sidewalk, they hope to make a difference and bring the world a little bit closer to world peace. They come from different backgrounds and have diverse philosophies, yet are united by the idea that peace is possible. They are out on that curb every Friday from 4-5 p.m.  and have been since nine years ago, when the Bush Administration declared preemptive war on Iraq. Every one of these activists is over the age of 86. Fascinated and inspired, I was less than pleased when my ride pulled up.
I began to think: here we have this group of people, an older generation working to promote change and peace. But right across from the Redwood Retirement Community is the next generation at Tam. What are we doing? Can we bring positive change to this world? When asked  if he thought we have any impact as high schoolers,  junior Edward Donohue said, "Well we are the next generation, so yes." But, he added, "Currently, I have not made efforts to make an impact. I should have I guess. I guess it is difficult to know exactly what to do." I have to agree.
A week later, I was back in search of stories. What motivates these seniors to protest? Why do these people do this week in, week out? Do they really think a guitar, some tambourines and brightly colored signs can make a difference in this world?
"'Bout the first week I got here, the gentlemen on the guitar was my person, you know, who brought me into the group," senior protestor Ralph Silverman said, a slight smile playing on his lips. He leaned towards the recorder, a cowboy hat tipped on his head, salt and pepper hair peeking out. "He signed me up with the Seniors for Peace at dinner time!" He laughed. "Just like that!"
"This Land is Your Land" played in the background as I interviewed him. Ralph had recently turned 90, and I wished him a belated happy birthday. He smiled. It was a crisp Friday afternoon in front of the Redwood Retirement Community. He has been living at the Redwoods for nine years in independent living. "This Little Light Of Mine" began to play with some new lyrics about Marin County I'd never heard. Silverman told me about his background and how it influenced him.
"I've been working since I left my dad, way back when," he said. "I worked for Lockheed, [an aerospace engineering company].  I worked 10 years for U.S. Aircraft, almost 15 years for Lockheed. Of course, if I hadn't have had to make a living, I would have said, 'uh-uh,' I wouldn't work for that. But this is what I got caught up into when I got [to the Redwoods], in retrospect." We laughed. Seniors for Peace, with their signs sporting the words "End War!" is certainly far from Silverman's military past.
I asked him if he's been involved in any other activism. He told me about his family. "Well along the line, my dad and my  mom were fairly active. In the '20s my dad had, before I was even born, he had my mom go vote for women's right to vote. And my dad, being a socialist, got pretty well up under one thing. So he gave me sorta a background on that. But when you have to make a living, you go where you can make a living, you know. So there are other routes of trying to get this thing stopped. But I don't like [war], so that's why I'm out here on the corner."
I later learned that Seniors for Peace is many of these protesters' first public display of activism. The group's facillitator, 94-year old William Usher, told me that helping start Seniors for Peace nine years ago was his first experience with activism. He explained that the group was started because "War is not the answer, and we still feel that way."
One of the most inspiring things about Seniors for Peace is that, rain or shine, they are sitting on the curb. They believe that an old sidewalk and a group of voices can become a stage for social change. They believe that this truly has a positive impact on the world.
Sophomore Chelsey Meyer felt strongly that we, as the up and coming generation, have an impact on the world. "Individually I don't think a teenager has any impact," she said. "But as a whole, we are quite a force to be reckoned with. There are too many people in the world, and an individual is too small."
Sophomore Aubrey Dority also expressed that in order to have an impact, "I think first of all you need a group of people."
Silverman told me he felt proud of the fact that Seniors for Peace keeps going. "I think this is a success.We have a video that's gone around the world, literally," he said.
On the group's website, mvseniorsforpeace.org, visitors can learn more about this documentary. Though it is not available on the website a screening can be requested, and PBS has expressed interest in broadcasting it.
The unifying opinion of Seniors for Peace is that violence is never justified. "People should be able to get to a table and talk," Silverman said. "The big trouble is getting rid of religious bigotry. Don't throw the Biblical stones. In other words, don't fight because of what your background is, because it is not getting anywhere. All you do is kill other people and for what?"
I agreed, but replied, "Well doesn't the Bible say to love one another? And I don't think that has always come across with the church." He nodded. "No. And believe it or not, most of the religions have a set of golden rules. And they don't abide by them. Well, you grow up with a certain thinking and the parents, my parents…My dad was taught by his father, who was a rabbi. And at three years old my father knew the Bible backwards and forwards. But he didn't shove it on us. I mean we went to Jewish school, had our bar mitzvahs and all that. But he didn't push it on us. So he broke away a bit. But there was a lot he could have taught us."
Sydney Brown, an activist who has been working towards peace for years, identified another issue she felt was obstructing peace. "I don't think we look at the unfairness of our economic systems enough. A lot of people oversimplify what peace is about. I think we have to look at who's rich and who's poor. And who's really greedy, and who doesn't give a damn about other people," she said. When I asked if she really thought peace was possible, she replied, "It has to be."
If Silverman could change one thing in the world that would contribute to peace,  he said, "I would still work with the government to eliminate wars. You know what it costs one day? One day, for a war? We could cure cancer. I mean they are cutting back in order to feed the world with guns; they are cutting back everything we need. They are cutting education, health care and the whole bit. And at least if they spent equal amounts…"
Why isn't this generation, my generation, working the hardest to promote a world we want to live and grow up in, a world where peace could be achievable, when a group of seniors, at the end of a generation are? Why am I not out on that curb? Who, of my generation, is out on that curb?
The idea that we can't personally change anything about the world seems to be a common theme. When asked if he felt he had any impact on the world, sophomore Josh Leung replied, "No." And when asked why, he simply stated, "I just don't feel like I do."
But it isn't that these teenagers don't have ideas. I asked them all the same question I asked Silverman: "If you could change one thing in the world that you feel would contribute to peace, what would you do?" Everyone had an answer. They talked about ending greed and war, but no one seemed to have any idea how to go about it or think they could make any difference as a teenager.
However, some Tam students have found ways to make a difference. Community service clubs and activists at Tam are doing just this. Junior Marcus Nunes, co-manager of the Tam High Music Community Service Club, explained the purpose of his club "is to raise money for those who need it; so for charity, those lacking and organizations that need money. So we put on a concert for these types of organizations. On the other hand, we like to bring music to those who don't really get it. So places like in the Redwoods, we played there once and also in another retirement community called Aegis. And there we just played for them to give them a variety of music because they don't really get live music; they don't get out there too much."
Nunes feels the club really does have an impact because "if it didn't have an impact, then our benefit concerts wouldn't have an audience. And the fact that last year we were able to raise a lot of money for an organization… that shows that there are actually some people out there who care and who want to make a difference. And in order to make a difference we all come together and we all do this one thing."
Sophomore Casey O'Brien is realistic about the impact of the March of Dimes Club she runs at Tam. "[Our] level of that impact is more relative. Yes, we raise 500 dollars, and that 500 dollars goes to research funds and premature babies, and that probably does make a difference. But being a teenager is a little bit about devoting yourself and then accepting that sometimes that devotion doesn't go as far as you want it to. But I do feel like just doing something, even if it doesn't make the huge impact that you thought it might, matters," she said.
These aren't the only people trying to make a positive impact at Tam. There are other service groups, such as Youthgive and Interact, that believe in making a positive impact on this world. Mill Valley's Youth Rock the Rebuild put on a concert to raise funds for an orphanage in Laos on May 19. These and other teens are making a difference in our community.
Silverman, reflecting on his experiences with Seniors for Peace, recommends that any teenagers hoping to make a positive impact or get involved in promoting nonviolence "learn what the facts are. Don't believe everything in the newspapers, because some newspapers are biased and controlled. And that's a no-no. And I advise the students to get hold of a good dictionary and use it. And don't be afraid to ask questions!"
Bernard Barrish, another Seniors for Peace activist, agrees. "Read carefully and understand what people say. Understand the difference between somebody's opinion and what's a fact. And be fair with what you have to say," he said.
Above all, Silverman has one message to aspiring student activists: keep trying. "You don't stop because you don't think it's gonna really work." ♦