Boys varsity soccer wins Bay City Invitational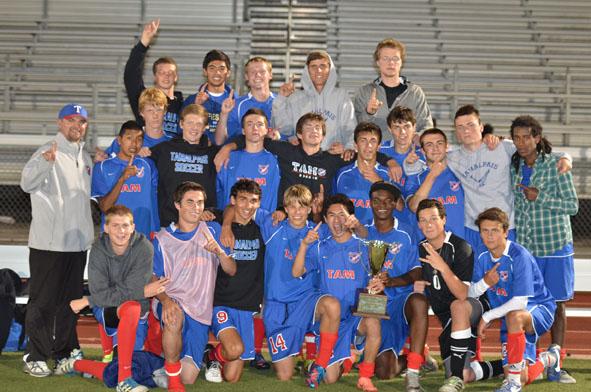 By Zack Tolpen
August 30, 2012
Tam soccer coach Dustin Nygaard created the Bay City Invitational soccer tournament in 2007, but as of one week ago, Tam had yet to win a trophy. That changed when Tam won Northern California's famous soccer tournament August on 24 by defeating Terra Linda High School in a battle of penalty kicks.
Tam's first two matches ended in victories; a 3-0 win over Arcata High School, with senior captain Julien Melendez scoring two of the three, and an 7-0 win over Piner High School with key goals scattered around the roster including sophomore Ben Weinswig, juniors Zatar Omar and Teddy Mauze, and senior captains Tesfaye Paine and Julien Melendez. Their third game ended in a 1-1 tie, which sent them straight to the finals of the tournement.
In the final match against fellow MCAL team Terra Linda High School, TL took a 2-0 lead right off the bat, but Tam retaliated with two goals just before halftime. These came from juniors Teddy Mauze and Parker Walls. The tie continued until the end of the match,  meaning that Tam and Terra Linda had to resort to an intense round of penalty kicks. Senior Kenny Rosenberg, also a Tam News reporter, saved the second penalty kick shot from Terra Linda, which was the deciding factor of the game. Junior Lucas Janetos scored the final goal in penalty kicks to secure the win.
Key players of the tournament included, Mauze, Melendez and Paine. Mauze led the team in the tournament with five goals in the four games and two game saving assists. These players and their teammates worked together cultivating great team chemistry, which contributed to the win. "I scored three goals in four games and we had numerous other scorers step up, [specifically] Parker Walls with two [goals] from defense," Melendez said, "All around great performances from every player, coach kept us organized and everyone contributed to a successful tournament."
Coach Nygaard has had many successful seasons with Tam soccer including an MCAL championship last year and second place in the North Coast Section. "We were determined to give this one to Tam. We have had three consecutive strong seasons, but never won the Bay City Invitational," Melendez said, "With the addition of some spectacular players such as Parker Walls and junior Teddy Mauze alongside our already strong team, we knew our capabilities and that we wouldn't be going home without the trophy."