Springer wins Symetra Hero Award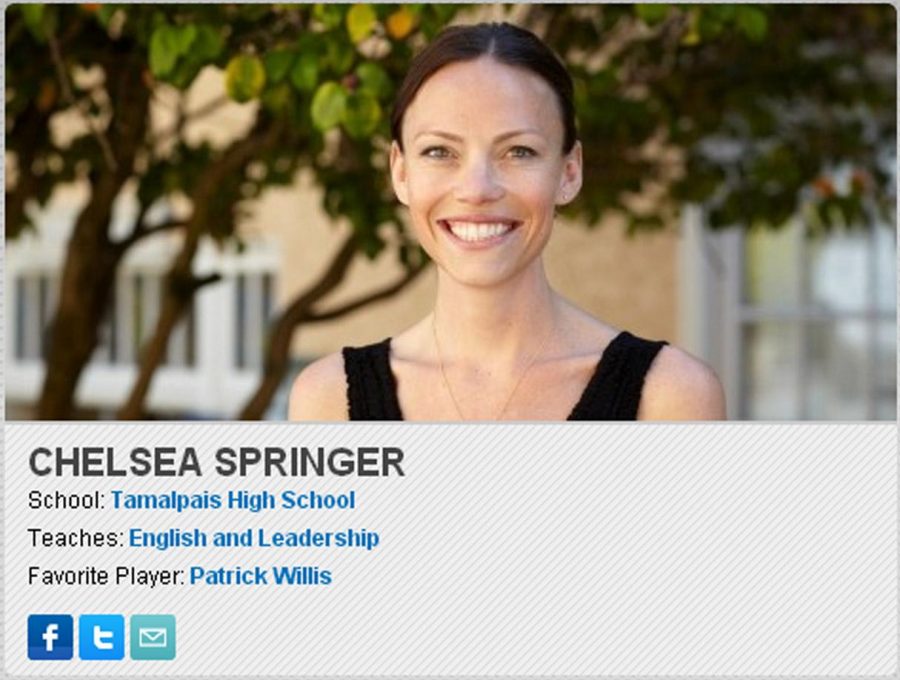 By Daniel Carroll
November 4, 2012
English and Leadership teacher Chelsea Springer was selected as one of this year's sixteen Bay Area Symetra Heroes, and was presented with a $1,000 check and two 49ers tickets on October 3rd. The award recognizes "outstanding leadership and instructional skills," according to the Symetra Heroes website.
Springer was nominated by senior and Leadership member Nestor Teodoro, who learned of the opportunity to nominate Springer from senior Rex Chinchilla, who successfully nominated math teacher Rebecca Henn for the same award last year.
"[Springer] is always mellow, funny, and knows how to get you a new perspective on things. She connects with her students differently in a way that brings out the best in them," Teodoro said.
The group that entered the class to present the award included representatives from the 49ers and Wells Fargo, and a Symetra/49ers cheerleader. "I thought we were all in trouble for homecoming, or we were going to be searched or something like that," sophomore Patrick Shore said.
Springer joined the other Heroes in the Classroom winners on the field at the 49ers game October 12, where they were able meet some players and were introduced during half time.
"To be nominated by a student means the world. The fact that someone took the time out of their busy schedule to recognize me is a huge honor," Springer said. "An award like this validates what teachers do on a daily basis and reminds them their efforts pay off."