Support Your Real Home Team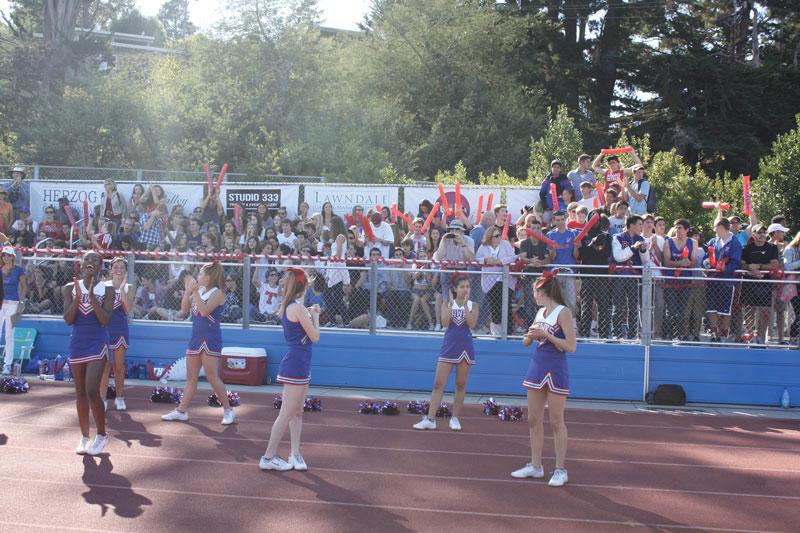 So the San Francisco 49ers lost the Super Bowl. Yes, it would have been amazing if they'd won for a sixth time, and perhaps they should have, but that's over and done with. While local football fans might still be living in a world of what-ifs, other professional sports continue their seasons in earnest. Bay Area fans can still get their fix from the Golden State Warriors and San Jose Sharks, who are both having quite successful seasons.
However, they are not alone as a source of athletic entertainment. We might technically be in the middle of winter, but February 4 marked the beginning of Tam High's spring sports season and one of the most exciting times of the year. With spring come baseball, softball, lacrosse, swimming and diving, track and field, golf, boys' tennis and girls' soccer. These sports present an opportunity to get out, see some exciting competition and spend an afternoon with your friends in a way that's a bit healthier and more socially acceptable than other, ahem, recreational activities.
"We are out there [playing] for the fans," senior varsity basketball player Michael Thomas said. "The volume in the stands gets us excited on the court, in the other team's face and more likely to make a big play."
If it's a question of entertainment value, make no mistake: these teams are good. Last year, the baseball team played in the NCS championship game in the Oakland Coliseum. The softball team made it to the NCS semifinals. Boys' swimming brought home an MCAL pennant, while boys' varsity lacrosse battled in the MCAL playoffs.
Sometimes, you will be surprised by how much you enjoy watching the sports. For example, it's hard to watch Tam's dive team and not be entertained by their graceful flips and turns. Boys' lacrosse, known as "the fastest sport on two feet," can be appreciated by any fans of hockey, soccer, or football, just to name a few. Even such events as track and field's pole-vaulting can be fascinating to those who might not find running to be their idea of a spectator sport.
Think for a moment about this year's homecoming football game. The stands were packed with students sitting on students sitting on more students. The cheerleaders and dance team came out to pump up the crowd, and the sweet taste of victory at the end of the game put everyone in a good mood.
Our spring teams have returned, hungry for success on the track, in the pool, and on the field. It will be several weeks before MCAL games begin, but even pre-season scrimmages are a great opportunity to see your Red Tailed Hawks in action.
Spring is a eventful time around campus. Packed into these last four months of school are ski week, spring break, prom, AP tests, warming weather, finals and the ever-approaching lure of summer. It's the perfect time to grab a friend or two and head down to the baseball field to support your schoolmates after a long day in class or a boring Saturday afternoon.
Unlike professional athletes, these players are your peers. Like Thomas said, student athletes really care when you show up, make some noise, and have a good time. So what are you waiting for? After all, these are your true home teams.