The Blind Spot: Peer Resource sheds light on the dangers of distracted driving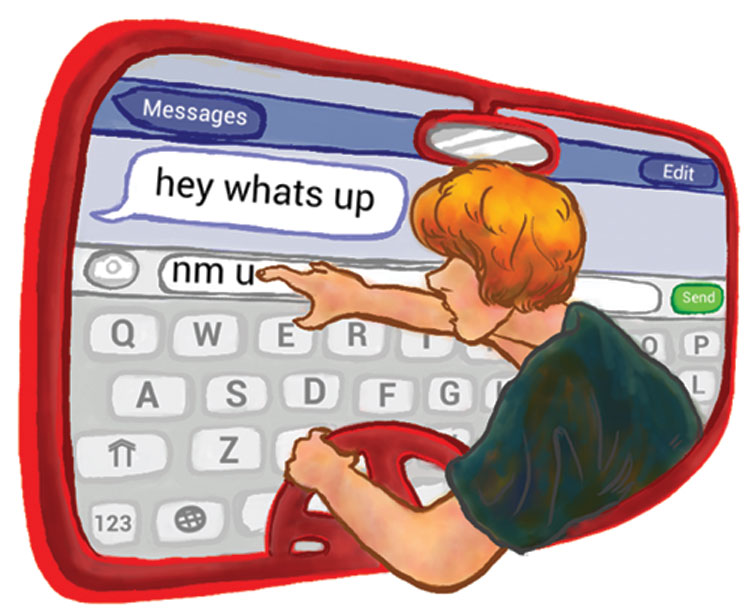 By William Choulos & Chris Yip
June 10, 2013
"Today, I want to tell you the story of a good person who made one bad decision… One night, this individual got a call from a close friend. He stated that he was trying to get into an academy but judging from the feedback he didn't get a call, so he didn't think he got in…he was just crushed. So she went down, consoled him, talked… did what friends do when they're having a bad day…it happens.
"At some point in time she decided it was time to go home. Somewhere near halfway home she got a text. Now, this individual is not a texting and driving person. She didn't do that. For whatever reason, she decided to look down at this text message, probably because she was worried about [her friend]. At that time she lost sight of the road and control of the vehicle for literally a second. One second. She ran her car off the road [and] totaled the car.
"She got on the phone, called her mom and said, 'Mom, I've been in a horrible car accident. I'm okay, but this one was my fault. Oh look, someone's coming to help! I see headlights!'" Those headlights were from a Ford one ton van coming 70 miles per hour into her door. It didn't stop. It hit her right on her side of the door, broke her neck and killed her on impact. And that is the last sound her mother heard as well. The girl I'm talking about was my first and oldest daughter, Kimberly Nicole Augusto.
"Ask yourself one question. Do you want to leave a hole in someone else's life? Your family, your friend, your girlfriend, your boyfriend, whoever… Do you want to leave a hole in their life or do you want to make an impact?" Bobby Augusto paused as he addressed a silent Gus Gym full of students on May 1 during Peer Resource's recent campaign against distracted driving. "You leave a hole in someone's life by picking up that phone one time out of a thousand, and a car hits you and kills you…and you leave everyone you know completely devastated."
According to the California Department of Motor Vehicles (DMV), teenagers are twice as likely to crash than the average driver, even though teenagers drive about half as much as the average driver. These accidents are three times more likely to result in injury and 21.5 times more likely to be fatal when compared to the those of the average driver, and the leading cause of teenage death is traffic collisions.
Augusto, a Marin parent and advocate for AT&T's "It Can Wait" campaign, tells his story to high school students in hopes of raising awareness of the dangers of distracted driving. "My focus is [on educating] kids, so your parents [and friends] don't have to feel what I feel…when their favorite person in the world is gone," he said. "It's heartbreaking."
Augusto may have his work cut out for him, as Tam students and local officials say distracted driving is commonplace in the community. "You can drive all over Marin and see people looking down [text messaging or] talking on their phone," Andrew Barclay, Public Information Officer for the California Highway Patrol (CHP), said.
According to the Insurance Institute of Highway Safety, a total of 3,023 teenagers aged 13-19 died in motor vehicle crashes in 2011. The National Highway Traffic Safety Association (NHTSA) also estimated that 18 percent of all injury-inducing accidents in 2010 involved a distracted driver; most of those accidents (according to the U.S. Department of Transportation,) involved a driver that was under 20. That means nearly one in five of all car crashes were avoidably; a number likely larger for those under 20. Combining inexperienced teens with extra distractions only increases their risk of crashing. "There's no way to sugarcoat it. Teenagers are dying," Barclay said.
Others have experienced distracted driving that isn't exclusive to texting at the wheel. "When you're playing music on your phone or your iPod and looking through your songs [while driving], that's [more] dangerous, that's where you get in trouble," senior Benji Landress said.
"Texting and driving has become this crazy, life threatening fad ever since the advancement of technology," senior McCall Hoyt said. "It's really scary to think that people have to get into a situation of their own, a crash or swerving and skidding to realize that it is not only against the law, but extremely dangerous."
Recently, Landress received a ticket for texting and driving. "I was on the freeway and the Highway Patrol saw me coming down the ramp. It was stop-dead traffic [and] I was not moving. I had my foot on the brake, fully stopped and [the police officer] came up on the shoulder and gave me a ticket," he said. The ticket cost Landress about $160, and served as a deterrent to texting while driving. "When I'm driving I definitely consider that threat of a $160 loss and [I ask myself], 'Is this text worth $160?'" he said.
It's not just the driver who's at risk in cases of distracted driving. Of all teenagers killed in car accidents, 65 percent are killed as a passenger of a teenage driver. "There is absolutely no good reason for you guys to have to die or get hurt or kill somebody else from texting and driving," Augusto said. He believes that teens need to consider that car accidents don't just affect the texting driver. "What about the person you hit? What about their family, their loved ones that you just became judge, jury and executioner for?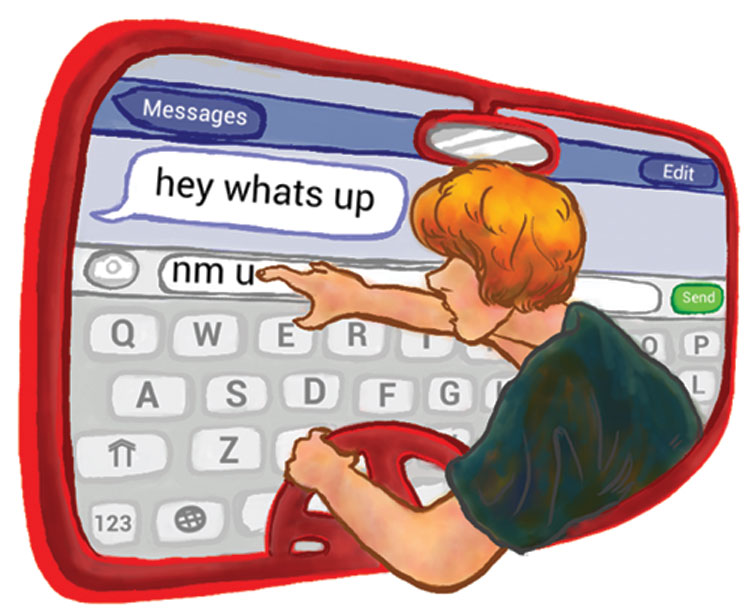 Although the distracted driving statistics can be upsetting, many organizations, including both the NHTSA and National Safety Council (NSC), argue that distracted driving causes many more accidents than are reflected in reported figures. "As far as the statistics for collisions involving cell phones, for example, I think unfortunately it's grossly under reported," Barclay said. One reason these statistics may be inaccurate is that many deny having been distracted in the events leading up to a car accident.
Other efforts to bring awareness to high school students have been spearheaded by Gwen Froh, a Safe Routes to School Teen Coordinator. Recently Froh worked with the principals and Peer resource classes of Tam, Drake and San Rafael High Schools. "[We] got a special grant to help three high schools this year pull together three different campaigns," she said.
On April 29, the first day of Tam's three-day distracted driving awareness campaign, Peer Resource led a series of informational games, ranging from trivia to simulations, for classes on the basketball courts near Ruby Scott gym.
Peer Resource's campaign primarily targeted sophomores and juniors, the age group on the verge of becoming licensed drivers, to "stop [distracted driving] before it becomes a habit," Stella Resta, a junior in Peer Resource said.
On the second day of the campaign, over 600 students and teachers visited the back parking lot to take the pledge to not text and drive. Despite such apparent support, sophomore Cooper Bontz worried that the number of pledgers may not accurately reflect dedication to the cause. "I think that, unfortunately, no one is taking it seriously and because of that, it loses its value," he said. Regardless, Bontz commends the campaign for raising awareness for other distractions, such as music and passengers, and pointing out that texting and driving is not the only problem. "I am definitely noticing small things…and trying to stop before it happens," he said.
Augusto concluded Peer Resource's campaign with his presentation in Gus Gym on May 1. Recounting his connection to brutal effects of distracting driving, Augusto personalized the issue for many students. Freshman Max Schank described Augusto's story as "a really good personal story that had a lot more [of an] effect than [just the] facts."
Such presentations also highlight the possibility that current policies prohibiting the use of handheld phones while driving may not be enough to combat the problem. "Originally the thought was to get [phones]out of [drivers'] hands so at least their hands are on the steering wheel, able to control the vehicle," Barclay said.
However, having a phone in hand is not the only problem. A study by Carnegie Mellon University showed that a driver associates 37 percent less brain activity with driving while they are having a conversation on their cell phone, regardless of whether they use a hands-free device.
In 2012, 254 citations were issued by the Mill Valley Police Department for cell phone use while driving. These figures may rise as new proposed laws, such as Assembly Bill 313, aim to prohibit the use of hands-free devices to text while driving. The bill states that "drivers are four times more likely to crash while talking hands free on a phone, which is the same crash risk as driving with a blood alcohol content (BAC) of 0.08." The BAC level of 0.08 is the legal limit for drunk driving, meaning it can be just as dangerous to talk on the phone with a hands free device as it is to drive drunk.
"I didn't realize that distracted driving was worse than drunk driving, or just as bad," said junior Sebastian Tamblyn, also a member of Peer Resource. "I guess making this whole event just put it in perspective…how many kids die by just texting or looking down?"
Lieutenant Jacqueline Graf-Reis of the Mill Valley Police Department emphasized that driving a car, even without added distractions, is more dangerous that most people realize. "I think people forget that driving a three thousand pound car, minimum, is dangerous…You have to pay attention to other drivers, pedestrians, and animals," she said.
"I don't have conversations [by text] while driving. If my attention needs to be on the road, I won't check my phone no matter what," junior William Wyatt said. When asked what would make him stop texting and driving all together, he replied, "If anyone I knew died from it, [I would stop] because that would make it more relative to me. If all of my friends said it was bad, that would peer pressure me to stop."
Students in the Peer Resource campaign were personally inspired by the results of their efforts. "Now I don't ever text and drive," junior Peer Resource student Elena Hardiman said. "Whatever is on your phone is not as important as the people you're carrying."
Despite the difficulty of breaking a habit, Peer Resource junior Esme Bowden agreed. "It's a bad habit I have and it's harder for me to stop but I catch myself doing it now, so I just give [my phone] to my sister or put it down."
Froh admits that she, too, had trouble breaking her habit of distracted driving. "The biggest factor to change behavior is having this assembly with Bobby [Augusto] sharing his story. The events…bring a level of awareness obviously, but the real message comes from the serious tie that it really can happen," Froh said. "And for me, hearing Bobby say, 'This is a girl who didn't normally do this behavior' and to have that one time hiccup was probably the most important thing that changed my behavior."
These critical changes are exactly what Augusto hopes to see as a result of the "It Can Wait" campaign. Shortly after Kimmy passed away, students at San Marin High School, her alma mater, hung signs that read "Remember Kimmy." The signs were a simple reminder of her legacy and the dangers of distracted driving. "Just looking at the phone…that's what killed Kimmy. She didn't send a text, she looked down at a text and read it. It only takes a second," Augusto said. "We need you here. You're the next generation of everything. You're important enough. There's no reason, there's nothing on that screen, nothing on that phone, no message that can't wait just a few minutes."