Jake Bugg: Live at the Fillmore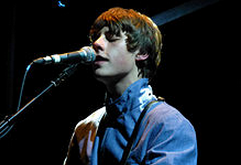 By Claire Donohue
November 4, 2013
Nineteen-year-old British singer-songwriter Jake Bugg stood in front of a sold out crowd at the Fillmore on September 29.
Bugg commonly lists his influences as Johnny Cash, Jimi Hendrix, Oasis, Donovan and The Everly Brothers, arguably some of the hardest names to live up to. Bugg is making a name for himself as an old soul, a British folk singer inspired by the greats of country, folk, and rock.
"I'm just a normal 19-year-old that plays a couple songs," Bugg told Rolling Stone earlier this year. As much as he may believe that to be true, his loyal fanbase sees him in a different light.
Hoards of fans aging from early teens to late twenties began to line up outside of the Fillmore five hours before venue doors open. The syndrome is commonly known as "Buggmania." It might seem crazy, but theres a lot to be admired of this young singer. Rolling stone named him the "Best Singer-Songwriter Born in the Nineties," and it's not too hard to see why.
A 5'5 scrawny boy in a blue button down and jeans walks out on the stage. Greeted by hundreds of clapping hands and shrieks he keeps his eyes focused on the ground and his lips tilted downward. Bugg opens with the acoustic love song, fire. It's one of the tenderest tracks off of Bugg's debut album, with lyrics, "Oh I'll sing for you my girl, baby blue. Babe, oh Babe will you love me so? When I'm to go." His heavy nottingham accent and boyish features only add to his effortless charm.
Bugg picks up the tempo in his next song "Trouble Town," a simple folk tune with even simpler lyrics. If an artist sounds exactly the same, or better live than on the record you know they are doing something right. Although his appearance, age, and slightly obsessive fan base mimic that of a teen-pop autotuned sensation it's clear Jake Bugg has risen far above that stereotype. He was recently quoted ripping apart American boy band One Direction. "People [call them the new Beatles] because they broke America, but that don't mean a thing. I mean, [One Direction] must know that they're terrible," Bugg said to NME magazine earlier this year "The young girls will grow up and forget about 'em."
Later in the set he performed three new songs off of his second studio album "Shangri La" which is due to be released November 18. Bugg's new album keeps his unique folk sound, but adds faster beats and a more electric feel. "What doesn't Kill You" was recently released as the first single for his new album. He recites the lyrics at an almost inaudible pace, all the time keeping his same downward cast straight face.
Other notable songs in his set included the fan-favorite "Seen it All," the two verse love serenade "Country song," and Bugg's childhood narrative "Seen it All." The nasal, deep voice is hard to match with such a young face, but it perfectly matches with his nostalgic lyrics.
Bugg certainly saved the best for last. To the relief of the crowd, he returned for a much needed encore. He introduced his next song as "one of his favorite songs, a song by Neil Young." He then proceeded in a downright incredible cover of "Hey, Hey, My, My." Beginning slowly and slightly letting go of his heavy accent to mimic the sounds of Young. Bugg eventually broke out into a full fledged electric guitar solo, spurring the loudest cheers of the night and adding his own twist on the classic. No one can be the greats, but if any one can do them justice today it's Jake Bugg.
He closed the show with his chart-topping single "Lightning Bolt." The largest flaw of his performance was his lack of emotion. It wasn't until this last song that Bugg let a full smile cross his face. When he finally let go, the crowd did as well, dancing and singing, filling the Fillmore with the sound it deserved.
Bugg is still young and certainly possess a talent far beyond his years. "I play music because I love it and I'll keep playin' till I'm old," Bugg said at Glastonbury this year. We can expect a lot from Bugg in the near future. His second studio album is out next month, and you can catch him at the Fox Theater in Oakland this January.