Heroes Among Us: On Call with Search and Rescue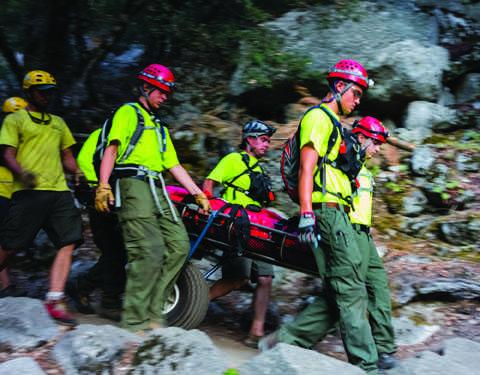 By Riley Kuffner and Nate Vogel
December 5, 2013
It was the middle of winter and members of the Marin Search and Rescue (SAR) team treaded through the Mammoth Lakes backcountry, knee deep in snow. Junior Sean McGuinness took part in this training simulation required to maintain his certification with the Mountain Rescue Association. In addition to the titular duties of a Search and Rescue team, this specialized training prepared them to perform snow and ice rescue, technical rock rescue, man tracking and downed aircraft locating, all in an alpine environment. Marin's team joined the Mountain Rescue Association in 2002 as the third California team, and the only one in the nation to include youth members. When the team crested the hill one long, snowy mile off the main road, the simulation began.
The objective was to lower a teammate into the bottom of a chasm in a sked–the same kind of stretcher ski patrol use–and then raise him back up, all while racing against the clock. The first step was to nominate one member of the team to act as the "missing person" and to strap him into the sked. Next, the team set up a snow anchor and a five-to-one pulley system, which would decrease the amount of force needed to slowly lower and then raise the sked. They then began the lowering process, letting one foot of rope ease down at a time, but gradually increased the pace as the timer ran on. "Once the 'missing person' reached the bottom, we realized that we needed to pick up our time if we were to place well among the other teams," McGuiness said. "We worked to raise the sked even faster than we let it down," which proved to be a tricky process on snow and ice. In order to maximize force and limit slipping on the snow, they lined up as if playing tug of war, with an anchor at the back while others pulled from staggered increments throughout the line. In the end, the Marin Search and Rescue team obtained a perfect score of 100 for form and finished as the fastest team out of 18 other California divisions.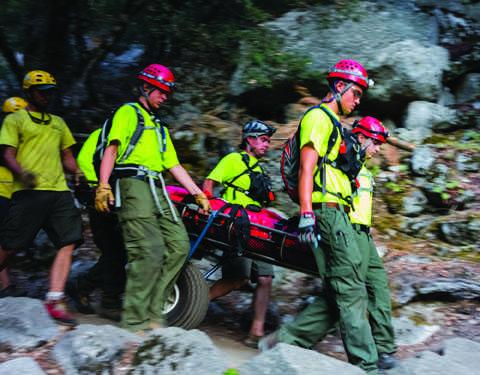 Senior Austin Myers and juniors Bennett Gates, Katie Littman, Sean McGuiness and Hans Piotter are all part of the Marin Search and Rescue Team. With it they receive unique opportunities to serve the community in an extraordinary way and learn specialized skills in the process.
SAR volunteer programs, which are directed through the local sheriff's office, exist in every county in California. The Marin team was initially founded as an explorer post in 1970, focusing on ecology and outdoor education, and was later specialized to include Search and Rescue in 1976. County teams aid police and fire departments when there is a natural disaster or person missing in need of rescue. All members receive medical training at least to the first responder level, which legally gives them the right to help the wounded or dying.
Since its inception, Marin SAR has, according to the unit's official website, become "well known throughout California as being an excellent SAR team, capable of carrying out a wide spectrum of missions from high altitude rescues to searching for victims of predator abductions." Sometimes, they even encounter dangerous people, such as kidnappers, and everyone must watch each other's backs. The all-volunteer 70-person team holds meetings, participates in training sessions and gets called out to action an average of four times in any given month.
Through their time with Search and Rescue, the students have found a learning experience they say is unavailable anywhere else. "I've done formal training to become a first responder, but have also observed how teamwork and a chain of command work together toward the common goal of saving a person in need," Piotter said.
This leadership system resembles that of a police force, and allows units to search quickly and effectively. The students are all considered to be "rangers," while those with more experience are "supervising rangers" with one "ranger manager" leading the team.
Piotter joined the program for what he described as the "action-packed aspect." He wanted to be able to go out, hike around in the woods and participate in rigorous activities, with the added benefit of helping others. With every SAR training program he goes on, Piotter feels like he learns something new. "Every experience I have with Search and Rescue is helping me in some way, whether it's safety skills, outdoor skills, people skills. It definitely helps build character," he said.
Gates has been on the team for a relatively short amount of time, but has learned a lot about the dynamics of a search. "There's a lot of science that goes into getting someone out of a tricky situation," he said. "We get called out to a lot of places across California, and a lot of times it means searching for a needle in a haystack, which is very hard and requires a lot of time." He has also noticed areas of personal growth over his time with the team. "It's helped me with leadership and self-confidence," he said. "[It] makes you feel like you can really make a difference."
Littman also joined recently, but already recognizes that she has learned many skills that are not found in the classroom. "I am learning a lot about being self-sufficient and being in the wilderness," she said. "I have also learned a lot about ropes and how to rig systems. I will continue to improve as I progress in the program and this summer I plan to go to boot camp in Yosemite."
In addition to skills, McGuiness has found moral lessons through SAR. "In Search and Rescue we learn how to work hard and help others. We all have the sense of being part of something bigger than ourselves," he said.
Their Unit Commander, Michael St. John, has been a part of Search and Rescue since 1979, and believes that "[SAR] allows [youth members to] become individuals and develop their whole selves," he said. "They can find out who they really are, learn unique skills, take a leadership position and gain self-confidence."
While the SAR team brings unique benefits, it also requires a great deal of responsibility and a willingness to commit to unpredictable hours. "You have to be ready for a mission at any time," Piotter said.
Littman talked about the challenges that it presents in the classroom. "I am on call 24/7, so I have to set my phone so it buzzes and makes an obnoxious noise, which can be challenging when it goes off for other reasons in class," she said. The time she devotes to searches also creates a deal of make-up work which, she said, can sometimes be difficult to stay on top of.
McGuinness cited the massive time commitment and unpredictable hours as one reason as to why youth members are an important asset to the team. "We make up one third of the total group and are usually around half of the respondents on missions," he said. "With school, rather than a full-time job, youth members are more dependable than adults and can commit more to the team. We oftentimes have better physical fitness too, so us smallest guys end up carrying the heaviest supplies."
Myers had a similar perspective. "Youth members are the strongest aspect of our team," he said. "A lot of other teams in different counties consist of mostly retired people, as you have to be a certain age to do it, and most people who are working can't volunteer. Our team is really strong and in shape because of the youth members and some of us have a lot more experience than the older guys, too." After his experiences with the team, Myers is looking into a career in the fire service as an EMT or paramedic.
St. John also emphasized that youth members are just as capable as adults. "With well trained youth members we can accomplish anything that a team of adults can," he said.
Other aspects of SAR include the physical and mental challenges of the field. Myers discussed the emotional toll that comes with contact with dead bodies. "Seeing the dead patients that we find is always a bad experience," he said. "The ones who have died recently are always harder on me personally, especially when you've seen the family members. They're always around [the searches] and you get to know them and it really registers that their loved one is deceased."
Each Tam member came to Search and Rescue with different individual goals, but despite these origins, the students have all come away with the same essential moral from their experiences: the importance of helping and connecting with others.
Piotter has observed the strong interpersonal aspect of Search and Rescue. "Last year when I was on a search, we were looking for five days for a guy that was missing up in the Trinity Wilderness, and eventually we found him [alive]," he said. "We were staying with his family throughout the week, and when we saw how happy we made them, how much we changed their lives by finding their loved one, it really made me realize what we do to help people."