Gourmet Club: Lapping up International Cuisine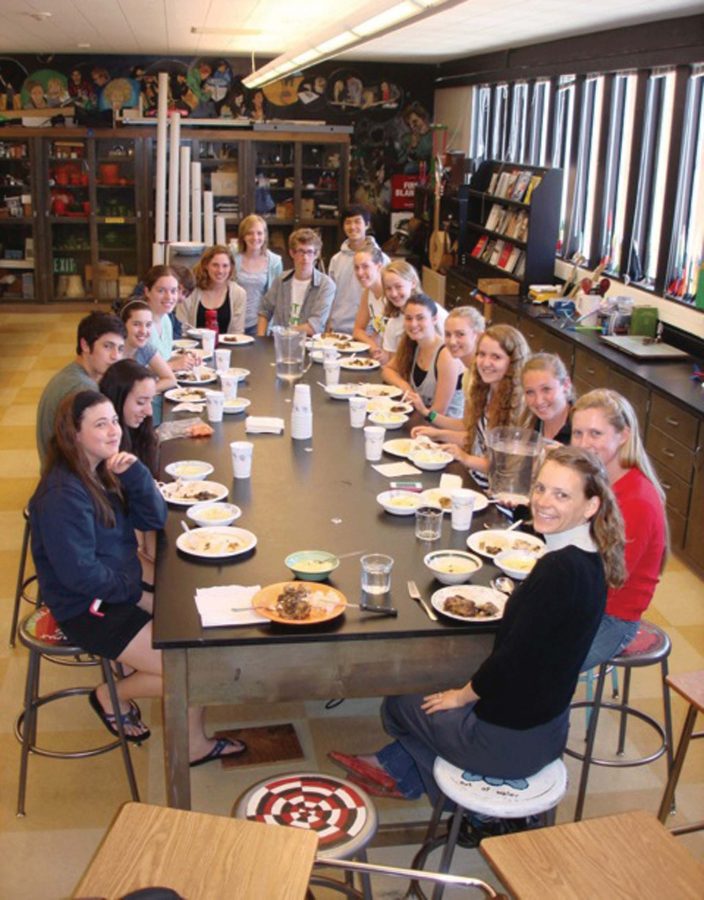 By Anthony Mazzini
February 11, 2014
An underground and exclusive society known as the Gourmet Club has been making quality and delectable food this year with little recognition. Students walking by David Lapp's physics classroom can occasionally smell the enticing aroma of homemade cooking, but the Gourmet Club still manages to keep their faction relatively secret. The invitation-only club, mainly comprised of physics students with the exception of two juniors, who are accomplished cooks, create meals ranging from Southern soul food to Ethiopian cuisine.
"Gourmet club gives people the opportunity to try out new foods and recipes," said junior Camille Barker, an active member for over two years. Barker has earned the title "co-president" alongside fellow junior Katie Littman.
"Our jobs as co-presidents are to make sure the chefs for the semester are set and to remind them when it is their turn," Barker said. "We also collect money from each member that funds the food making process."
Managing and overseeing the club may seem like a difficult task, but, Barker thinks otherwise. "We try and keep our club stress-free," she said. "Our members are supposed to enjoy what they eat without having to worry about manners and other etiquette. The only requirement we have is that each member cooks three to four times a semester and makes enough food for 16 people."
In comparison to traditional gourmet clubs, Tam's club offers a lax and peaceful feasting environment. "There are no rules when it comes to eating," Barker said. "We like to allow people to do as they please. We meet each Wednesday to eat and talk. There are no announcements. Even our teacher advisor, Mr. Lapp, prefers just to eat."
At the beginning of each semester, the 16 members sign up for whichever meal they would like to cook. Before each Wednesday meeting, four scheduled student chefs prepare a large feast at home. Each semester the goal is to change up the meals to add more variety; however, some meals are so tasty that members choose to cook them again the next semester. Among the wide range of meals to choose from, the Thanksgiving feast is the most popular. "Mr. Lapp always cooks a turkey sided with a sausage walnut stuffing with a pumpkin pie dessert," Littman said. "Everybody's plates are licked clean by the end of the feast."
Lapp has been running the club for over two decades.
"I enjoy cooking and eating good food," Lapp said. "Gourmet club is an opportunity for people who like to cook or who think might like to cook to give it a try. It's also a great way to experience lots of different cuisines from cultures around the world."
As club advisor, Lapp has a strong appreciation for cooking and eating the traditional way. "I really enjoy seeing high school-aged students actually cook, starting with raw ingredients from a different culture and putting them together," Lapp said. "Gourmet cooking is becoming a lost art. We eat so much fast food that we forget the importance of being able to cook. Traditional cooking and eating is something I want to continue to cultivate."
Many students wonder why gourmet club is not featured in the club fair. According to Lapp, members are hand-picked from his physics class as long as they have the right qualities.
"As a member of the gourmet club, you have to be really responsible because fifteen people are counting on you to make a good meal and make enough of it," Lapp said. "If I were to advertise the international gourmet club to the school, people might come without knowing the huge responsibility and cost for making gourmet food for 16 people."
Even though the students in the Gourmet Club may be taking on a large responsibility, that isn't enough for students to shy away from this unique experience. This club has been an impactful learning experience for the students who had the opportunity to be a part of this long-running club.
When asked about what students get out of Gourmet Club, each reply had a recurring theme. "Gourmet Club gives people the opportunity to meet new people and actually talk to them," Littman said. "We also get to experience new foods from cultures around the world. When being a chef, you learn the ability to take a leadership role."