Girls' Soccer Claims MCAL Title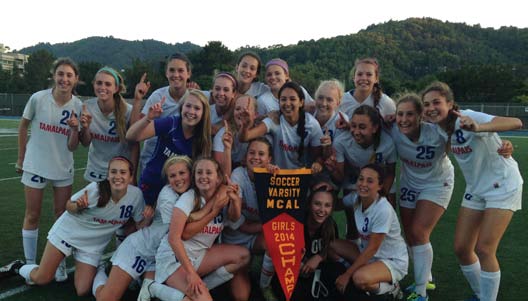 By Riley Kuffner
May 15, 2014
The girls' varsity soccer team secured the MCAL championship title for the first time since 2011 in a heated matchup against the Marin Catholic (MC) Wildcats on May 9.
Tam entered with a record of 15-4-2, while the Wildcats stood at 15-1-5. The two teams had tied in a previous game with a final score of 2-2.
The Wildcats came out firing and earned an early 1-0 lead, but junior striker Isabella Amyx came back with a goal of her own. The Wildcats countered, taking a 2-1 lead into halftime.
Although Tam was the home team with their top regular season record, the game was played at Marin Catholic, the determined neutral venue for the game. The Tam girls were not happy about this decision, but their fans came through as the stands at the away venue were filled with Tam students and parents.
At the start of the second half, Tam fans were fired up when junior Micaela Firmage put a shot from outside the 18 yard box in the upper left hand corner to tie up the match. Momentum swung back and forth for the rest of the second half and no goals were scored, resulting in a 2-2 finish and propelling the game to overtime.
The atmosphere was tense throughout both ten minute golden goal periods, but no goals were scored, and the match came down to penalty kicks. Back in 2012, the Tam girls lost the MCAL qualifier game in penalty kicks, and they were determined not to repeat that.
Before the shootout commenced Coach Shane Kennedy told his players to "…be confident, pick their spot, and just put the ball in the back of the net."
Tam capitalized on the pivotal first shot, but MC was also to slip one by Tam senior goalie and Tam News reporter Elizabeth Archer. The next round of kicks resulted in misses by both teams, but Tam came back in the third round to get another point on the board. MC needed a counter but hit the crossbar in a risky attempt and was unsuccessful.
The pressure was on for Tam freshman Kallie Hukari attempting the fourth shot, whose goal would mean that MC would be forced to make their last two. Despite the gravity of the shot, Hukari came through and MC needed a goal against Archer in the fourth round to go on. But the four-year varsity veteran completed a diving save. With the ball in Archer's hands the Tam girls rushed the field to celebrate their MCAL championship victory.
Tam advanced to MCALs after a 2-0 win against the Drake Pirates on May 7th. Amyx scored both of the goals in the game early on, securing a win that led to the final matchup against Marin Catholic.
"I couldn't imagine a better finish to a season," Kennedy said after the game. "We had a fantastic team…we're extremely happy."