Boy's Soccer Legacy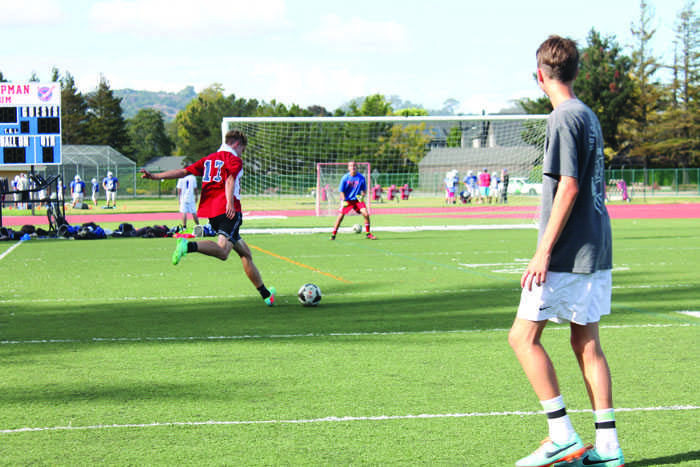 By Peter Wynn
October 14, 2014
This fall, Tam High's newly famed and successful varsity soccer team will attempt to carry on their recent success as they begin a new season missing integral parts of their championship team from last year. Junior Riley Walls acknowledged this year may be an uphill fight, "We are the underdogs going into this season." Walls said, "[but] hopefully we can keep said legacy going." Tam soccer holds the elite title of being back-to-back NCS champions with three overall NCS wins in school history.
As they do at the start of every season, the team is looking for ways to adjust and improve. "This is definitely a new year for us," coach Dustin Nygaard said. "We haven't had this kind of roster turnover in the past. We graduated thirteen seniors from last year's championship winning team." This year's team is significantly younger, featuring only five seniors and an almost entirely new starting roster. "We are re-inventing ourselves," Nygaard said. "At the same time we are going to have the foundation of building on team chemistry… that's always been the pillar of the program."
This year also features changes to the coaching staff, as Nygaard will not be working on his own as he has in years past. Shane Kennedy, whom Nygaard described as "the goalkeeper guru in Marin", along with Nick Pastuhov, a Tam soccer senior captain in 2010 who has been playing in England for the past four years, are both joining the staff as assistant coaches.
Last years senior captain Parker Walls, who will be attending USC in the spring for soccer, will also be helping to coach. "We've got lots of good, experienced people around the program right now, which I'm happy about" Nygaard said.
A big question going into this season is whether the team can keep their recent streak of NCS victories alive this year. "I think that everybody wants to continue that streak.
The reality is that every year we come into it with the same mentality," Nygaard said. "We figure out who we are as a team early in the season and we try get better each day and play our best soccer at the end of the year. The last few years it's correlated to us being NCS contenders, this year we'll see where it goes." Player Walls is not too worried about the teams situation this year. "We will be able to succeed because this has and always had heart and a passion for winning."
Like in past years, this year's team chemistry seems to be very good. "The guys seem to really like each other and that goes a long ways particularly late in the season." Nyggard said.
The team's youth and inexperience is a factor. "I wouldn't say we have gotten worse, we've gotten less experienced," Walls said. Nygaard also acknowledged the age of the team, "We are very young," he said. "We are going to have to learn all year long about what the varsity game looks like; the physicality and everything like that."
In terms of how the team looks on the field, it is too early to get a good read. "A weakness is continuity. We have not played together that much," Nygaard said. The teams few seniors have been fulfilling their role as leaders, something that Nygaard is very happy with. In terms of if the returning seniors can get them a third straight MCAL title, we'll have to wait and see