Girls' Waterpolo Beats Redwood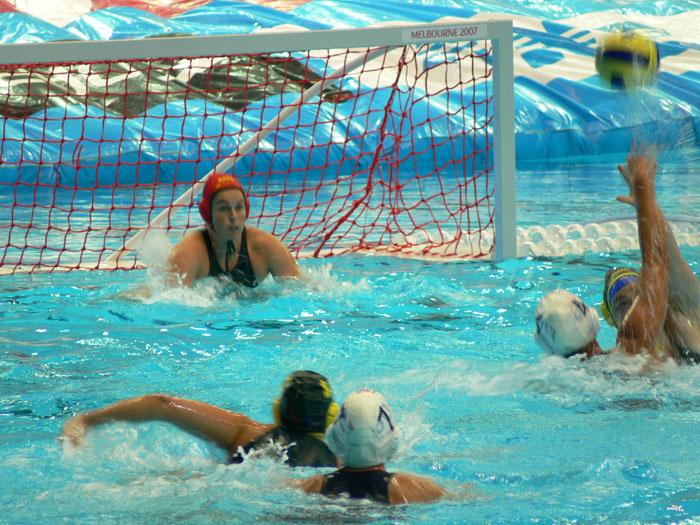 By Sammy Herdman
October 24, 2014
The girls' varsity water polo team defeated Redwood 8-2 on October 9 at Tam. The team (3-2) played very consistently, scoring two goals each quarter.
The goals were all scored by different players. Senior Olivia Forshan scored two goals in the first and fourth quarters. "We have been working on getting a lot of outside shooters [and] rotating the ball around the top," senior and team co-captain Kelsey Norton said. "We're trying to make sure that everyone has a chance to score."
Dani Budish, senior goalie and team co-captain, had many strong saves throughout the game. In the second quarter she stopped three shots in a row, holding Redwood to only one goal in the quarter. Budish's defense proved to be a key for the Hawks. "It went pretty well. I always think that every game can go better than it did," Budish said. "I think it was a good experience."
Despite the score, the opposing players didn't take the loss too hard. "I think that's the best we've played against Tam in a long time," Redwood junior Jennifer Schonover said.
The fans also had positive reactions to the game. "I thought it was a hard-fought battle [and] I thought Tam had a good strategy," said Tam parent Alex Taft. "It was entertaining and I liked the result."
Coach Katie Mac believed that the team's ability is what carried the girls to victory. "I thought that we played pretty well, our starters played really well, [and] fought hard," Mac said. "[They] played great defense, got a lead, and maintained it." The team proved their intensity as defensive players as five players were ejected throughout the game.
After the win, the players agreed that their season looks hopeful.
"I think we have a really good chance at doing well in MCAL's," Norton said. "We're working hard, so hopefully it pays off."