Two Tam Students Injured in Drunk Driving Accident
By Sarah Asch, James Finn & Marina Furbush
December 24, 2014
Junior Nick Goldman and senior Conor Wynne-Parry were injured in a car accident when a fellow Tam student's car crossed the center line of Almonte Boulevard and struck Wynne-Parry's vehicle head-on the night of December 21 near the Rosemont intersection, according to a California Highway Patrol (CHP) press release. CHP Officer Andrew Barclay confirmed the Tam student, a minor whose name was withheld, was arrested on the scene and booked under suspicion of driving while intoxicated.
"I was dropping Nick off at home from downtown and we were going towards Tam Junction," Wynne-Parry said. "And after we passed the [Tam] football field…we were driving casually, and all of a sudden I look up and there are these headlights that flood into my lane and stay in my lane."
The other vehicle struck Wynne-Parry's car directly after swerving across the center line, Wynne-Parry said. "It was, like, so fast…boom," he added. "My car was so messed up that it was dripping stuff and it was smoking. We were super hurt, and we climbed out of the windows because we thought [the car] was gonna blow up."
Goldman, a Tam News reporter, said that the accident was difficult to comprehend right away. "It was such, like, a chance accident," he said. "If we had left a minute earlier, it wouldn't have happened. It's kind of like we've been in shock and…I haven't really had time to process it."
According to Barclay, the Tam student driving the vehicle that collided with Wynne-Parry's car was uninjured. After field sobriety tests were conducted by law enforcement, the driver was arrested for felony DUI, a more serious charge because of the injuries inflicted. Barclay said that the California Highway Patrol is recommending felony charges, as well as enhancements due to injuries, and that there are investigations under way about what other charges may be appropriate. The results of more extensive toxicology screenings will take up to one month.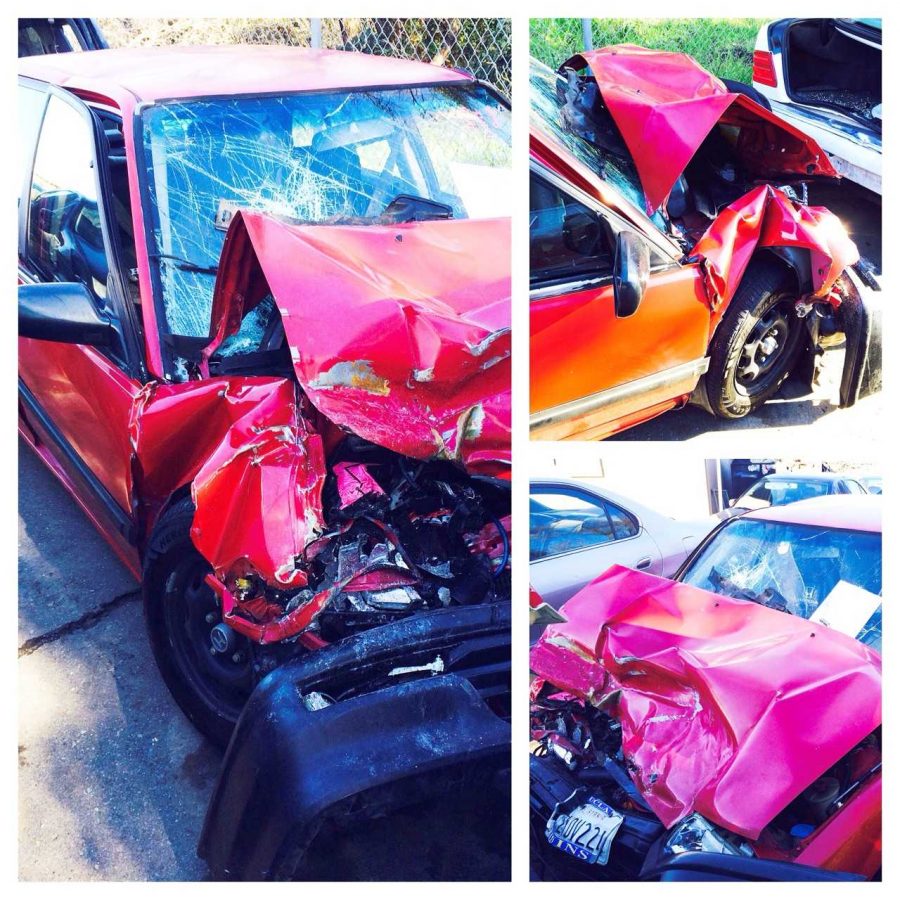 According to Wynne-Parry, his car's lack of modern seatbelts and airbags may have increased the extent of the injuries suffered by him and Goldman. Wynne-Parry said he suffered two broken bones in his right foot, and is expected to be on crutches for six to seven months. He also has as a broken nose, a bruised spleen and a lacerated and bruised liver, which is not expected to heal for two to three months. Goldman said he injured his back and neck and bruised his spleen. Both also cited the effects of whiplash, and were released from the hospital on December 23, two days after the accident. However, the injuries may have some long-lasting effects.
"We'll probably need [physical] therapy," Wynne-Parry speculated, and Goldman agreed, saying that he expected "to be in pain for a while."
In the wake of the accident, both Goldman and Wynne-Parry encouraged their peers to exercise awareness while engaging in activities that could lead to driving under the influence.
"I got scared," Wynne-Parry said of the accident. "Scariest feeling, seeing those headlights just in your lane. It was like it was aiming for me. I couldn't do [anything]…. I think you need to face the reality of the biggest danger around us today, which is motor vehicles. It's like the [most] dangerous thing we face in everyday life, reckless drivers….Just driving when they know they shouldn't be. It's dangerous, and people need to understand that."
Senior Caylen de los Reyes, a close friend of Goldman and Wynne-Parry, shared that sentiment. "I don't think people talking about drunk driving is enough anymore. Even the videos barely seem to make a significant impact on people's choices on the weekends," de los Reyes said. According to de los Reyes, he woke up at 1 a.m. the night of the accident to several missed calls telling him what had happened. "On the way to the hospital, the level of possibilities was too much to handle, and for all I knew I was gonna show up and find the two of them had died," he said. "That in of itself was bad enough, but finding and seeing the both of them in the emergency room was pretty bad."
De los Reyes hopes that people in our community will take this incident as a cautionary tale and reexamine their own actions in the future. "I promise holding your best friend's hand, when they've got dried blood all over their face and body, and tubes in their veins, and are telling you how much it all hurts, is enough to make someone think twice [about drunk driving]," he said.
Ehoud Amos, a close family friend of Wynne-Parry's, speculated that if the driver of the other car had been at a party prior to the accident, those at the party were partially responsible for allowing him to drive.
"If [the alleged drunk driver] was at a party and he was drinking and then driving…people [at the party] eventually let him do that," Amos said of the driver. "So as much as it [was] his responsibility, it's the people…with him, it's their responsibility as well for not [taking] his keys and [saying] 'dude, you are not going anywhere,' or 'we'll drive you.' That's the result of it. You can't let people go and drive drunk if you are aware of it."
Goldman said that he does not wish the driver who struck him and Wynne-Parry any ill-will. "I want to support him," Goldman said of the driver. "The best outcome for everyone would be if he overcame his problems and returned to school. It would show everyone that there is hope. He is one of us, a student and friend that is part of the fabric of our community."
Tam junior Karina Hoge, a friend of Wynne-Parry and Goldman's, said that an awareness of the larger problem of drunk driving merits more focus than the individual driver who struck Wynne-Parry's car.
"I think that, also, we need to realize that…there are so many people who drunk drive and don't end up getting into accidents," Hoge said. "I don't think that we should hate on [the driver who struck Wynne-Parry's car] specifically for [alleged] drunk driving. It should be more of [an awareness for] the big picture…just because you didn't get in a car accident doesn't mean it's okay."