Artist of the Issue: Claire Hallett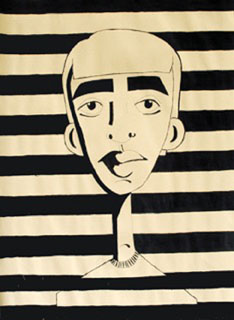 By Jackson Gathard
February 24, 2015
Senior Claire Hallett found her love for art at an early age in her hometown in Ohio, before moving to Marin. "I went to visual and performing arts school. I originally went for performing in a choir, but then over time, I realized I was way more interested in art," Hallett said.
Hallett joined AP Studio Art her junior year and has been refining her skills in the class for two years. "As far as medium goes, I mostly work with pens and ink. I have also started to explore screen printing more recently," she said.
"I get a lot of inspiration from architecture, even for my figure drawings," Hallett said. "I specifically like Japanese design and Scandinavian design because the lines are really clean, crisp, and purposeful. I have always looked to that for inspiration."
Hallett attributes part of her success to the early training and focus that her school in Ohio provided her. "It was great. For two years, I had art twice a day," Hallett said. "This was really nice because most schools might have art twice a week. The amount of classes I took really exposed me to a lot of art and the art community in my town. I had a good amount of art training entering high school, which not a lot of people get."
As she develops her portfolio and expands her style, people and institutions across the country have started to take notice. Last summer, Hallett received an amazing opportunity. "The best experience I have had through art was the opportunity to go to an art camp in Vermont," Hallett said. "It was very small and I had to submit a portfolio to get accepted. It was really cool because I got to be surrounded by people that were interested in the same thing that I am. I came out of the experience a much stronger artist and more confident in myself. I am very proud of my accomplishments there."
People have not only taken notice of Hallett's drawing skills, but also her artist ability in other mediums, such as photography. As a sophomore, Hallett placed second at the Marin County Fair's "Click Off" photography competition.
Beyond high school, Hallett is hoping to pursue art in college and is planning on attending art school. "I don't want to stop doing art. It's what I love to do. I plan on going to art school for college, I am waiting to hear back from those schools," Hallett said.
After college, Hallett sees herself using her talents to make a living. "Beyond college, I would love to see myself working in the art world," Hallett said. "I am interested in continuing to work with different mediums. My goal is to work for some sort of magazine, where I can collaborate with other artist to create a visually pleasing product."