A Sign From Above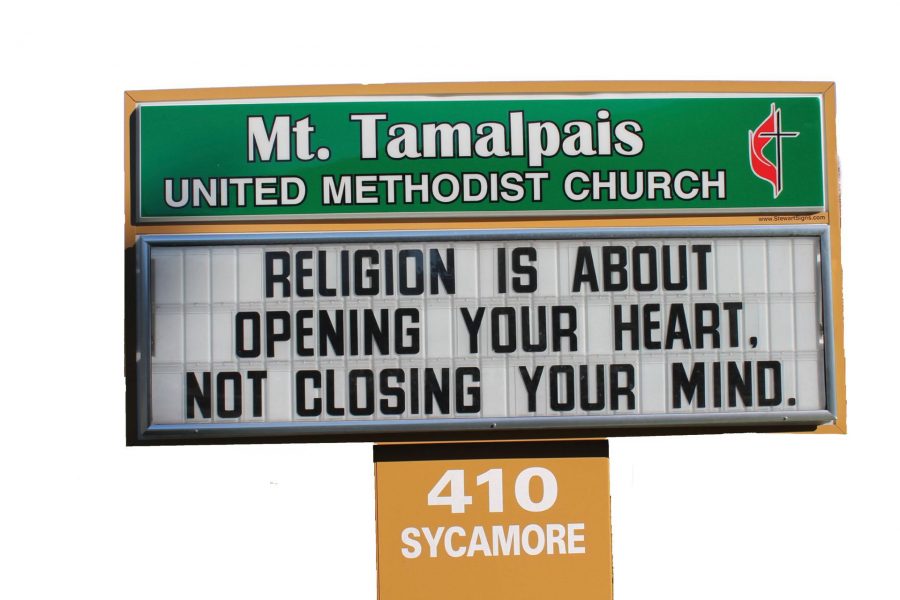 By Sarah Asch
March 24, 2015
Five years ago, a sign appeared on the sidewalk in front of the Mt. Tamalpais United Methodist Church, located between Mill Valley Middle School and Tam. Unbeknownst to the majority of the Mill Valley citizens who drove past the sign every day, its installation was the direct work of Pastor Kim Smith, who had just started working at the church and was looking for an easy project to get the ball rolling at her new job.
"I saw a lot of files and things that the church had wanted to do. And, you know, it's a church so [completing proposed tasks] takes committees and it takes the money and it takes volunteers… It takes time," Smith said. "The sign out front, the original sign, was old and off the beaten trail and the lighting had broken down, and that's why the church wanted to deal with it. So I thought, 'that's low hanging fruit–it's a sign.'"
After going through the permitting and budgeting process, the sign was installed, and it fell to Smith to start thinking up messages to display. "I don't know how other churches do it, somehow it fell on me. I started collecting sign messages," Smith said. Some of those messages come from the Internet and books, but some of them are submitted by congregates or community members.
"Anyone can send me an idea," Smith said. "There's two requirements: one is that you have to give me your name and email address or phone number–I don't take anything anonymously. And two, we may not use it and we may edit it; people have to know that. It's got to be appropriate. But I think it's great. I've had some people send me stuff like old ladies with shaky handwriting in an envelope." Smith takes submissions via email at [email protected]
Having worked almost 40 years as a pastor, Smith says she would have been voted "Least likely to be called to ministry in high school." Despite growing up in a town where most people went to church, her family was not religious. "Then I got a call to the ministry in college. I was working at a church as a community organizer, as a lobbyist to the state legislature in Lincoln, at a church where these people were amazing, and I got a call to ministry… I had a spiritual experience where God called me into the ministry."
After working for 18 years in Berkeley, Smith said the biggest adjustment when she moved to Mill Valley was going from a city to the suburbs.
"I had come from this racially, ethnically, class diverse community…And to come here where it's basically all white, all upper class, it was very different. And plus I just hadn't lived in a small town in a long time," she said.
For this reason, Smith was very aware of her audience. "A lot of things don't work here, because what would maybe work in the rural south is not going to work in Mill Valley," Smith said. "Marin is the most un-religious county in the country in terms of people going to regular services, no matter what faith. So there's a strong identification of spiritual but not religious, or nature-spirituality, or the influence of cultural Buddhism, so you want to be respectful of that and mindful of that."
To help avoid any faux pas, Smith often consults with other congregates. "I teach a class on Tuesday morning of church members and I make sure if anything is ever questionable I run it by them," she said. Smith is very sensitive about not being too preachy. "You notice we don't make a lot of references to Jesus. We'll quote Jesus because Jesus is highly quotable, but not some of the stuff like 'he died for your sins' or 'saved by the blood of the lamb,' oh gosh no. I mean, that offends me."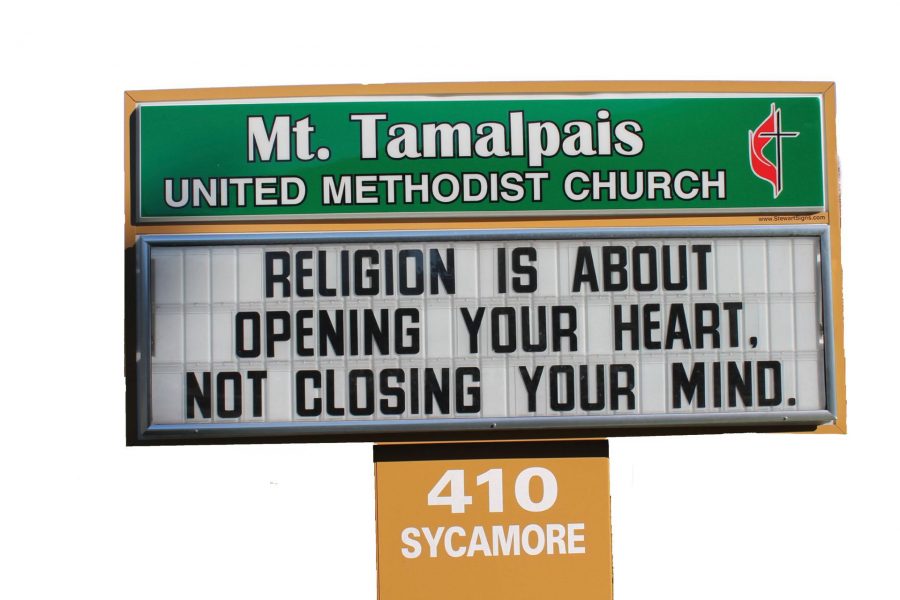 Ultimately, for Smith, the sign acts as an invitation to the community at large. "For me it was just one way the church can let the community know we're here, we're not scary, we're nice people," she said. Smith wants people to know that they are welcome, and that Sunday services are open to people who aren't members of the congregation.
"We don't do it to advertise. We do it to share who we are. And I know that might come out as the same thing but Christianity is an evangelical religion; the word means good news. We share the news of who we are," Smith said. "We have people who come to church with a vast array of beliefs. I have people who are very traditional and I have people who are pretty radical. We have a lot of people who aren't really sure about Jesus. They love God but they're not sure. And that's what I am trying to get across…We're a thriving community, open to people and our minds are open. In fact out there, the sign this week is 'Religion is about opening your heart, not shutting your mind.'"