Tam Swimmers Commit to College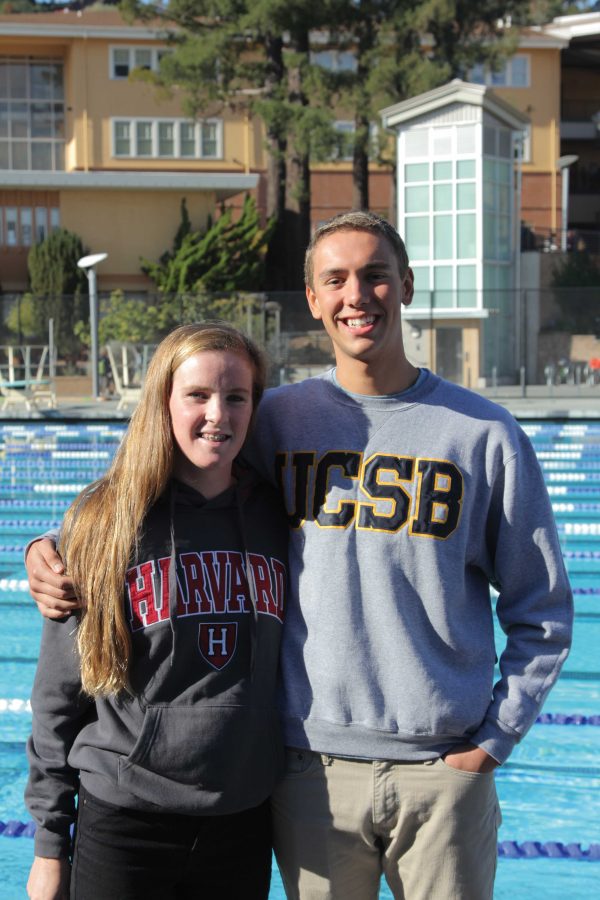 By James Finn & Hannah Chorley and James Finn & Hannah Chorley
November 27, 2015
MIKI DAHLKE
Competing in a sport at the collegiate level is a dream for many high school athletes. Senior Miki Dahlke will begin to live that dream next fall when she commences her time at Harvard University as a Division I swimmer. Dahlke, who recently chose Harvard over UCLA and Northwestern University, joins a group of incoming freshman women swimmers who succeed last year's lightning-fast Harvard recruiting class. Harvard's recruited swimmers who graduated high school in 2015 were ranked fourth-fastest in the country after Division I swimming powerhouse University of Arizona, according to collegeswimming.com. Along with Harvard's academic reputation, it was this record of athletic excellence that Dahlke says led to her choice.
Dahlke acknowledges that Ivy League sports are not always approached with the same fervor as at other Division I schools. "We have captain's practices until October 1, when all the other [non-Ivy League] start [regular practice] in August. That means that our coaches can't coach us until October 1," she said. "That kind of was a worry for me, but when I was there, I watched a captain's practice…and it's about what you put into it. If you want get in shape, you can achieve that as easily as if the coach were coaching you."
Although she has been a year-round swimmer since the start of her junior year, Dahlke competed in three sports as a freshman. "Going into high school, I thought that I was going to do water polo, basketball, and swimming all four years," she said. "Sophomore year I dropped basketball, and junior year I did only swimming. It was a big change, but… it was one of the best things I've ever done." Dahlke credits much of her development as a swimmer to the time spent with her club swimming program, North Bay Aquatics. Dahlke spends most of her time working with this team, calling the high school season a "fun addition" to her rigorous club schedule.
Dahlke said that her decision on a school was difficult, but knows that she made the right decision in selecting Harvard. "After visiting other schools and thinking back to my trip at Harvard, I realized I could really see myself there… I couldn't imagine choosing anywhere else."
THEO ANDREWS
Senior Theo Andrews verbally committed to University of California, Santa Barbara (UCSB) as a swimmer on October 25. Andrews will swim for UCSB's Division I swim team for the next four years. "My family is so happy for me because I will be the second person in my family of five to go to [a four year] college," Andrews said.
Andrews currently swims for the USAA swim North Bay Aquatics (NBA) and the Tam swim team with Miki Dahlke (featured in the article to the left). His main events are the 50 yard, 100 yard, and 200 yard freestyle. He describes the NBA team as a family, because he practices with the team six days a week. "My favorite part of swimming is swimming with the team every day," Andrews said. "Well, and also [getting] tan, but it helps that I'm a quarter black."
UCSB emerged as Andrews's top choice school when he went on an official visit in late October. He also received recruitment offers from George Washington University, UC San Diego, University of the Pacific, and Arizona State University. "The process for picking a school is scary," Andrews said. "You never know if the team that you visit will be your team for four years." Andrews cited the beautiful campus, nice dormitories, and welcoming swim team as reasons for his decision to commit to UCSB. Additionally, UCSB has a prominent Marine Biology program, which is one of Andrews's interests outside of swimming. "UCSB isn't that far away so [my family] is also happy about that," Andrews said.
Andrews's father, Rikki Andrews, passed away in September. Andrews said that his father was one his biggest sources of motivation throughout his swimming career. "My dad played the most important role in my swimming career. He always knew I would go to a good school for swimming and he never stopped believing in me even when I didn't believe in myself," Andrews said. "I wasn't even in contact with UCSB when he passed away, but I know that he's proud because it's where I want to go and because it's a Division I swim team."