The Dis-Kush-ion: Medical Marijuana Dispensaries in Marin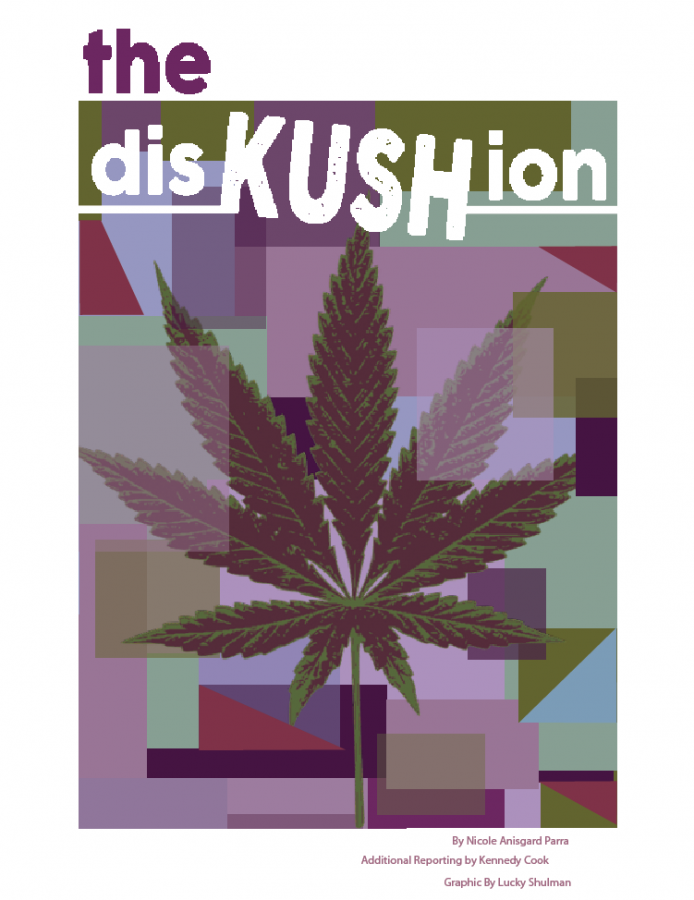 By Nicole Anisgard Parra, Additional Reporting by Kennedy Cook
May 4, 2017
When it was announced in August 2016 that the famed Dipsea Cafe, located in Tam Junction, was to potentially close, it was the talk of the town. The closure became even more discussion worthy when the owner, John Siotos, announced that the building would be reopened as a medical cannabis dispensary. Those who had not been previously informed of Marin County's policies and regulations on medical marijuana were suddenly immersed in the discussion on neighborhood based social network app, Nextdoor, where the announcement was made by Siotos. As covered by the Marin IJ and our own publication, the cafe's transition to the Shoreline Health Center was to take place late in summer 2017.
"In 2014, my wife was diagnosed with cancer and began using medical marijuana to help her with the side effects of her chemotherapy treatment," he wrote in his Nextdoor post. "I watched as the marijuana instantly alleviated her nausea, allowed her to eat, and prolonged her life. At that point I became a true believer in the medical effects of marijuana."
At that point I became a true believer in the medical effects of marijuana.
Over 20 million people in the United States use marijuana either medicinally or recreationally, according to Harvard Health. The plant can be smoked, vaporized, eaten, or taken in tincture form (dissolved in alcohol and placed in a dropper bottle). "Pain is the main reason people ask for a prescription," Barth Wilsey, MD, a pain medicine specialist at the University of California, Davis Medical Center said.
Studies from the University of California, San Diego and University Hospitals Bristol in the United Kingdom have evaluated the cannabis plant's ability to relieve symptoms, including loss of appetite in HIV positive patients, depression, anxiety and sleep disorders, muscle spasms, mental health conditions, and nausea resulting from chemotherapy. The studies demonstrated that patients showed improvements compared to a placebo group, but according to scientists, it was difficult to determine if these improvements were purely coincidental. The main issue that arises when determining whether or not marijuana is effective medicinally is due in part to most evidence being anecdotal, not scientific. There has yet to be sufficient research conducted because marijuana is recognized by the U.S. Drug Enforcement Administration as a Schedule I drug, a category that also includes LSD, heroin, and ecstasy. Schedules are enacted in an effort to categorize drugs based on their probability for abuse and their medicinal value, with Schedule I drugs being deemed by the government as having no medicinal value and high potential for abuse. The American Medical Association and the American College of Physicians have called for more research into the therapeutic and medicinal properties of marijuana, and for the Drug Enforcement Administration to reconsider its restrictive classification.
Because of this, "researchers need a special license to study it," Marcel Bonn-Miller, PhD, a substance abuse specialist at the University of Pennsylvania, stated. He advocates for the Drug Enforcement Administration (DEA) to support researching cannabis in order to advise doctors and patients on safe usage. Improper use can lead to reported side effects such as hallucinations, low blood pressure, bloodshot eyes, and dizziness. The drug can also affect judgment and coordination, and if used inappropriately, can lead to dependence and addiction. The person may utilize more of the drug over time after building a tolerance.
While concerns over marijuana abuse are valid, it is important to note that conventional prescription drugs (opioids) are responsible for more than six out of ten overdose deaths in the United States, according to the Centers for Disease Control and Prevention. Since 1999, the number of opioids prescribed to Americans has quadrupled, even though the levels of pain reported by Americans have not increased. An overdose on marijuana, on the other hand, is highly unlikely. According to Dr. Jerome Avorn, a professor of medicine at Harvard Medical School, "the main risk from marijuana is from the risky or stupid things people do after using it, such as driving, rather than from any toxic effects of the substance itself, which is remarkably safe."
The main risk from marijuana is from the risky or stupid things people do after using it, such as driving, rather than from any toxic effects of the substance itself, which is remarkably safe.
When Siotos learned that Marin County was accepting applications for permits to open dispensaries, and that his building was an approved location, he was on board to open a facility. "[I] hope that I have the opportunity to assist our wonderful community by helping to provide medical marijuana safely to patients who can benefit from it," he wrote on Nextdoor on August 14th, 2016.
The proposal sparked controversial debate in the Tamalpais Valley community between concerned parents and medicinal users who would benefit from a closer location. While many expressed support on the post, other residents of Tamalpais Valley and surrounding neighborhoods expressed sharp disapproval of the idea. "I object to its closeness to Tam Valley Elementary School and the bike path to the middle school," one comment stated on Nextdoor. What initially seemed like a trivial neighborhood dispute between pro and anti-dispensary movements became a drastically more complex situation with many factors to consider.
Currently, there are no legal dispensaries anywhere in any of the 11 municipalities and unincorporated areas in Marin. The application process in place for a dispensary license in Marin County is rigorous. The current Medical Cannabis Dispensary Ordinance 3639 allows for up to four medical cannabis dispensaries in unincorporated Marin, and states that a dispensary "shall not be allowed…within 800 feet of a youth oriented facility, school, a smoke-shop which sells paraphernalia for consuming drug or tobacco products, or another dispensary…" The ordinance also doesn't permit medical dispensaries to sell non-medical cannabis for adult recreational use, which will be legal in 2018 under Proposition 64, which was passed in November 2016.
Siotos' Shoreline Health Center was one of ten applicants in Marin County, and one of four applicants for locations proposed in the unincorporated area of Tamalpais Valley. The other three were the Access Marin Wellness Center, Urban Hills, and Crown Wellness; all also located in Tam Junction. Three public meetings were held throughout the year, during which the applicants would pitch their ideas to county staff and a volunteer advisory committee. Residents of the community were also able to testify in support of and against the proposals.
Barbara Bower, a Marin resident who was once doubtful of the medical marijuana industry and the benefits people reportedly received, testified at the hearing held at the Tamalpais Valley Community Center in late January. After having tried many different approaches to dealing with chronic pain, Bower decided to try using medical cannabis in tincture form.
"I was nervous to testify because of the stereotypes of people who use marijuana," Bower said. "However, I thought it would be helpful to hear from someone who was recently skeptical and had an eye opening experience with medical marijuana and visiting a dispensary. It has been eye opening to how helpful it can be and how professional and clean the dispensaries are."
It has been eye opening to how helpful it can be and how professional and clean the dispensaries are.
After the county of Marin reviewed the ten applications for medical marijuana dispensary sites in unincorporated areas, all of them were rejected on April 10. Marin County Administrator Matthew Hymel instead recommended an overhaul of the licensing procedure, by revising the original ordinance. According to the county's Medical Cannabis Program, the revised ordinance would disconnect the selection of the operator from that of the location. This would screen applicants based on purely their application materials, not where the dispensary is proposed to be opened. Hymel also wants the board to explore a delivery-only model that would aim to appeal to both parties. This would source marijuana from other counties and deliver them to users in Marin County. It is unclear when this would be put into place. The verdict was met with criticism and relief from members of pro and anti-dispensary movements, respectively.
"I was sort of incredulous that after asking 10 businesspeople to put a ton of time into crafting thoughtful proposals that they would basically nix the whole thing," Bower said. "I reread the article about it twice and still didn't come across with a good rationale for them to dismiss it. It is legal, plain and simple, and there are plenty of other positive examples of dispensaries in communities that work very well."
The anti-dispensary movement was heralded by apprehensive community members through a page titled notamjunctionpot.weebly.com. The website, which circulated through the Tamalpais Valley and greater Mill Valley neighborhoods, claimed that three of the proposed dispensary locations in Tam Valley are situated within 800 feet of youth oriented facilities that offer afterschool youth classes or tutoring, including Roco Dance Studio, Proof Lab, Mathnasium, and Poekie Nook. On the home page, it states that "[the] locations [of the proposed dispensaries] lie within proximity to commute routes and schools for the children in our neighborhood." In order to abolish fears, applicants responded that they would take appropriate measures to ensure a professional appearance was held.
"I can assure you that the exterior building will exhibit no references to Medical Cannabis and will look just like any other medical or doctor's office," Siotos stated in his original post from August. "Patients will not be allowed to consume on-site or in the parking lot, so from the other side, there will be no way to distinguish whether we are providing medical cannabis or serving breakfast."
Tam High parent and PTSA member Sophia Ferro, who's against a local dispensary, specified proximity to schools and children as the primary reason for her concern. "I'm not totally opposed to the idea of a dispensary, just not in the areas they were proposing," Ferro said. "Most of the selected areas proposed were on the routes to and from school for many elementary, middle and high school students."
Speaking to the role that neighborhood communication played in the dispensary debate, Ferro said she found out about the proposal through a friend, then got involved in community activism.
"I expressed [my] opinion by signing and forwarding the petition and by attending public meetings," she said. "I am pleased our community came together and our voices were collectively heard."
Like many other parents, Ferro said that having children in the Tam community played a large role in her opposition to the dispensary. "Having children affects all your decisions," she said. "Having a drug dispensary in our immediate community can bring unwanted issues."
Having children affects all your decisions. Having a drug dispensary in our immediate community can bring unwanted issues.
Those who have benefited from medical marijuana were somewhat skeptical of these criticisms. "It was frustrating to hear people repeatedly talk about school students being enticed by the dispensary to try pot," Bower said, regarding her testimony at the board meeting. "First of all, you could apply that to the liquor store in Tam Valley or the cigar shop along the frontage road in Strawberry. Those are selling liquor and cigars for purely recreational use without any medical benefits and yet they exist.
However, senior Darius Baradaran, who uses a medical marijuana card to access marijuana recreationally, identified a different motivation for outcry against the dispensary. "I think they just don't want the … younger kids seeing [marijuana] around. They … want it to become like under the radar, for the most part," he said.  "They're going to be seeing it around anyway, might as well be in a legal setting. Not like some kid smoking it, you know."
They're going to be seeing it around anyway, might as well be in a legal setting. Not like some kid smoking it, you know.
According to the most recently published Healthy Kids Survey data from 2015, 73 percent of 11th graders have drunk alcohol in the TUHSD, while 57 percent have tried smoking marijuana. It is difficult to make assertions regarding this data, but it demonstrates a greater tendency of students obtaining alcohol than marijuana. A senior Tam student with a medical marijuana card, who has requested anonymity and will go by the name Deanna, argued that the closer availability of marijuana at a dispensary won't increase the likelihood that teens will try it.
"I don't think that parents should have any concerns with a dispensary in [Tam Valley]," Deanna said. "I understand how they could think it would "expose their kids to weed" but a dispensary shouldn't be thought of any differently than a pharmacy. You need a doctor recommendation to even go inside of a dispensary and a valid medical reason. I honestly don't know why parents associate dispensaries with addiction or illegal drug use, since all of the marijuana is cared for and given out like any other pharmaceutical drug."
A dispensary shouldn't be thought of any differently than a pharmacy.
Deanna stated that she uses marijuana to help her through her day. "I personally struggle with crippling migraines, which makes it really difficult for me to function on the days I get them because they're so severe that I can't see… I become extremely nauseous," she said. "When I take my medication, which is a sedative, I fall asleep for hours and have side effects that make it difficult for me to do anything the day after too. Ever since I started using medical marijuana I haven't gotten a single migraine in about a year."
However, not everyone who accesses their marijuana through medical dispensaries uses it for medicinal purposes. Another Tam student, a sophomore, who also requested anonymity in her interview and will go by the fake name Roxanne, admitted to using her brother's medical marijuana card to buy recreational cannabis.
"My older brother has a card. On his 18th birthday, he went and got it. I think they gave it to him for sleeping issues. He got it in about 20 minutes and finessed the lady at the front desk and got it for free," Roxanne said. "I usually go with him to the dispensary. I just can't go inside. I go with my brother or any of my friends that have cards and they drive or I drive or whatever and then I just tell them, like, 'I want sativa, this percent THC' and if I have a strain I want and then how much. I give them money and they go in, bring it out, and give it to me."
Roxanne said that her marijuana use has consumed much of her life. "[Weed] has a huge impact on my life. I ditch class to smoke. I don't do my activities and I lie to my parents so I can go out and smoke. It's such a big part of my day-to-day life," she said. "….I smoke because it's fun, it's like a social thing, it's relaxing, like calming and stuff …It's purely recreational and I do it with my friends." Roxanne added that she didn't know anyone who openly used their medical marijuana card purely for medical reasons.
Despite this, Roxanne agreed with Deanna that closer proximity to a dispensary wouldn't substantially increase marijuana use. "Say I need to pick up [$20 worth of marijuana]. I can pick it up from this dispensary that's far away or I'd prefer to pick it up somewhere closer. Either way, I'm picking up the [$20 worth of marijuana]."
Say I need to pick up [$20 worth of marijuana]. I can pick it up from this dispensary that's far away or I'd prefer to pick it up somewhere closer. Either way, I'm picking up the [$20 worth of marijuana].
Baradaran agreed. "It would make it more convenient, but I don't think I would be spending my money more just because it's right here," he said. He added that one advantage of using medical marijuana was its quality control. "You're not really getting ripped off as much as you would. Like it says on the packaging what it is and like how potent it is, how much it costs, all that kind of stuff," he said.
The rejection of the proposal won't just have consequences for users. Because Marin County did not approve the licenses in the first place, there will be no tax revenue funding public projects; the money will instead go to the neighboring counties of San Francisco and Sonoma, as users will purchase the plant from these areas. Voters in incorporated Sonoma County approved a business tax on medical and non-medical marijuana on March 7th, 2017, which would go to funding infrastructure, housing, and public safety.
"Marin is known as being a fertile area for alternative medicine and medical marijuana is a key one," Bower expressed. Bower is one of many Marin users who have to cross the Golden Gate or Bay Bridge or head up north to obtain prescriptions until delivery-only dispensary models are enacted. "It is very disappointing that Marin is rejecting this when both SF and Sonoma have embraced it," she said.
Tam students also expressed disappointment in the outcome of the process. "The fact that the dispensary isn't going to open in Mill Valley is definitely a bummer," Deanna said. "It would be a lot more convenient for me and other users to not have to go all the way into the city to get medical marijuana. Also, in a case of emergency, I would have to take my prescription medication and suffer the side effects."
A petition on change.org, created by Local Residents Against Pot Dispensaries, had gathered 725 signatures as of April 26th. The petition, which updated residents after the county rejected the proposal, cited the activism of the community and the creation of an online platform that could be shared rapidly as a major component of why the proposals were denied. Residents cited their children as being reasons for signing, while others speculated that the presence of marijuana in the community could lead to increased violence associated with drugs and addiction rates. Others were concerned that the opening of a facility would increase traffic to an already jammed Shoreline Highway. In a report published last October by the Traffic and Congestion Reduction Advisory Task Force and Parisi Transportation for the City of Mill Valley, it was found that travel times along Shoreline Highway have increased by 35 percent over previous years.
Scot Candell, a lawyer who sits on the advisory board of Shoreline Health Center, stated that if a dispensary is replacing an existing business, traffic would not be impacted more than it already is by the ownership of the Dipsea."If the dispensary is located on a vacant lot, traffic is going to increase," Candell said, "but it is going to increase no matter what business you put there."
"The Dipsea already accommodates 300 to 1000 customers a day during a relatively short time period," Siotos wrote, addressing concerns on his post regarding traffic. "The proposed dispensary will see less customers on average, especially on weekends, and the visits will be spread from 10am to 8pm. Consequently, we expect net positive traffic impact."
As of now, the conversion of the Dipsea Cafe to a dispensary remains stagnant. However, the story doesn't end here. The increase in community activism has remained. Thanks to local forums like Nextdoor, it is now easier than ever for neighbors to spread the news about proposed projects in the neighborhood, and for them to create movements in support of or against these proposals. It will only be a matter of time before the Marin's medical marijuana ordinance is overhauled, which will bring in another wave of viewpoints and tension amongst neighbors in our community.
Correction: An earlier version of this story reported that marijuana would be legalized in 2019. In fact, it will be legalized in 2018.