AVID Program Debuts at Tam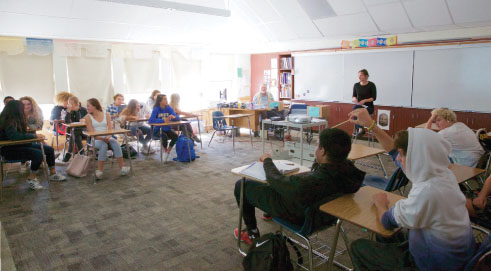 This school year will see the trial run of a new program: Advancement Via Individual Determination (AVID). In broad terms, it aims to impart specific learning strategies to students in demographics that have traditionally been overlooked, in order to better prepare them for college. AVID, a nationwide program, is being offered at Tam this year in the form of a single class.
Principal J.C. Farr, who helped implement Tam's chapter of AVID, described it as focusing on the "academic middle" — namely, students whose GPAs are between 2.0 and 3.5, and who, despite their commitment to learning, have been unsuccessful at earning higher grades.
"We tend to have support for high-achieving students, and for low-achieving students," Farr said, but until AVID, nothing existed for the students caught between. "It's almost like being a middle child, right? If you're in the middle, you're not mama's baby, and you're not the oldest. We wanted to give them some attention."
This year's class is comprised entirely of sophomores, so that before the start of the school year the administration was able to discuss with last year's teachers which students demonstrated the academic dedication necessary to enter the program. Next year's sophomores will also have the opportunity to enroll in AVID, although none of them will share a class with this year's sophomores — the administration plans for each grade's cohort of students to stay in AVID, as a group, for the remainder of high school.
This year, students were chosen based on GPA, attendance records, and teacher feedback, among other factors. In a typical AVID class, students develop learning and organization strategies, but the program is designed to focus as much on high school's social aspects as it is on its academic aspects.
Sophomore Lauren Burger enjoys the class. "I think that AVID is slow right now," she said, "but I think that it is because this is the first time ever teaching it at Tam …. I think that AVID will become better after we get into the groove of it." Other students agreed, for the most part: Burger and other AVID students all described general attitudes toward the class as positive.
The positive response was not universal. "They're trying to teach me how to learn in an efficient way and I don't think that's working," sophomore Hugo Slothower said.
Spanish teacher Nikki Pelletier teaches the AVID class. At the time of this article's writing she could not be reached for comment.
But the implementation of AVID will be felt outside of the actual class. Several of Tam's teachers, volunteer AVID Team Members, are working to integrate the program's core ideas into classes across multiple departments.
Science teacher Grace Backer is a team member, as well as AVID's science representative at Tam. This early in the year, she said, it was difficult to judge whether AVID strategies were benefiting students, but they certainly benefited her.
"It's made me think a lot more about what I'm doing in the classroom," she said. Backer and the other staff members involved in AVID — including Farr, Pelletier, math representative Chris Erlin, counselor Scott Birkenstrand, and English representative Lani Wolf — attended training in Dallas this summer, where they learned how best to utilize AVID in their respective fields.
Redwood High School and Sir Francis Drake High School, two other schools in the Tamalpais Union High School District, are also taking steps to implement AVID into their curriculums.
At Tam, AVID's debut has left students and teachers largely optimistic.
"I'm ecstatic that we were able to add it this year," Farr said. "I'm just looking forward to the AVID program doing great things for Tam High."
Benjy Wall-Feng, Editor in Chief
BENJY WALL-FENG
is a senior at Tam and an editor in chief of
The Tam News
. Outside of school he volunteers and plays music. His favorite kind of social media is
Spotify
. His favorite kind of graph is stem-and-leaf.