Student-led walkout protests recent abortion restrictions
Sophomore Grace Newman led a women's rights walkout to protest recent anti-abortion legislation in front of the arches on Friday, May 31, during fifth period. The walkout, made up of about 100 students, began at 8:20 a.m. and ended at 8:45 a.m.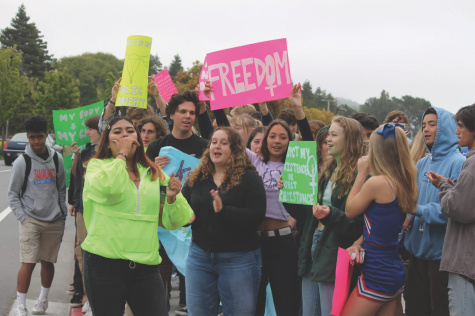 The protest was in response to recent abortion restrictions across the country. "Heartbeat bills" which ban abortion six weeks into the pregnancy or roughly when a fetal heartbeat can first be detected, have passed in Georgia, Mississippi, and Louisiana within the past year. 
"People were talking about the things that are going on in other states regarding abortion bans and I just think it's so important that women and men here understand that just because we're not directly being affected by the laws that are happening right now, that doesn't mean we don't have a part in making a difference," Newman said. "[It] doesn't mean we don't need to stand in solidarity with women all over the world whose rights are being affected because we are all part of the same community."
Sophomores Nancy Hoang and Jake Cohen helped to lead chants for the crowd. "Us females, we know this is a problem so why would we just sit back and let these people makes these decisions?… Why do [they] think we're obligated to be quiet because it isn't 'lady-like', No! I don't care if its ladylike or not. I'm still gonna yell, I'm still gonna fight. They can't do anything about it because at the end of the day, it's our bodies and our choice," Hoang said.
Newman hopes to create a club on campus to continue the conversation regarding women's rights. "I think it's important just to spread the message that it's our generation's job to make a difference in office and we need to vote these people out. We need to fight back. There are no set plans yet, but in the future I want to start a group to empower girls and fight for [the] rights of those that don't have the basic rights we do," Newman said.