Ten outta ten(nis)
The girls tennis team dominated this year, taking home NCS titles in both individuals and the doubles tournaments, as well as winning MCAL in both categories.
Tam team tennis
The girls varsity tennis team defeated Miramonte High School on November 16 to secure their first North Coast Section (NCS) Division I title since 2011.
"[Winning NCS] was such a huge moment," junior and No. 1 singles player Jamilah Karah said. "We were the fourth seed and I didn't think it was going to happen. I didn't think we were going to win." 
The win comes after the team defeated longtime rival Redwood High School to win the Marin County Athletic League (MCAL) title earlier in the month. 
"We did not anticipate winning NCS," coach Bill Washauer, said. "[Winning] was a hope, but compared to other teams, in the semifinals and finals, we definitely beat two teams that were stronger than we were."
The team needed to win four out of its seven matches to win the tournament. At the beginning of the Miramonte matchup, it appeared that Karah's prediction would come true.
"For the very last game, we were down 3-1, which means the other team only needed one more to win. But we came back, we fought and won 4-3," Karah said. 
Senior captain Gracie Cameron played doubles with senior Tenaya Tremp, who is an editor for The Tam News, in the deciding match of the tournament. 
"Originally, when [our match] had finished, we thought that the team had already lost, despite our match," Cameron said.  "But, to our surprise, everyone came out and told us that we had won [NCS]. It was such an amazing feeling."
But the road to MCALS and NCS was an uphill battle. 
"In the beginning of the year, our team was haphazard — we didn't play together as a team too much," Karah said. "[But] towards the end we started to get closer together, we started to enjoy tennis more, we got better, and I'd say we improved a lot and that really contributed to our win." 
Although the team lost in the first round of the NorCal California Interscholastic Federation Championships on November 22, they are hopeful to continue the momentum in the 2020-21 season. 
"[Next year] we are losing four seniors, but we've got players coming up and the juniors are a very strong group. I think we'll still be good [next year]," Washauer said. "What was exciting [this year] was how well the team came together. The best teams are teams that overachieve and this team definitely did that … a great team is more than what you see on paper. Always."
Tennis individuals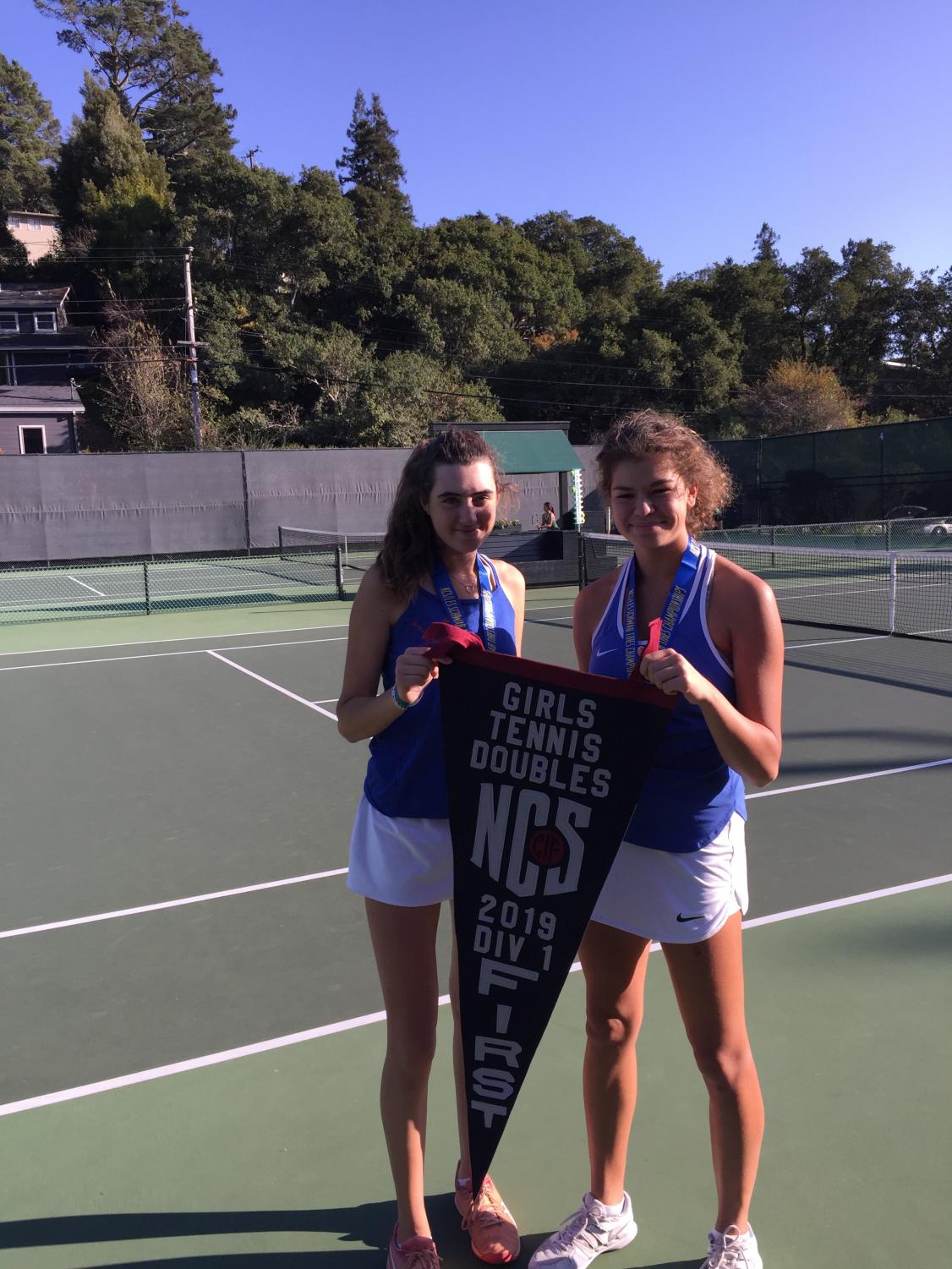 The girls tennis team was dominant at the North Coast Sections (NCS) individual doubles tournament after their victory in the MCAL individual doubles tournament, which took place over the course of November 18 and 19. The event consisted of the best doubles partners from each school in NCS facing off to display their prowess against other competitors. 
Tam's participants were juniors Jamilah Karah and Katie Bulger, the number 1 and 2 ranked players on Tam's team.
Going into the first round, the team appeared focused and confident.
"I had a strong mindset and was only focused on winning one game at a time," Bulger said. 
Tam outmatched Rancho Cotate (6-0, 6-0) in the first round, and continued to dominate throughout with victories over Heritage (6-1, 6-0), Carrillo (6-2, 6-2), and lastly San Ramon Valley (6-0, 6-0) in the finals. Karah and Bulger stayed aggressive at the net and played in a calculated and tactical manner. 
"It's a big thing to win NCS individuals," Karah said. "But I feel the competition was lacking this year, we only lost a total of four games throughout the entire tournament so the victory was a bit underwhelming."
The team last won the title in 2011 and has only won NCS three times since the tournament was established in 1977.
"It was a great experience to play in the individual tournament because it was my first time [competing in the tournament] and there was so much good tennis," Bulger said. "I think all the players deserved to be there and I'm really glad Jamilah and I could be a part of it."