Mill Valley School District returns to site-based instruction
Samantha Nichols contributed additional reporting.
Mill Valley School District (MVSD) elementary schools officially opened their doors to in-person instruction on Nov. 30 since reverting to distance learning in March as a result of the COVID-19 pandemic. 
Mill Valley Middle School will begin the transition into a hybrid learning model beginning with incoming 6th graders on Dec. 2, followed by 7th and 8th graders on Dec. 3 and 4, respectively. The district originally planned to bring students back to campus on Oct. 12, but the opening was delayed due to a lack of information regarding student interest. 
"We are looking forward to our students returning on Monday. Our teachers and administrators have worked diligently to put our plans into place, and I am confident that it will be a successful transition for learning in person and for extended distance learning," MVSD Superintendent Dr. Kimberly Berman wrote in an email.
Many district families have been eagerly awaiting the return to school campuses.  
"It's harder for the younger kids to learn the skills they're supposed to, like how to hold a pencil properly. It's also more difficult for the younger kids to connect with their friends "virtually". So, I'm very glad to see them go back to the classroom," Sally Burtle, parent of an MVMS and Strawberry Point Elementary school student, said. "Also, it should be easier to control the kids' exposure to Covid, given that they can stay with the same cohort of kids for the entire time at school."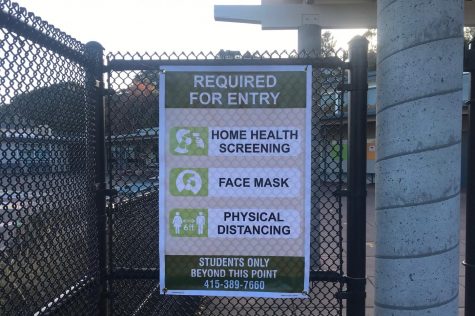 Some parents have expressed frustration with the district's handling of the reopening. One MVSD parent who requested anonymity suggested that the district should have copied their model from school districts that had already undergone successful reopenings in a hybrid model. 
"[They] could have been up and running immediately. It was unnecessary for MVSD to attempt to create something new," the parent said. "The district gave the teachers union too much power to not instruct. Many teachers have fought technology and not invested the appropriate time becoming better professionals. Many [teachers] are technophobes and it shows. Precious time was lost over politics, when it could have been spent providing the service the community expects."
Burtle believes the district has been doing its best to ensure a safe return to classrooms. 
"I have more concerns about the middle school resuming class in person. It's a more complicated class schedule. They will only be in school for three shortened days per week, during which time they will be in multiple classes with lots of other kids. I'm not entirely sure that the risk is justified by the potential benefit," Burtle said. "But I have to put faith in the school and, importantly, in the county health department, who have been doing their best with a very difficult and complicated situation."
Board members and other administrative staff are expected to be present at elementary schools to help with a safe entry into the classrooms, according to Berman. 
"The first-day-of-school feelings are heightened, along with new emotions, as we are navigating school through a pandemic. I am confident in our staff's ability to support our students during this new phase," Berman wrote.
Marin County is currently in the red tier of California's Covid reopening scale, with almost the entire remainder of the state in the purple tier. If the county moves into the purple tier, the district will immediately return to distance learning.   
"I understand that our community is monitoring news closely, and the rise of cases across California has [made] us all take notice," Berman wrote.