"Senior season"
The fall semester of senior year is a demanding time for seniors, who find themselves balancing their school work with the grueling process of applying to colleges. This year with the COVID-19 pandemic at play, the class of 2021 may be facing additional challenges, according to an anonymous survey of 50 seniors conducted by The Tam News.
More than half of the students surveyed stated they had applied for early decision to a college, meaning that if accepted, they are legally obligated to attend. The deadline for most schools' early decision applications was Nov. 1, which was also the deadline for many schools' Early Action option, which may yield a faster-known acceptance to the applicant. Approximately 58 percent of those surveyed applied to up to five colleges for this deadline. After Nov. 1, 42.3 percent of students plan on applying to five to ten more schools.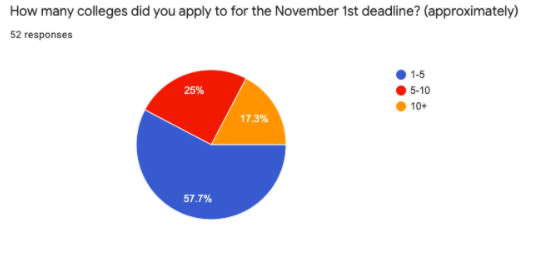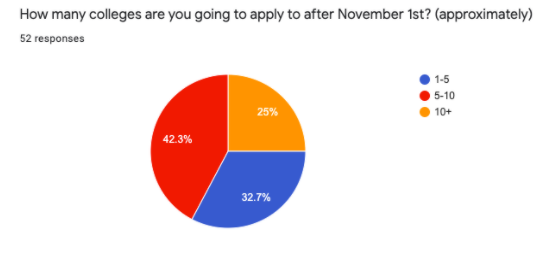 Most students are hopeful, but not confident, that they will get into their first-choice school, with 44 percent of the students surveyed rating their confidence a three out of five. More than half of the students shared that low acceptance rates are the basis of their doubt.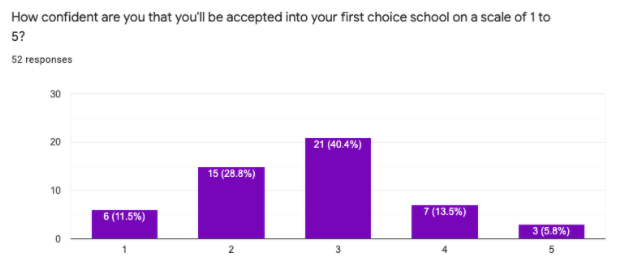 44 percent of the students rated their stress level regarding college applications a five out of five. Over half of the respondents stated they would feel less stressed if they were physically at school, and shared that they would be more motivated to get their work done if they were around others. "I think without being around people who are doing the same thing as you, you feel very isolated. If I was at school everyone could see how stressed everyone else is and we could be in it together," one student wrote.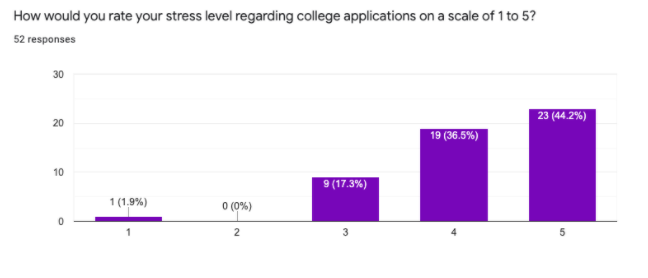 However, 29 percent of students appreciate the extra time that they have while distance learning to work on college applications. A student shared that going back to school would add stress because they'd have to "hear about other people stressing about college." 
77 percent of the students surveyed meet with a college counselor outside of Tam district employees. Despite this, 57 percent of students shared that having the extra support of the Tam faculty would lessen their stress levels throughout the application process. "I would be less stressed, again, because I [would] have more advisors to help me through the process," a respondent wrote.
"Being able to talk with counselors and teachers would also be helpful and comforting," one student stated. Another shared, "Since online learning has created anxiety, making the college process feel a little bit less disorganized and also stressful. Everything being online is a little bit overwhelming." Senior Savanna Stromberg said she would have been less stressed had school been in-person "at least for the beginning of the process because school staff was the only guidance I had." 
Almost half of the students reported a lack of energy and time to spend on college applications due to part-time jobs and various family responsibilities, in addition to their remote school work. "Being on the computer 12+ hours a day with the stress of family life, school, distractions, deadlines, etc. without leaving the house makes everything, especially college [applications] so much harder," a respondent wrote. 
"My siblings and father and the passing of my grandmother has put a ton of responsibility on me from grocery shopping to driving my siblings to washing dishes. My dad expects a lot more from me now which is difficult in the college app process," Stromberg said. Another student wrote in the survey, "I have to work, and I play a sport right now so I'm tight on time as it is, and homework and apps are too much right now." 
As one student stated, "the addition of online school has definitely added to the stress," and survey responses indicate that other circumstances present due to COVID-19 have made an already challenging season more difficult for the Class of 2021. With COVID-19 vaccines coming into play in 2021, perhaps the Class of 2022 will not have to face the challenges of applying to college that come with a pandemic.