Girls varsity water polo triumphs Archie Williams after over 21 years
The girls varsity water polo team beat Archie Williams High School 7-5 on May 6, breaking their rival's over two-decade winning streak — possibly the Hawks' first victory against the Pirates ever.
"It was huge for the team … no one could ever remember Tam girls water polo beating Drake [Archie Williams] girls water polo and it might be the first time in the two schools' histories," head coach Paul Hettler said.
Tam had been aiming to beat Archie Williams all season and was more than ready to play them. 
"It was really exciting especially since it was such a big game and our goal all year has been to beat Drake [Archie Williams], even last year it was," junior Majja Layden said.
The Hawks and Pirates have always had a rivalry due to both teams excelling and dominating in the league. Last season, Archie Williams won MCALs with Tam coming up in a close second; their records were nearly identical with Tam 7-1 and Archie Williams 8-0. The head coach of Archie Williams' girls varsity water polo team, Gina Castagnola, has been the coach for the past seven years and has only lost two MCAL games during those years, including the Hawks victory on May 6.
The game started off with the Hawks dominant and after some early goals in the first and second quarter, the Hawks were up 5-1 during halftime. The Pirates then scored three consecutive goals tallying the score to 5-4 near the end of the third quarter.
The final score was 7-5.
Only two Hawks were responsible for the team's goals: two for junior Maddie Uhlhorn-Thornton and five for junior Majja Layden. 
"Coming out strong is kind of what I like to do because I know that towards the end of the game it's going to be a lot harder for me … just knowing that coming out strong just feeds the team's energy," Layden said. 
Not only did Tam play an impressive offensive game, but their defense was just as vital to their victory. Senior water polo goalie Sofia Hamner had a remarkable 18 saves in total, including three penalty shots. "Those three girls [Layden, Hamner and Uhlhorn-Thornton] had just spectacular performances," Hettler said. 
This year, Hettler believes his team has especially good team chemistry ranging from the starters to the substitute players, "Everybody has everybody else's back and it's a very balanced team; we have a lot of talent. Our bench is very deep so I think that we could just rotate in players and there was no weakness where [Archie Williams] had maybe a strong top three players and then as soon as they started substituting we were better than they were."
The Tam water polo team has been trying to beat Archie Williams for years and to finally accomplish it was a phenomenal feat for the Hawks.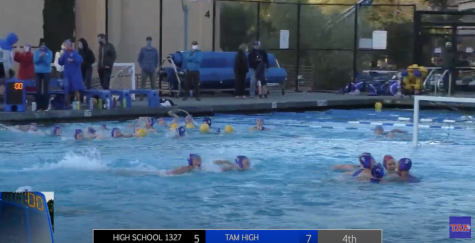 "I talk a lot about intention in the team. You know we set out our intention to do this, to win to beat [Archie Williams] and we did it and it was very satisfying to set that goal and then to accomplish the goal," Hettler said. "I'm really happy for them. I mean no matter what else happens [this season] we know we did that and so you know we are stoked."