Boyd's Journey to UC Santa Cruz
If Tamalpais High School senior Sydney Boyd isn't striking a soccer ball into the back of the net, you can find her working hard in school or enjoying time with friends. Boyd recently announced her commitment to play soccer at the University of California Santa Cruz (UCSC). 
Boyd described the recruitment process as "easy," which she attributes to her longtime interest in UCSC and confidence in her soccer skills. During Boyd's sophomore soccer season here at Tam, she played against a team who had the same head coach as UCSC. After the match had concluded, Boyd introduced herself and asked for the coach's contact information. She reached out in hopes that the coach would want to know more information about her and her interest in UCSC. 
"In the middle of class, I had finally gotten an email back from the head coach of Santa Cruz asking if I could talk on the phone," she said. "Obviously I got super nervous because [I had] never actually talked to a college coach before so I started freaking out and asked for a minute outside. Santa Cruz has been one of my top schools for a long time now so being able to meet the head coach and begin communication early was really important for me," Boyd said. "[We] went back and forth for about two years before it got a bit more serious."
They exchanged general information over the phone before Boyd got to meet the coaches in person and showcase her talent at an identity document (ID) camp, which is a chance for coaches to closely observe the players they have been communicating with.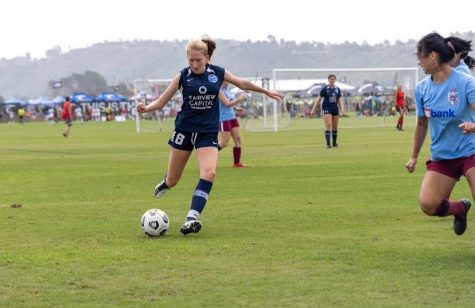 Boyd has had the opportunity to play for many coaches and clubs, but the one that stands out to her most is coach Shane Kennedy from Marin Football Club (FC). Kennedy was her Tam high school girls' varsity soccer coach sophomore and junior year, so Boyd received his supportive and enthusiastic coaching style all year round for two years. "I knew how serious [Boyd] was about playing college ball so I kept her working hard. It makes me feel so proud that her goals are slowly becoming a reality," Kennedy said. "Playing soccer at the college level takes a lot of dedication and commitment and she definitely brought that to the table." 
Boyd acknowledges she did not always have this drive and, in her freshman year of high school, she did not make the top team for Marin FC. "This helped me realize what I wanted and what I needed to do to get there," Boyd said. She began training on her own time, which set her apart from other players on the team. "When I was cut from the top team it became my sole inspiration. The next year I made the team again and that fire just stayed with me throughout quarantine and the rest of high school," Boyd said. 
Boyd's journey to playing soccer at the college level shows what can be accomplished with unwavering dedication to what you love. "I'm excited to see where Sydney goes with soccer and I'm sure her teamwork and enthusiastic play style will take her far," Kennedy said.