Beth's Community Kitchen review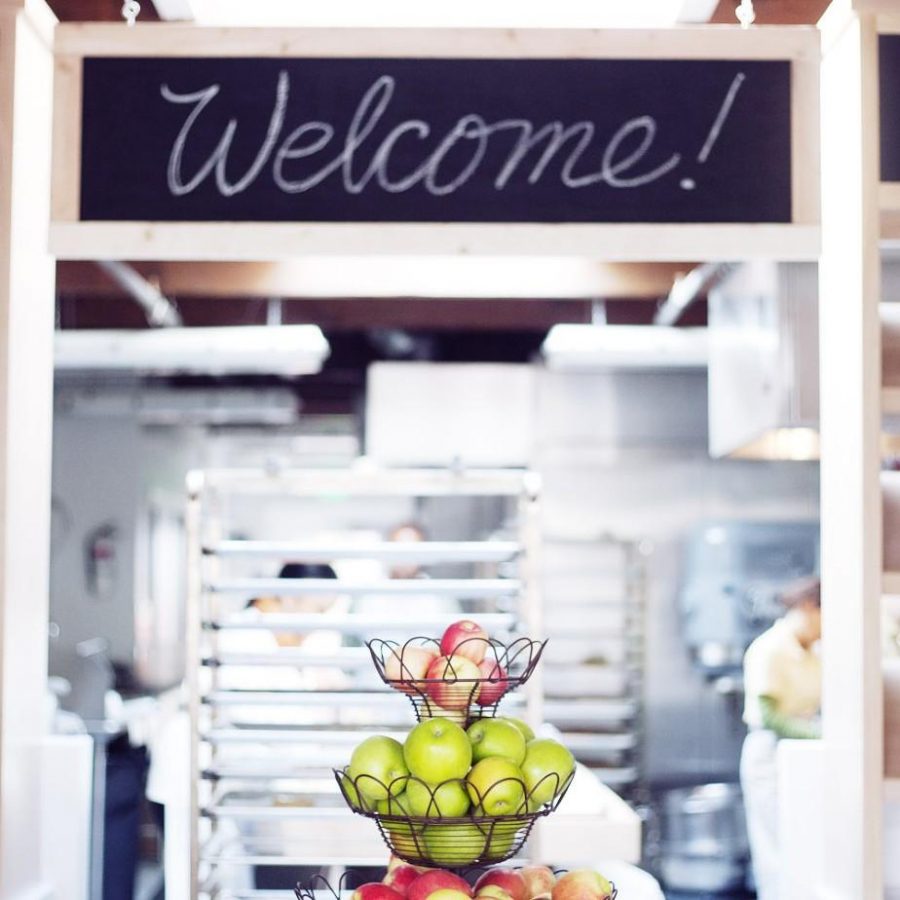 By Sonja Hutson
April 19, 2012
Downtown Mill Valley has a new addition to its rows of quaint shops and restaurants, and, although I may be unrealistically optimistic sometimes, I think it's safe to say Beth's Community Kitchen is here to stay. This crossover bakery and restaurant is highly underappreciated, and I'm surprised it hasn't sparked as much interest as Super Duper and Tamalpie in the month it's been open.
It's Sunday morning and the usual inhabitants of the Depot (families, spandex warriors and ex-hippies) trickle in to the small bakery. The scent of freshly baked quiche wafts from the open kitchen, past the counter, greeting us and inciting grumbling stomachs. A unique sense of calmness inhabits the open kitchen and breezy open space in front of the counter. The kitchen is not filled with frantic cooks and the employees do not emanate stress or tension. It's a lazy Sunday afternoon here, as well as in the entirety of downtown Mill Valley.
My eyes scan the glass case of pastries and quiches, all expertly stacked in pyramids on top of white doilies. But don't worry men, the bakery still maintains an aura of manliness with a guitar and amp in the corner and manly dark red exterior paint job.
An organized menu is replaced with elegant calligraphy much too beautiful to be organized, on a blackboard high on the wall behind the counter. However, a small printed menu of lunch specials stands in plastic casing on the counter. Somehow, the absence of an overly detailed menu is refreshing. You do not often encounter a "what you see is what you get" philosophy in the over analyzing and detailing center of Mill Valley. Every type of pastry you can order is displayed; instead of simply reading my choices, I can experience them in smell and sight.
Sauntering up to the counter and enjoying the lack of a line, I am greeted by a friendly young cashier. She is happy to chat with me about the bakery and the items displayed in and on top of the case. Although everything looks delicious, and I wish my stomach could accommodate every single pastry in the shop, I finally decide on a chocolate croissant.
The mouthwatering item I now hold costs a hefty $3.50, and at first this seems unreasonable, no matter how delicious the pastry. But in reality, Starbucks sells a far inferior product for only XX less, not a lot when you weigh the mouthwatering effects of Beth's croissant and that of Starbucks. Beth's may not quite sit at the standard of other sit down breakfast places, or its coffee on par with Starbucks, but it definitely holds the title of best pastries and location. This, for a morning snack enthusiast like myself, is perfectly alright. Even my father, a coffee enthusiast seems willing to make the tradeoff.
For all of you who are wondering, there is indeed a Beth. Open and friendly, she greets me with a smile wide across her sun spotted cheeks. Beth comes in every morning at 4:30 a.m. to bake. Her dedication shows in the food and serenity of the shop.
Finally the moment has come. Sitting on a wooden bench, my croissant lays in its crinkled brown bag on the petite matching wooden table in front of me. I take a big bite, the flaky pastry crunching in a most delightful way, sending bits floating to the ground. The chocolate is rich but not too rich, and the crunch is almost as satisfying as stepping on a brittle leaf in October.
As I sample a delicious creme brioche with creme fraiche filling ($3.25) and an apple turnover ($4), which could be warmer, (I let the bakery know via a suggestion box) the sun warms my back and I enjoy the simple pleasure of the weekend Depot culture. The sound of voices and laughter float across the street from the square, allowing me to soak in the laid back culture of downtown this wonderful Sunday morning.
Beth's Community Kitchen is located on 34 Miller Ave three shops down from D'Angelo's, taking the Locksmith shop's spot. It's open from 9 a.m. to 5 p.m. This is subject to change however, as the bakery want to be more open to more morning traffic. Stop in and let the food do the talking.