Principal Thomas Drescher Announces Resignation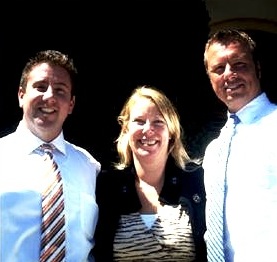 By Wesley Emblidge & Justin Schmidt
November 6, 2012
Hang on for a minute...we're trying to find some more stories you might like.
On November 6, current Tam principal Thomas Drescher announced that he will be resigning as of June 30, 2013. Drescher has been the principal at Tam for the past six years, but in the spring will be completing his doctorate for education and plans to continue further with his career. "I [have] had the privilege of working with an outstanding group of teachers, administrators, and staff who possess deep commitments to supporting the learning of all students," Drescher wrote in his email to Tam faculty and parents. "I serve an amazing school community who has consistently supported my work to improve the quality of education offered to our students."
Drescher leaving is the second in recent administrative shakeups, with the replacement of Assistant Principal Chad Stuart this year with Brian Lynch.
"I think that losing Drescher is a huge loss," said senior Nestor Teodoro. "We lost the AP last year and so I feel like all of Tam's treasured staff members, for the seniors at least, are leaving. Even though we won't be here next year, losing any staff members creates an imbalance but I hope that the new Principal is equally as connected with the students."
However, not all students knew Drescher very well. "I have never had much of a personal relationship with Mr. Drescher, but I think he has done a good job," said senior Lila Hood. "I wish him luck with whatever he does."
"As an underclassman, I hadn't really had the chance to get to know him, but he was a good principal," said sophomore Dave Peters. "I'm not sure who should replace him, but hopefully someone who will do a good job as a principal and  improve life at Tam."
There is no word yet on who will replace Drescher, however he is confident that whoever it is will be successful as well. "The positive changes we've instituted will lay the foundation for the next Principal of Tam High to continue our legacy as one of the premier high schools in the country," wrote Drescher.