Tam's International Club Hosts Ballet Folklorico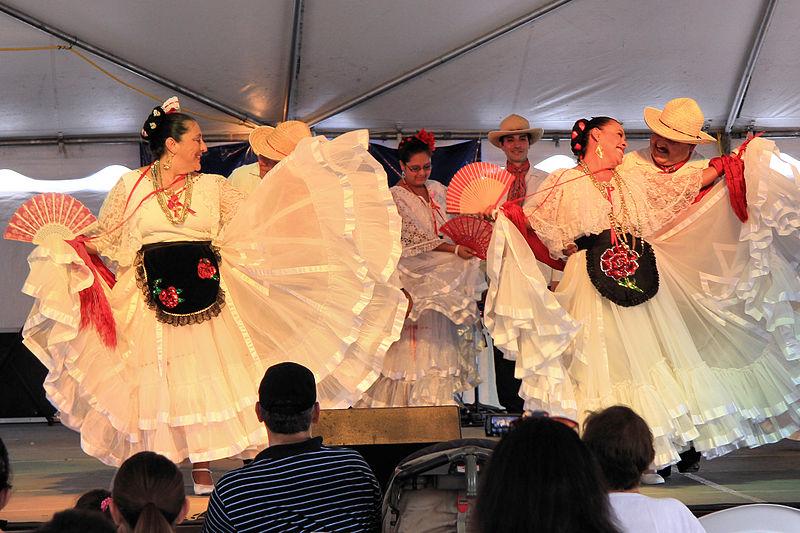 By Sophia Ellingson
June 12, 2013
Tam's international club hosted a traditional Mexican dance group, Ballet Folklorico, for students in Caldwell Theatre during tutorial on Friday, May 17. The club hoped to "show people different cultures that are around," according to senior and club treasurer Miriam Lester. "It was really fun to see that kind of performance that many students wouldn't get to see otherwise," she said. The international club also went on to host a fair at lunch with food, henna, and other activities from around the globe.
The Ballet Folklorico performance itself was an ecstatic flurry of bright orange skirts, wide brimmed sombreros, upbeat music, and the ear ringing stomps of the dancers' flamenco shoes. The crew was made up of 3 males and 3 females, all modeling traditional Mexican dress, which included the "charro" for men: black pants with golden chains on the side of each leg, white shirt, red sashe, and sombrero, and the "china poblano" for women: a sequined dress with the Mexican flag on one side and the Aztecian god on the other.
"A lot of students here take Spanish and they incorporated a lot of Mexican history and Mexican culture and Spanish language in the performance so it was really good for students to get that," Lester said.
Those that attended included all grades alike, as well as some teachers and other Tam staff, filling three sides of the seating rounds in Caldwell Theater. "I think the students that did come and the teachers and administrators that came really enjoyed it and got to see something different than they would everyday," Lester said.
This type of event was an add-on to the second annual International Club fair, hosted at lunch. "This is our second year," senior and co president of the club, Vivi Welczeck said. "We started the international club last year, and we had a fair during the spring where we brought food, music, and posters explaining who we are." The fair this year was abundant with multiple cultures being brought together through different food, music, and activities such as henna tattooing. "This year, though, we thought 'let's do it a little bit bigger and invite ballet folklorico, this awesome dance group' and we're really happy that it all turned out well," Welczeck said.
The international club will continue for the 2013-2013 school year, with its annual fair and perhaps extra performances in the spring of 2014.